MY NAME IS BUNSBOY 1
(If you're in need of reasons to treat hawkers better)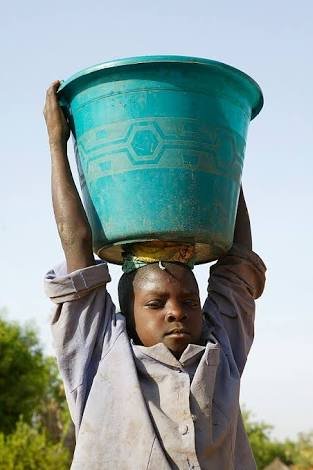 Image source
I am just back from school and Mama is not around. I look around the house - out of habit - for some food but the pots are all clean and it's not surprising; poverty makes our pots cook only meals for particular servings, no leftover in the pots always 'cause there are always leftover spaces in our stomachs that need to be filled. Something pinches at my back from the inside as I make to rid my frail body of the torn over-sized uniform it's enclosed in, the piercing burn from the Compound Master's and teacher's whips a reminder of what I pass through every morning no thanks to perceived lateness and laziness by them. School for me starts when it has gone far ahead for other kids my age every morning. You may want to blame me for the lateness and laziness I know, 'cause we all love to judge. Before you say another word of judgment seated on your comfy chairs or with your backs or bellies on your comfy beds,call me BunsBoy,and here is my story.
---
My father named me Mfon which means 'Grace' but I lost the right to such a name as soon as I had even gotten it, or had grown to understand it's meaning; Papa had lost his soul fighting for a land that was his with his elder brother, and Mama had lost her job as a cleaner in a Ministry. I was only five then when my father's brother took over Papa's assets and threw Mama and I out of our house 'cause Mama did not allow him sleep with her, we slept outside our own gate for days before Mama gave up and took me to her Father's hometown. Everything thing about me changed afterwards, nothing remained the same for Mama and I.
Mama's mother had died before then I knew, what I did not know was that the woman her father married in her stead become a woe to every man that lay under the same roof. My mother's father managed to give us a room to lay our heads after the day's hustles and bustles and struggles and tussles, this one room is where poverty has taught me to accept as my home. Nothing works here at home, there is no television or radio or bed or toys to keep me company; everything sulks here at home,you can feel the hardship suck and tug at your very breath. Forgive me, there are things in my home : old cartons with torn poverty-ripped clothes inside of them stacked one on the other side by side and disfigured evil-looking pots too small to cook for two and spread-out cartons which serve as our bed and a few broom sticks tied together into a bunch for sweeping......