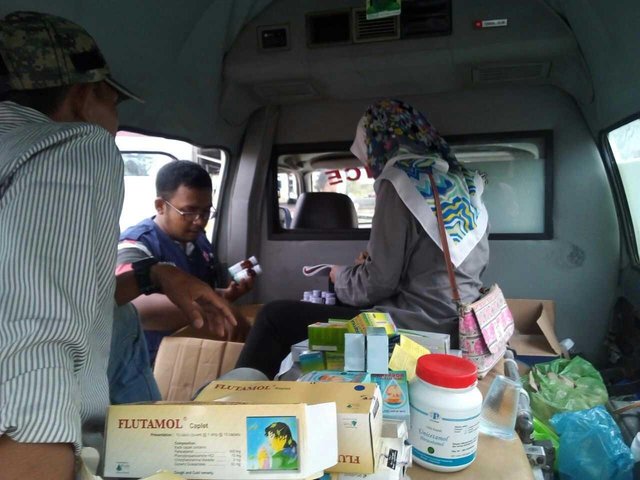 Rasa duka yang dirasakan oleh para etnis Rohingya akibat konflik yang berkepanjangan, tentunya bukan merupakan sebagai hal yang baru. Bahkan mereka etnis minoritas yang berada di Negara Myanmar itu, sudah lama merasakan berbagai kekerasan.
Pada Minggu, 24 April 2018 lalu sebanyak 76 etnis Rohingya terdapar di wilayah Pantai Kuala Raja, Kecamatan Kuala, Kabupaten Bireuen. Mereka ditemukan oleh nelayan Aceh dan kemudian ditarik ke daratan. Mereka telah terkatung-katung selama Sembilan hari di lautan.
Selang satu harinya, Palang Merah Indonesia Kota Lhokseumawe menyerahkan sejumlah obat-obatan gratis kepada pengungsi Rohingya tersebut. Hal tersebut dilakukan untuk mengantisipasi terjadi kekurangan stok obat.
Sejumlah jenis obat yang diberikan, masing-masing yaitu obat untuk gatal-gatal, diare, sakit maag, paracetamol dan sejumlah obat-obatan untuk dilakukan pertolongan pertama. Semua obat itu diserahkan langsung ke Dinas Kesehatan Kabupaten Bireuen.
Palang Merah Indonesia Kota Lhokseumawe akan selalu bekerja untuk kemanusiaan, maka apabila anda membutuh bantuan pertolongan pertama segera hubungi Palang Merah Indonesia Kota Lhokseumawe.
English
Free Drugs For Rohingya Refugees
The grief felt by the ethnic Rohingyas due to the prolonged conflict, certainly not as a novelty. Even those ethnic minorities residing in the country of Myanmar, have long felt the violence.
On Sunday, April 24, 2018 and as many as 76 ethnic Rohingya stranded in the area of Kuala King Beach, District Kuala, Bireuen District. They were found by Acehnese fishermen and then withdrawn to the mainland. They have been nine days in the ocean.
Tuesday, April 24, 2018 The Indonesian Red Cross of Lhokseumawe handed over a number of free medicines to the Rohingya refugees. This is done to anticipate the shortage of drug stock.
A number of medicines are given, each of which is a medication for itching, diarrhea, ulcer medicine, paracetamol and a number of medicines for first aid. All drugs were delivered directly to the Bireuen District Health Office.
The Indonesian Red Cross of Lhokseumawe will always work for humanity, so if you need first aid help contact the Indonesian Red Cross of Lhokseumawe .