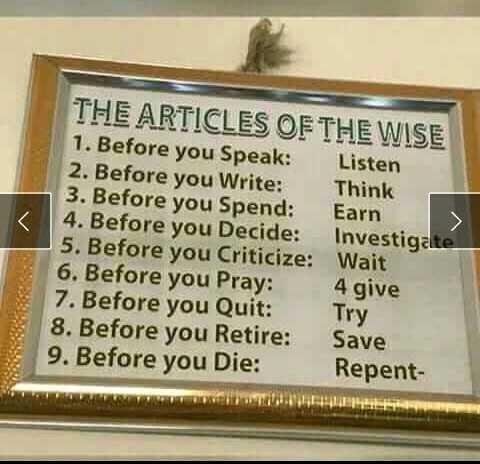 Today, I am going to be sharing with you, the article of the wise.
. Before you speak, Always Listen.
This first article is most popular for the wise and unpopular for the foolish.
If you really want to be wise. More wise, there are sometimes you should not rush just to speak, just for people to hear your voice.
You should be patient to always listen attentively before you speak.
. Before you write, Always think.
Yea, this article is applicable to those who write a lot, I mean to those who write books and not those who write only, but to all people.
You should always think ahead before you just picking your pen and writing something down.
You must think before you write.
. Before you spend, Earn.
You must be cautious of how you spend, you should not just spend extravagantly, you should earn before you spend as this will help you to manage your spending rate.
Before you decide, Investigate.
That is it, you should not jump into conclusion, you should not just judge something or someone or some issue anyhow or quickly rather, you should always find out, investigate deeply before you decide on anything as this will help you on the decision you will take.
. Before you criticize, wait.
This is also it, you should not rush into critics, you must wait before you critize someone or something.
Before you pray, forgive.
Before you pray, you must forgive those who have offended you in one way to the other so that your prayer also can be hears by God and you been forgiven also.
. Before you quit, try.
You should not just give up hope easily. Failure is not a person but an event.
You should try and try and try before quit. There is nothing wrong in trying.
. Before you retire, you must save.
This is easy and applicable to those WO works. You must save for your old age so as not to suffer when you retire. This is what we called old age planning.
. Before you die, you must repent.
This is the last. Before you die, you must repent of your sins because a sinner will never make heaven.
You did not know the time you will die, so it is better for you to repent now and turn away from your sins.
. Thank you for dedicating your time reading this article prepared by @adenijiadeshina
. If you enjoy reading this article, why not leave a comment down below to share ideas.
Resteem so that others can benefit from it.
. Upvote if it is pleased with you.
. Thank you.