+++ Ice Cream Shop +++

This weekend I went to the ice cream shop which is called: "Tutti Frutti". When I opened the door a lot of freshness, fruity and mixed aromas got into my nostrils and passed throughout my nose, a bunch of citrus flavors remind me my childhood. That was a feeling of freedom. My stomach started doing some uncontrollable sounds.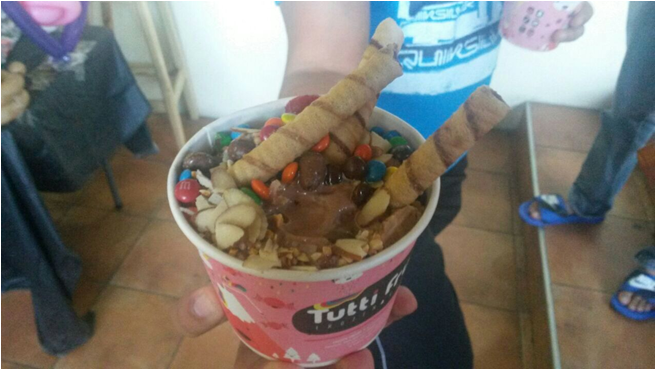 My eyes were astonished at all the vivid colors that they were seeing. I felt my iris and pupils flying out in the air and touching each creamy and frozen ice cream. At that moment, I was transported to a paradise jungle, river of ice cream everywhere; each ice cream machine seemed like a rainbow of colors. My eyes never blinked, I did not know how but I could hear each piece of ice cream drop into the ice container. It was the paradise, and my stomach continued doing sounds like a drum.

Finally, I could move my limbs and I approached to the ice cream counter. I felt all my senses fighting each others. I tasted the first flavor and my mouth blew up. The creamy and delicious ice cream was spread around my mouth. I had had too much time without tasting a delicious ice cream like that. My eyes closed, my stomach stopped doing sounds, I could come back to the normality and all my senses knew it.