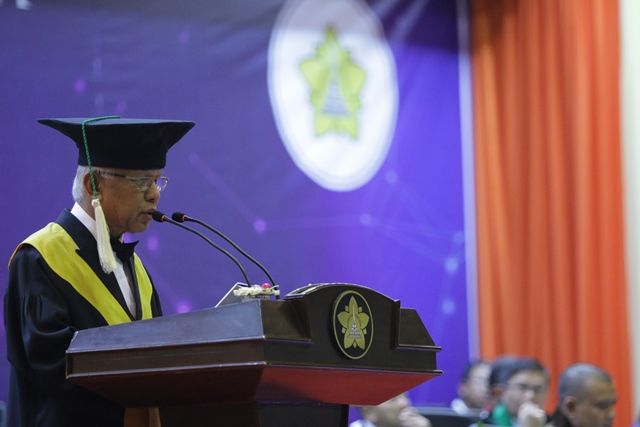 Adnan Ganto adalah sosok yang langka. Lahir di sebuah desa kecil yang miskin, tapi kemudian menjadi seorang Bankir kelas dunia. Adnan Ganto adalah orang Asia pertama yang berhasil menjabat posisi strategis di sebuah Bank Inggris yaitu Morgan Bank Ltd.
Di Bank Inggris tersebut ia bekerja selama 23 tahun. Lalu pada tahun 1987, Adnan diangkat menjadi Director Investement Banking di Singapore. Terakhir, Adnan menjabat sebagai Executive Director di New York-USA.
Adnan Ganto lahir pada 4 Februari 1947 di Lhokseumawe, Aceh Utara. Sekarang, ayah dari tiga orang anak putra ini berdomisili di Menteng, Jakarta Pusat. Ia pun terbiasa pulang pergi Indonesia - London karena pekerjaannya.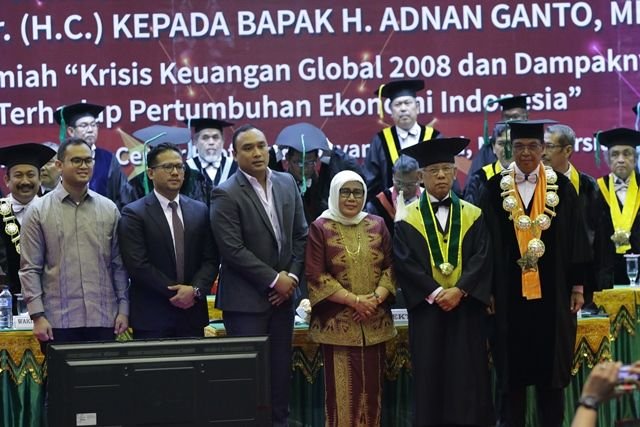 Jika kita kalkulasikan Adnan Ganto telah berkarir selama 37 tahun di Bank Asing. Ia pernah ditugaskan di Amsterdam, Hong Kong, Singapore, London, Zurich hingga New York. Di saat orang-orang Aceh masih berjuang di masa-masa konflik, Adnan Ganto justru bisa beprestasi di tingkat dunia.
Selain berprestasi di tingkat dunia, Adnan Ganto juga berkontribusi nyata untuk Indonesia. Semenjak tahun 1991 hingga sekarang, Adnan Ganto adalah penasehat Menteri Pertahanan Republik Indonesia. Sudah 7 menteri pertahanan yang menjabat, namun posisinya sebagai penasehat tetap dipertahankan.
Meskipun telah sukses di dunia internasional, Adnan Ganto tetap tak lupa dengan tanah kelahirannya yaitu Aceh. Dialah sosok yang paling berperan saat mengubah status Bank Pembangunan Daerah (BPD) Aceh menjadi Bank Aceh Syariah. Proses konversi dari konvensional ke Syariah ini merupakan prestasi Adnan yang layak diapresiasi.
Nah, hari ini saya hadir di gedung AAC Dayan Dawood Darussalam, untuk menyaksikan penyerahan gelar kehormatan Honoris Causa dari Universitas Syiah Kuala kepada Bankir kelas Dunia ini. Inilah kali pertama saya menyaksikan Adnan Ganto berorasi ilmiah.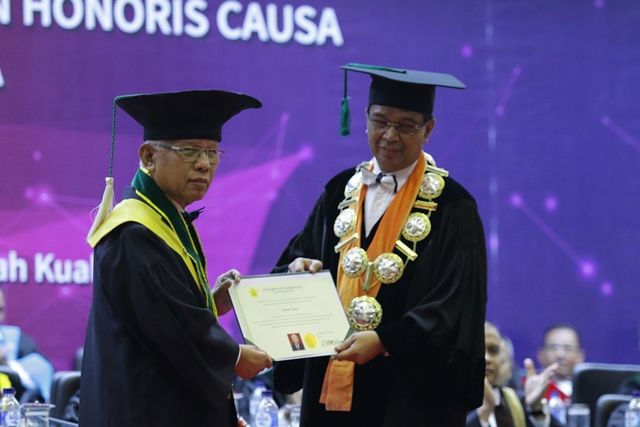 Ia menyampaikan orasi berjudul: Krisis Keuangan Global dan Dampaknya Terhadap Pertumbuhan Ekonomi Indonesia.
Saya duduk terdiam mendengarkan semua analisisnya. Ia bercerita bagaimana leterkaitannkrisis keuangan pada tahun 2008 lalu terhadap perekonomian Indonesia.
Adnan juga mengungkapkan, bahwa ia menjadi saksi mata detik-detik runtuhhnya bursa saham di Amerika saat krisis tersebut.
Adnan Ganto menyampaikan analisisnya secara tajam, detail dan fokus.
"Saya tidak menyampaikan teori hari ini, tapi bukan berarti teori ekonomi yang saudara pelajari itu tak berlaku" ujarnya sebelum memulai orasi.
Sebagai orang Aceh, saya merasa bangga atas prestasi Adnan Gantong ini. Ia adalah contoh bahwa siapapun bisa berkarya dan meraih sukses bagaimanapun latar belakangnya. Siapa yang menduga, seorang anak kampung di sebuah desa yang tak dianggap tapi menjadi sosok penting di negeri ini bahkan dunia.
Semoga cerita Adnan Ganto ini bisa menginspirasi kita untuk terus berkarya. :)
Pendidikan
Akuntansi, Institut Ilmu Keuangan Negara (IIKN)Jakarta, Indonesia pada 1969
Banking and Capital Market Program, Nederlandse Instituut voor Bank en Effecten (NIBE), Amsterdam,Holland pada 1976
Management Program for Senior Executives, Institute of Management Development (IMD), Lausanne,Switzerland pada 1988
Corporate Finance, Harvard Business School, Harvard University, Boston, USA pada 1990
Professional Career pada bank asing
Bekerja selama 14 tahun pada Bank Belanda, PiersonBank NV, Amsterdam, Holland (yang kemudian merger dengan AMRO BANK NV, Amsterdam). Jabatan terakhir adalah Senior Vice President & Regional General Manager di Hong Kong (1971– 1985)
Bekerja selama 23 tahun pada Bank Inggris, Morgan Bank Ltd., London, United Kingdom. (1986- 2008)
English
(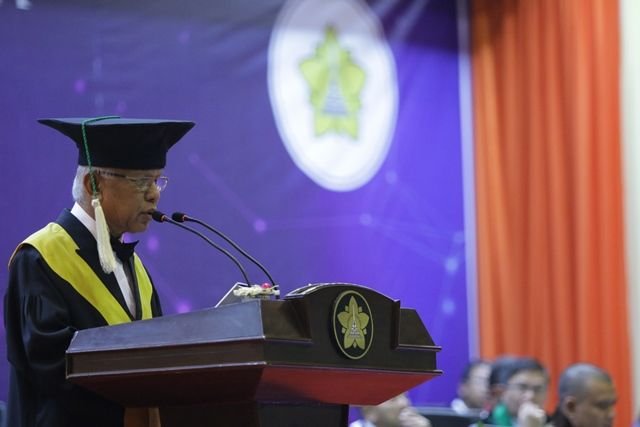 )
Adnan Ganto is a rare figure. Born in a poor little village, but later became a world-class Banker. Adnan Ganto was the first successful Asian person in a strategic position in a Bank of England, Morgan Bank Ltd. In this Bank of England he worked for 23 years. Then in 1987, Adnan was appointed Director of Investing Banking in Singapore. Finally, Adnan as Executive Director in New York-USA.
Adnan Ganto was born on February 4, 1947 in Lhokseumawe, North Aceh. Now, the father of three son's son is domiciled in Menteng, Central Jakarta. He was exposed to go back indonesia - London because of his work.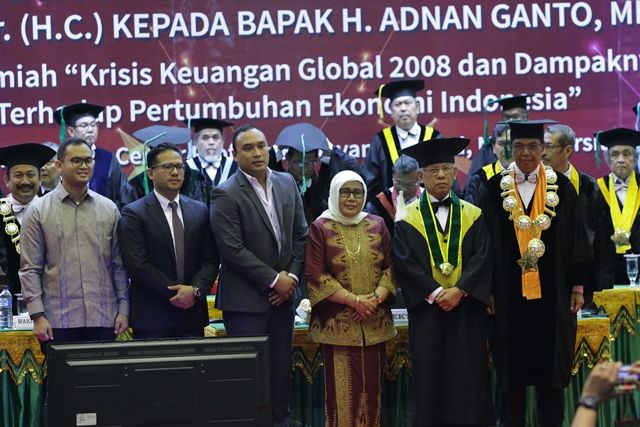 If we calculate Adnan Ganto has a career for 37 years in Foreign Bank. He has been assigned to Amsterdam, Hong Kong, Singapore, London, Zurich to New York. While Acehnese are still struggling in times of conflict, Adnan Ganto can be a beprestasi on the world stage.
In addition to achieving on the world level, Adnan Ganto also contributed significantly to Indonesia. Since 1991 until now, Adnan Ganto is advisor to the Minister of Defense of the Republic of Indonesia. Already 7 moderate defense ministers, but his position as my permanent adviser.
Although already successful in the international world, Adnan Ganto remains unforgettable with his native land of Aceh. He is the most important figure when changing the status of Aceh Regional Development Bank (BPD) Aceh Bank Aceh Sharia. The conversion process from conventional to Sharia is an achievement Adnan deserves appreciated.
Well, today I was present at AAC Dayan Dawood Darussalam, to watch the Honoris Causa honorary degree from Syiah Kuala University to this World Class Banker. This is the first time I saw Adnan Ganto speak scientifically.
He delivered an oration entitled: The Global Financial Crisis and Its Impact on Indonesia's Economic Growth.
I sat there listening to all his analyzes. He told me how the financial crisis in 2008 and the economy of Indonesia.
Adnan also revealed that he witnessed the seconds of the stock market collapse in America during the crisis.
Adnan Ganto delivered his analysis directly, detail and focus.
"I do not convey the theory today, but it does not mean that your economic theory does not apply" before continuing the oration.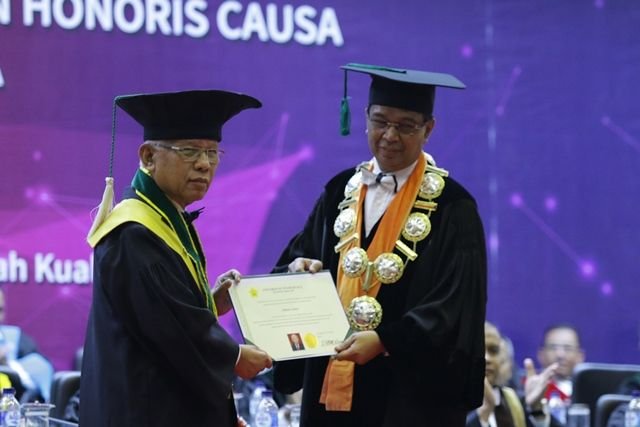 As an Acehnese, I feel strongly about this Adnan Gantong achievement. He is an example can work and achieve success at a glance behind. Who suspected, a village boy in a village that is not considered but become an important figure in this country and even the world.
Hopefully this story of Adnan Ganto can inspire us to continue to work.
Education
Accounting, State Financial Science Institute (IIKN) Jakarta, Indonesia in 1969
Banking and Capital Market Program, Nederlandse Instituut voor Bank en Effecten (NIBE), Amsterdam, Holland in 1976
Management Program for Senior Executives, Institute of Management Development (IMD), Lausanne, Switzerland in 1988
Corporate Finance, Harvard Business School, Harvard University, Boston, USA in 1990
Professional Career in Bank
Working for 14 years at Bank Netherlands, PiersonBank NV, Amsterdam, Holland (later merged with AMRO BANK NV, Amsterdam). His last position was Senior Vice President & Regional General Manager in Hong Kong (1971-1985)
Working for 23 years at the Bank of England, Morgan Bank Ltd., London, United Kingdom. (1986- 2008)