I attended this fifth anniversary of the Lesbians Who Tech Summit in San Francisco with almost as much excitement and trepidation as I did 4 years ago attending the very first in 2014. And while I still found it an exciting and worthwhile conference I do still struggle with its place both in the tech world and queer community. In many ways this has always been fraught and perhaps that is not a bad thing. There are inherent difficulties in bringing a queer community that has more than the average anti-capitalist tendencies together with a tech one facing a pretty bad rep right now from SF to DC. But founder and current CEO LeAnn Pittsford is all about the tough. She has always held the summit in the infamous Castro district to help lesbians stake a claim on the traditionally gay male neighborhood but also to embrace the queerness of the gathering, even though LWT has outgrown the venues and spaces available in this tiny 'hood. So what is the purpose of all this struggle? I would say a dialogue but Pittsford would go even further by saying that one of the five overarching principles LWT has always espoused is, "The hard is what makes it great."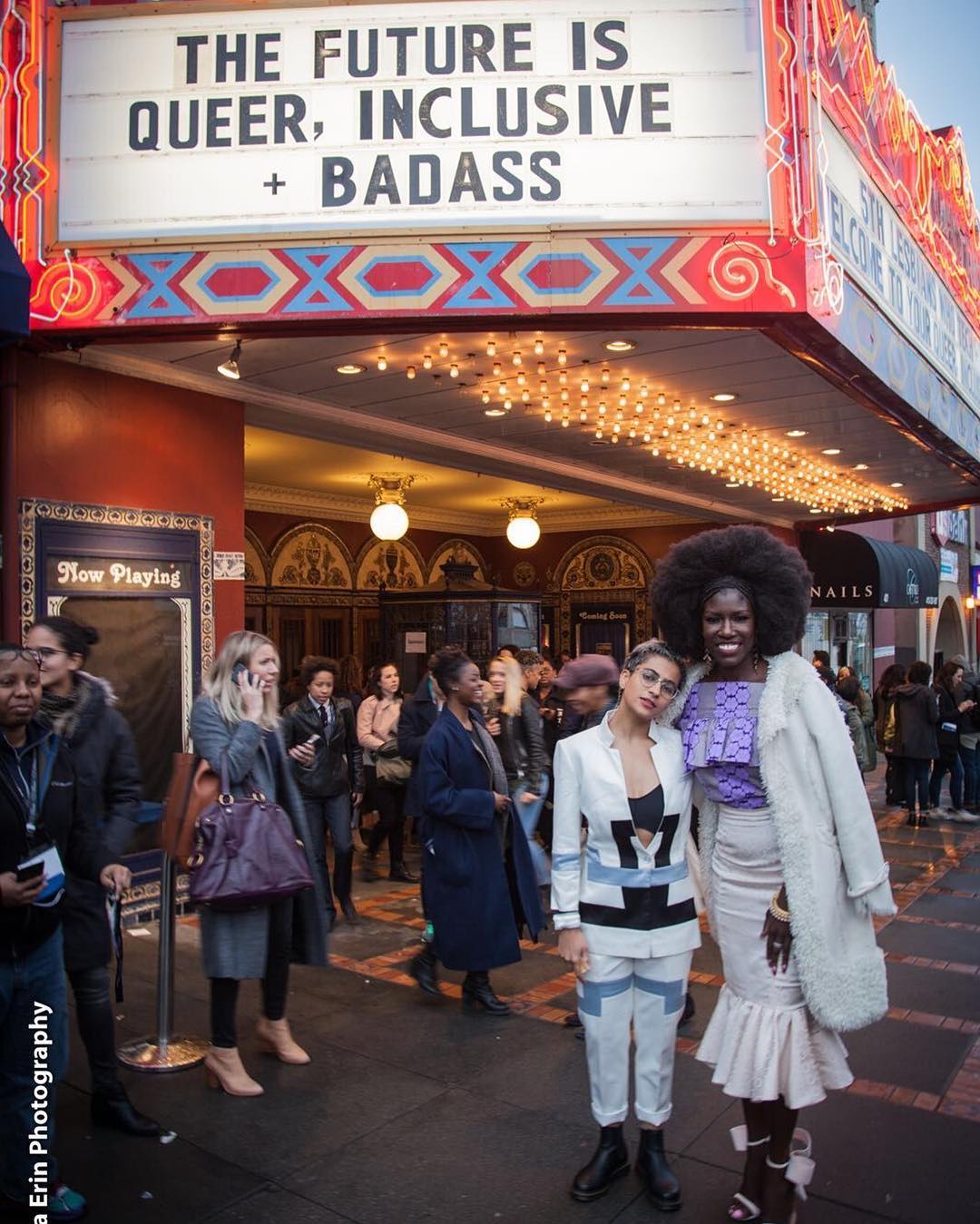 Uber Brand officer Bozoma St John with musician Madame (Kiran) Gandhi in that amazing outfit I mention in front of the Castro Theater. Photo courtesy Marisa Erin Photography.

In the past 2 years I've missed the opening night has been a pub crawl and something of a sh*tshow with no one being able to hear when it was time to go to the next place and all kinds of confusion. I was used to 2 for 1 drink specials at Beaux and missed that, though I completely understand not wanting it to be too alcohol-centric. Once again being in the Castro has its disadvantages here with other options being a restaurant that probably doesn't want to give up its nightly food service or a coffeeshop that doesn't want to open late, and probably wouldn't be big enough anyway. The solution this time also wasn't great. Since having sponsors in the upper levels of the theater has been way outgrown they set up w pavilions in nearby parking lots and led us, not very successfully there. It seemed a cruelty to have us wait in the huge line to get our badges only to be in the theater for 2 minutes before not being told where we were led. Being able to get your badge over the course of a couple hours Thursday night and Friday morning, as before, would have been much easier. Also going directly to the venue or at least written down where we were going rather than trying to lead several hundred people by the hand. The rain didn't help in these somewhat uncovered spaces that lent a lot more to advertising than they did to socializing. But I did get one tiny free thimble of wine before peacing out to dinner.
Though the beginning might have been messy, Friday's nonstop keynote action, for the most part, did not disappoint. LWT may not always be the most organized but they are good at responding quickly (necessary when schedules are often not yet until the week of) and I was impressed when astronaut Mark Kelly and perhaps even more famous wife Gabby Giffords took the stage to talk about gun violence. The combination of a space scientist and timely politician cme activist was spot on and tears definitely threatened to spill down my cheeks.
The rest of the morning's speakers were good including a basic but exciting intro to AR (augmented reality) by Google's Marley Rafson, who showed us how much it's going to be part of our everyday lives. Another particular highlight was Joy Dunn, Product Manager at SpaceX, talking about how we're going to get to Mars by 2024. Specifically, she said we'll need the reuse of rockets and empathy, not necessarily in that order. While she did not quote any Total Recall she did all up the inspiration of Sally Ride. "We only let the laws of physics tell us what we can and cannot do."
The big draw was Kara Swisher interviewing Sheryl Sandberg and their not quite friendly banter. Sandberg called Swisher not a good lesbian for not being able to mic her bra, and Swisher said she wasn't pretty enough to try to turn gay. Facebook isn't particularly on anyone's good side right now so as rough as this interview felt it was a good representation of the conference and the world in this moment.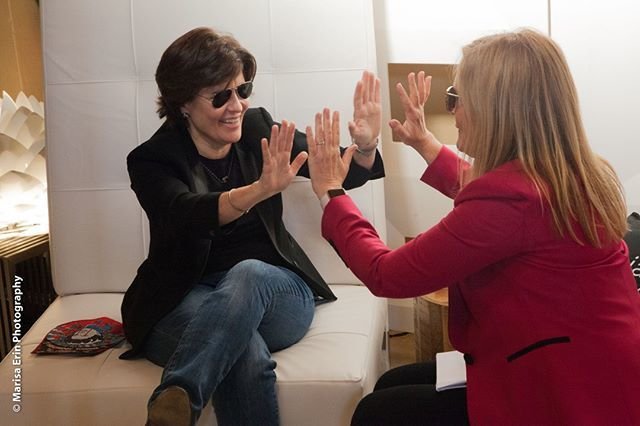 Kara Swisher with surprise guest Samantha Bee. Photo courtesy Marisa Erin Photography.

More cringe-worthy moments came from Sandy Adam's of Raytheon's talk of missile technology or Uber's new Brand Ambassador Bozoma Saint John faced cat calls from the audience regarding labor practices. Awkward as that may have been Pittsford as her interviewer was no Swisher and let her easily sidestep questions about Uber's recent image problems. That may be her job, but she needed to be pressed into doing it better. As the dynamic speaker with an fascinating history of her own I'm sure she was up to it.
Lunch was another confusing time wherein there were 2 extremely mediocre looking food trucks in front of the theater and a ton of invite-only breakout sessions. Some of these were POC focused and perhaps you could have self-selected for those but others seemed to have little rhyme or reason as to who was invited or what was going on. As a journalist I have no problem if these things weren't for me but I would have loved to have a little information as to what they were really all about in order to be able to report on them. Alas, I got nothin' for y'all.
In the afternoon I would have liked to wander to any of the many excellent looking satellite venues but the main stage was just too good. Sally Kohn extolled the virtues of kindness while Robbie Kaplan the virtue of anger and justice as she sues violent white supremacists. Both seemed to have an important place and perhaps Kohn and Kaplan will replace the current devils and angels whispering wiseness into our ears.
A panel of becoming an a CTO was led by TechCrunch's Megan Rose Dickey and featured 2 executives who were not yet CTOs and one who just left her CTO position. Clearly, some of us even high up still struggle and others once we get there no longer want the unrealistic level of expectations. Still, it confirmed what I have always tried to espouse, to ask for work responsibilities just before you think you are 100% ready for them. That's what successful men do and we will grow into our positions (this has mostly worked for me so far).
It was most interesting, before the final heavy hitters took the stage, to see a panel on scaling venture backed companies. Two of the panelists were winners from the summit's first 2 years of granting new app pitches a bit of seed money and they both seem to be doing well. Robyn Exton of Her (née Dattch) with bright pink hair and a British accent is always charming and charismatic, just right for the head of a dating app, and Stephanie Lampkin a powerhouse that won the pitch contest for Blendoor, a tool that reduces unconscious bias in hiring really got into the grit of funding and being a founder. She called it, "Building the plane while flying."
The closing keynotes (though the conference continued the next day) were as epic as one would hope even if Alicia Garza, Black Lives Matter co-founder, was unable to attend due to cancelled flights. Madame (Kiran) Gandhi famous for her combination of musical (she drummed for MIA as well as producing her own electronic music) and academic talent (Georgetown and an MBA from Harvard) as well as free bleeding at the London Marathon gave an impressive talk in an impressive outfit. But even more impressive was her turning a short vocal sample she took on her phone into a rough song cut right in front of us on stage. I can't wait to hear it coming out. She also headlined the closing party, and while I did not attend I'm sure she rocked that tiny El Rio stage.
When Tegan and Sara walked up, though, the crowd really went crazy. The Castro Theater had a hard time holding everyone in throughout the summit but this hour people were standing in every aisle. Despite them saying over and over that it was their first keynote the Quin twins were excellent speakers infusing their talk with the same humor you often hear between songs during a concert. Though I bet that crowd would have cheered even if they had been speaking pig latin or Ingsoc. But their foundation really does a lot of great stuff and they outlined several of the things they do including working with LWT and also with queer health initiatives. "I don't like going to the doctor. It doesn't change if you're Canadian and don't have to pay for it." Zing Sara!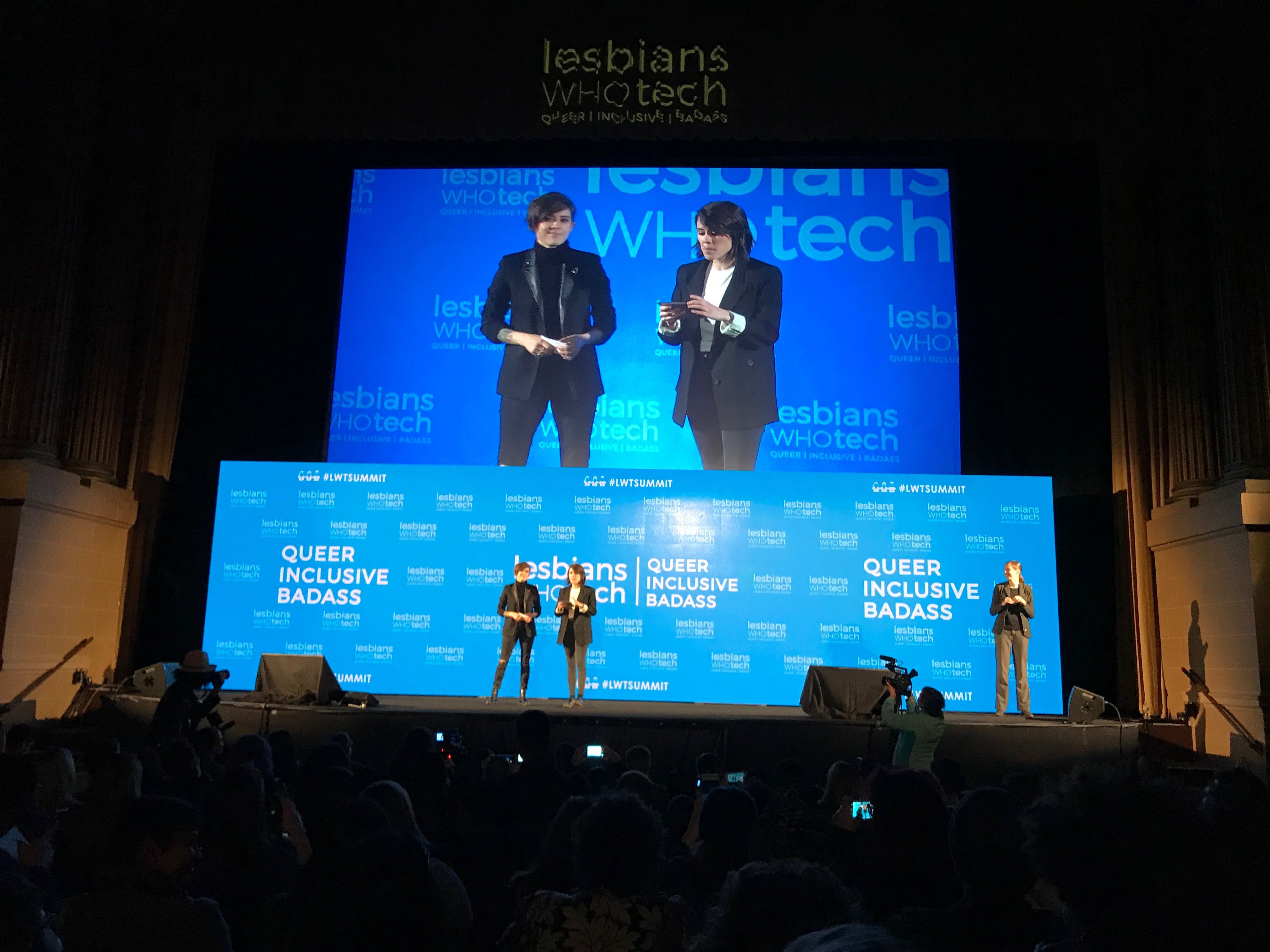 @teganandsara 's first keynote #LWTSummit pic.twitter.com/vvyNEy7S0c

— Alley Hector (@qpdx) March 3, 2018
On the much more mellow closing Saturday (not counting some social activities on Sunday) I only attended one breakout talk but it had some really great info including an intro to React Native and a talk about some really important medical software from a personal friend of mine Thacher Hussain. Her company WiserCare is making open source software to connect glucose level monitoring tools with the insulin pump. Their algorithm predicting how much she will need based on continuous level checks has greatly increased her energy and quality of life. She spoke casually but I found it one of the most innovative and exciting of the weekend.
Overall the weekend was informative and successful though the summit still struggles to find its footing on a few levels. Ironic as always, the app for the tech summit experienced many troubles. While I didn't rely on it too much it seems that LWT has abandoned most of their formerly planned social time (such as the Sunday brunch they used to hold in the Mission) to let attendees plan their own get togethers throughout the conference. This certainly gives more freedom to meet in places that are more comfortable for folks but also seems a bit harder for the introvert. As the event becomes more and more mainstream it felt like it could be losing some of its energy. Yet even as the activist and non-conformist that I can be, I can't argue with the success of things such as their quota system which has brought 50% women of color to the speaking podium and between 10 and 15% trans and non-binary folks. And whatever your queer view on capitalism, most of us use money every day and companies involved with this summit are bringing us forward economically and technologically. That is certainly something exciting to be a part of.