Do you ever struggle to find food that you would like to eat when your stomach is asking or having friends/family asking where shall we eat? Fear no more, as @letseat will solve most of the question that you have in mind when it comes to food and what are the better way to earn and eat at the same time right? 😉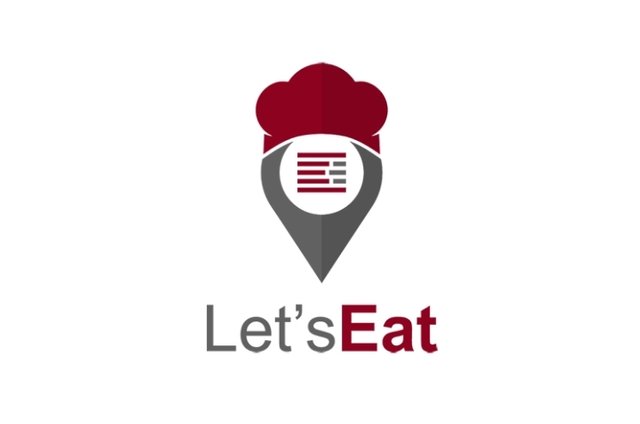 Letseat is an mobile application which is build on top of Steem Blockchain by @eroche himself and it's current in Beta version which is available for download at the Google Playstore for Android user. As for iOS user, we all need to be slightly patient for the development or if you have any spare Android phones, that will be great! 😎
Log In Account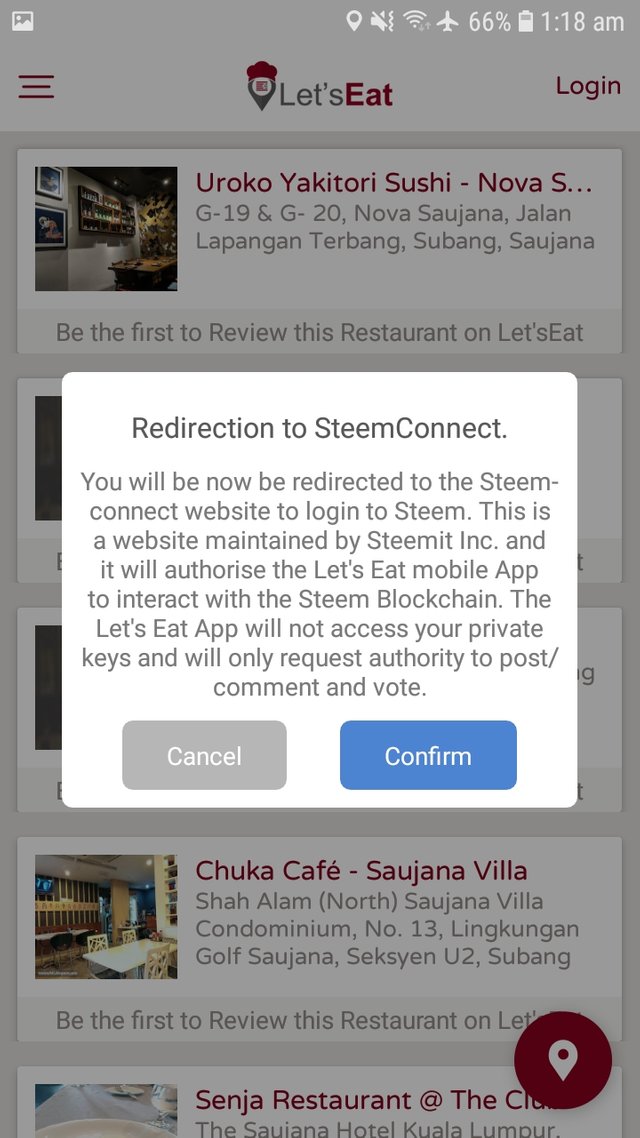 Firstly, you'll need to login via SteemConnect through the app which is very simple as most of the Dapps that is build on Steem Blockchain uses this method. Remember, you can't post or give review without logging into an Steemit account, be sure to get your friends to signup a Steem account before posting on Letseat.
---
User Interface
The UI is just simple and neat that every user will find it very easy to navigate and post a food review but the UI is not final as Letseat is still in beta and might differ from the time this post was written.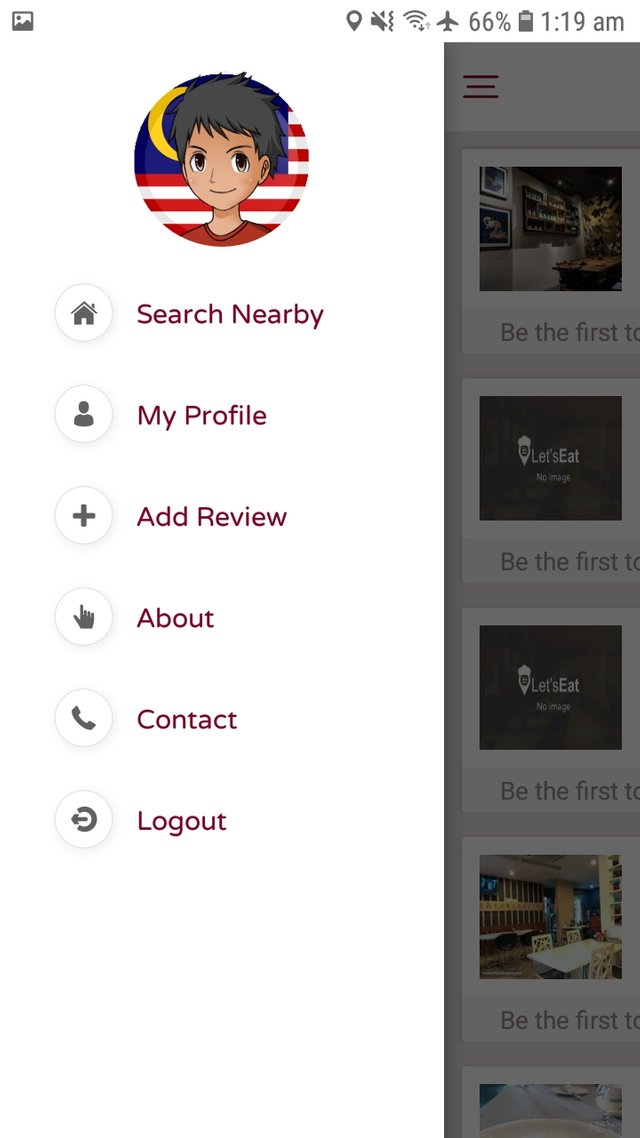 Homepage, where you will see a list of restaurant nearby your location everytime you launch the application or after you've login to your account.
Top left of the corner with indicator 三 shows the menu of the App which are:
Search Nearby (Homepage)
My Profile (Show your previous reviews)
Add Review (Manually add a ​review if you are unable to locate the restaurant from the search nearby or map)
About (Introduction to Letseat)
Contact (@letseat's Steemit account)
Logout
---
Search Nearby (Homepage)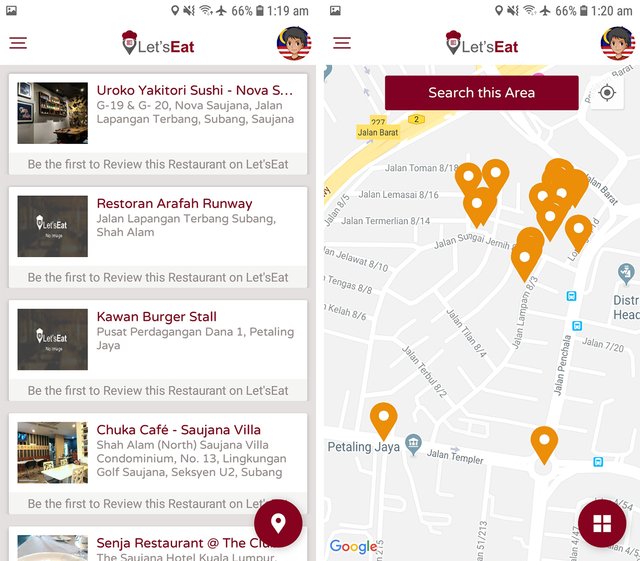 Firstly, search for the restaurant that you are visiting or wanted to visit via the search nearby list view (Left) or the map view (Right). You can toggle between the view by pressing the bottom right icon and map view allows you to search for restaurant beyond your current location to either give a backlog/previous review or simply scout for restaurant for your lunch or dinner 😏.
If you're unable to search for the particular restaurant to give your review, need not to worry as you're able to manually key in the details via the Add Review on the menu.
---
My Profile
This section allows you to view your previous visit of restaurant on your journey or see the payout of each post. Each review will be rewarded with some "R" points for SMT in the future but it's currently under development with a coming soon notice. Correct me if I'm wrong about this 😅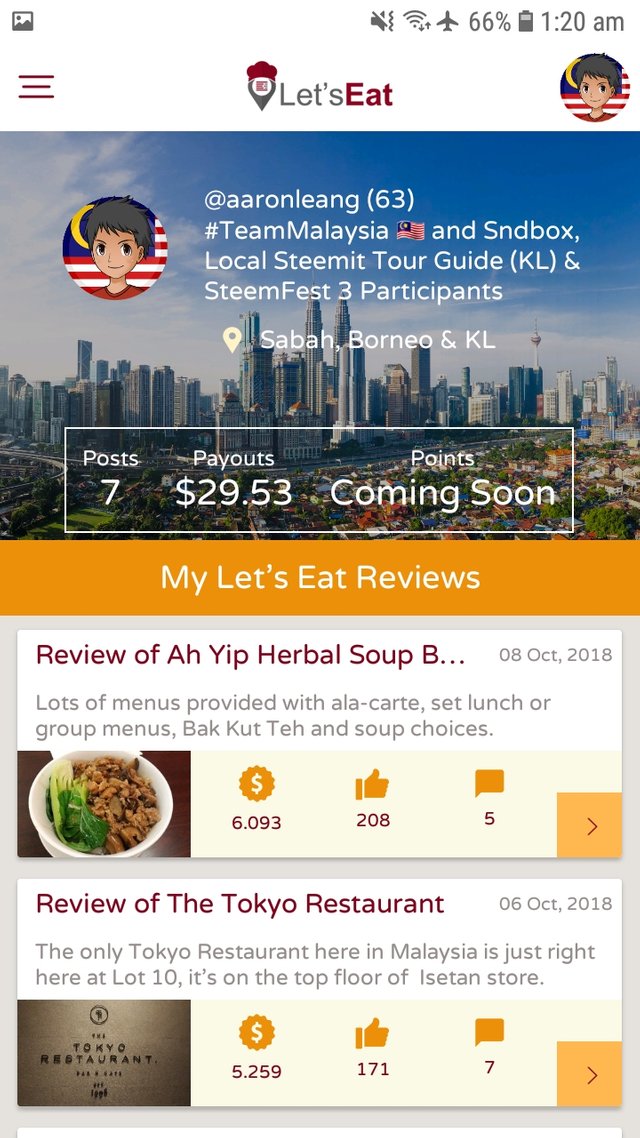 ---
Giving Review!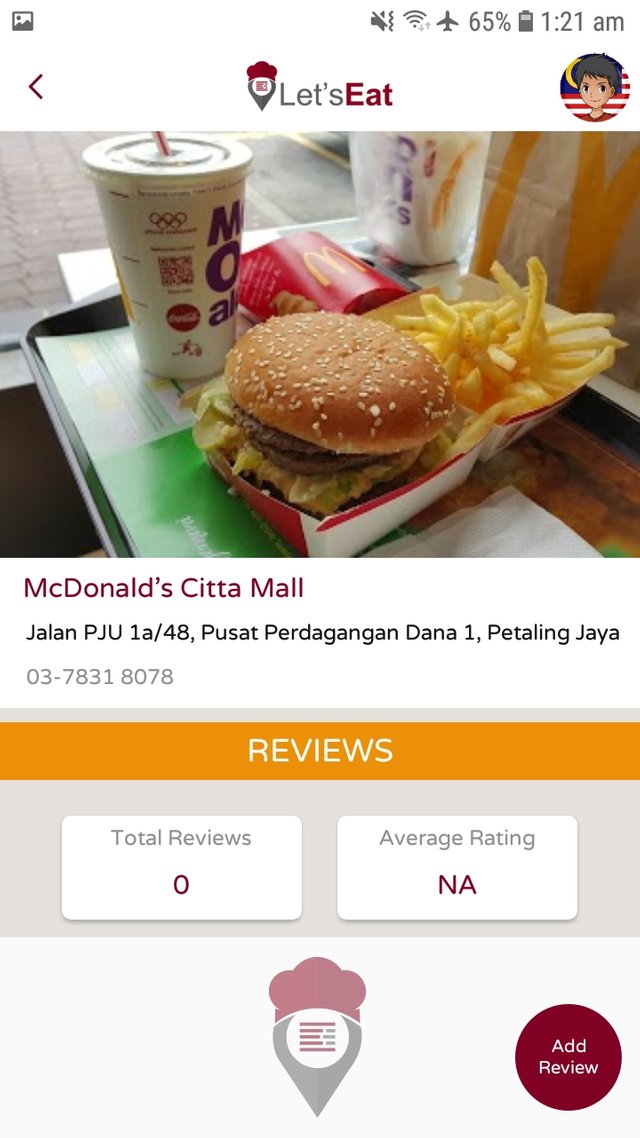 Restaurant which aren't being reviewed are in a orange point (as shown above) whereas those which are reviewed are in letseat logo. Once you have located the restaurant that you are giving review to, simply click on add review on the "Add Review" shown on the restaurant and it will prompt into a detail key in process.
All the details like Restaurant Name, Address and Post Title are automatically key if you choose the restaurant from the given point on the map or list view. Details that you'll need to enter are Tags, Type of Food, Time of Day, Occasion, Price Rang, Star Rating, Your Written Review and Image.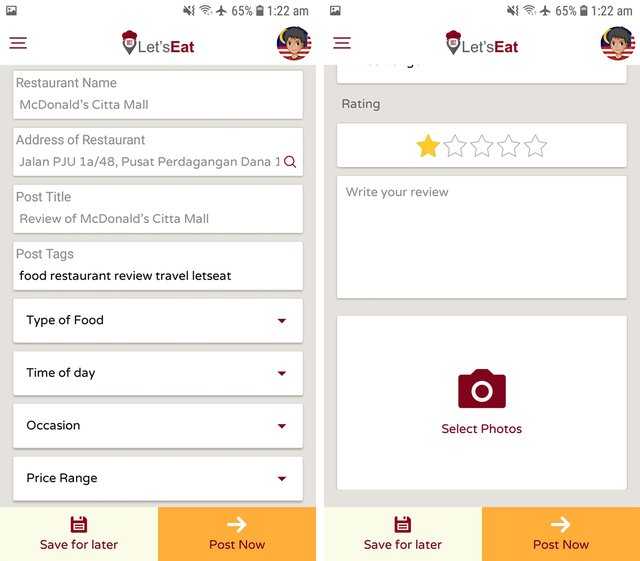 Currently, these are the detail you'll need to key in and hopefully in the future, more option are available such as video uploading or full resolution image display on Steemit.
Once you're done with your review, click the "Post Now" to submit to the Steem Blockchain or "Save for Later" to post later or drafting and enjoy your food first!
---
Remember to join the Let's Eat community in Discord by clicking this link, https://discord.gg/msgwmHy. Discussion, suggestion or report any bug that you've encounter right here! Hope this guide is detailed for your understanding and Happy Let's Eat!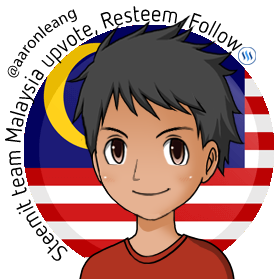 Who Am I?
I'm Aaron Leang from Malaysia, had started blogging on Steemit since November 2017 and has been actively participating in shaping and building up the community in Team Malaysia together with some other awesome Steemians.
I've been known as the meetup organizer for any local gathering and also International Steemians Meetup who came to visit in KL, Malaysia.
Ways to get in contact with me are Discord (AaronLeang#5270) or Telegram (@aaronleang) while you're at Malaysia, I can set up an awesome meetup with #TeamMalaysia!
Interested in Steemit? You can get your account with just one click away, HERE and blog together with WordPress via SteemPress plug-in.