Bergkronwicken-Widderchen
Zygaena fausta (Linnaeus, 1767)
Unter den Widderchen ist das Bergkronwicken-Widderchen das kleinste, schönste und vor allem das seltenste seiner Art. Der tagaktive Nachtfalter fliegt nur noch in wenigen Gebieten in denen die Raupen-Futterpflanze, die Berg-Kronwicke (Coronilla coronata) vorkommt. Der kleine Falter saugt gerne an violetten Blüten und fliegt von Mitte Juli bis Ende August. Die Männchen kann man von den Weibchen anhand der rot beringten Bauchbinde unterscheiden. Bei den Männchen sind es drei und bei den Weibchen zwei Segmente. Das Weibchen legt seine Eier in einem Eispiegel sowohl auf die Blattoberseite, als auch Blattunterseite ab. Die Raupe überwintert am Boden und frisst im darauffolgenden Frühjahr bis zu Ihrer Verpuppung. Der Falter wird in der roten Liste als stark gefährdet eingestuft.
Among the Zygaena, the Zygaena fausta is the smallest, most beautiful and above all the rarest of its kind. The moth, which is active during the day, flies only in a few areas in which the caterpillar food plant, the mountain crown vetch (Coronilla coronata) occurs. The small moth sucks on violet flowers and flies from mid-July to the end of August. The males can be distinguished from the females by the red belly band. There are three segments in males and two in females. The female lays her eggs in an egg tray both on the upper and lower side of the leaf. The caterpillar hibernates on the ground and eats until it pupates in the following spring. The moth is classified as highly endangered in the red list.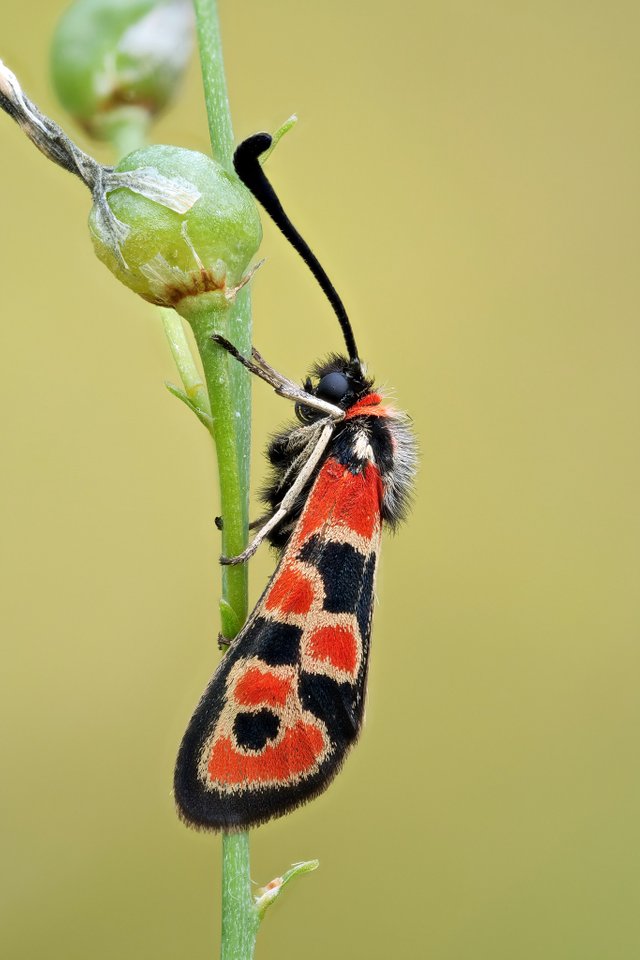 ▲ Click on the image for full resolution ▲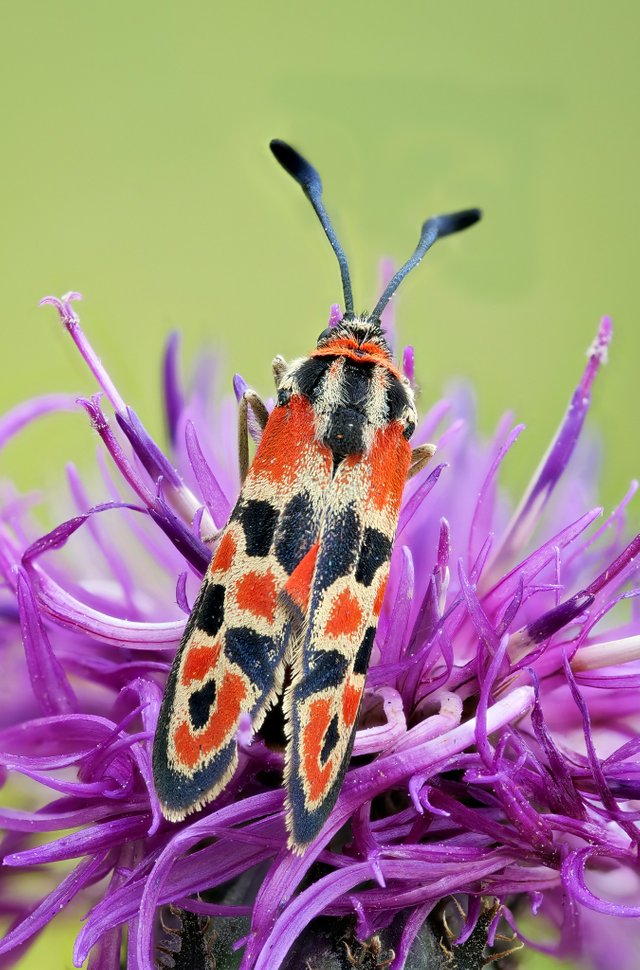 ▲ Click on the image for full resolution ▲
〰️
| | |
| --- | --- |
| Category: | Macro |
| Camera: | Panasonic Lumix DC-G9 |
| Lens: | Olympus M.Zuiko Digital ED 60mm 1: 2.8 Macro |
| Location: | Germany, Baden Württemberg, Lower Franconia, Tauber Valey |
Wenn dir mein Beitrag gefällt, freue ich mich über deine Nachricht.
Herzlichen Dank und viele Grüße vom @faltermann 🐛
If you like my contribution, I am looking forward to your message.
Many thanks and greetings from Germany 🦋
🔴 SteeamPeak (Best user interface for the Steem Blockchain)🔴
🔴 SteemWorld 🔴
🔴 eSteem Search 🔴
🔴 Partiko mobile app 🔴