🌈 Schmetterlingstour im Februar │ Butterfly tour in February 🦋
Das warme Wetter hat dafür gesorgt, dass bereits zahlreiche Tagfalter unterwegs sind. Bei Temperaturen von +20° haben sie ihren Winterschlaf unterbrochen. Gestern habe ich das fantastische Wetter genutzt, um den ganzen Tag in der Natur zu verbringen. Es war einfach fantastisch zu beobachten, welche Artenvielfalt bereits unterwegs ist.
Alle Aufnahmen wurden von mir am 27.02.2019 fotografiert.
The warm weather made sure that numerous butterflies are already on their way. At temperatures of +20° they hibernate interruptedly. Yesterday I used the fantastic weather to spend the whole day in nature. It was simply fantastic to see the biodiversity on the way.
All pictures were taken by me on 27.02.2019.
Admiral ■ Red admiral
Vanessa atalanta (Linnaeus, 1758)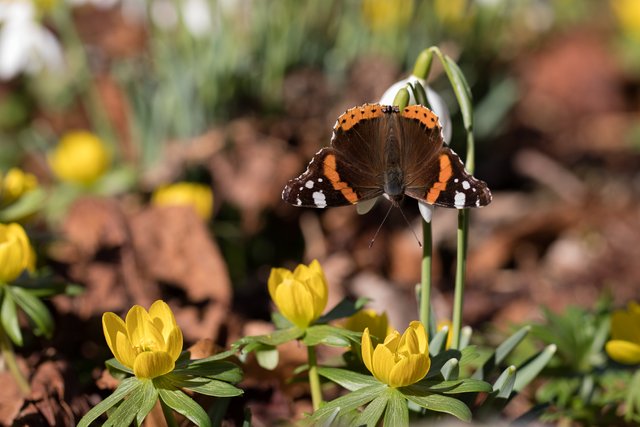 ▲ Click on the image for full resolution ▲
Erst wollte er sich nicht fotografieren lassen. Aber ich blieb beharrlich und habe mich ihm immer wieder ganz langsam genähert. So hat er sich an mich gewöhnt und mir letztendlich aus der Hand gefressen 😁
At first he didn't want to be photographed. But I remained persistent and approached him again and again very slowly. So he got into contact with me and finally ate me out of my hand 😁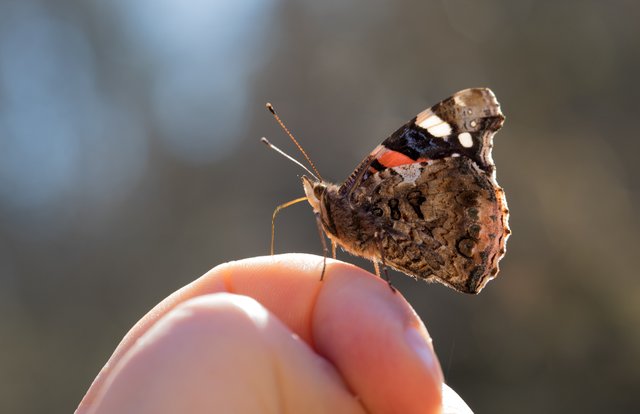 ▲ Click on the image for full resolution ▲
Großer Fuchs ■ Large tortoiseshell
Nymphalis polychloros (Linnaeus, 1758)
Noch vor einigen Jahren, war der große Fuchs etwas ganz besonderes. In letzter Zeit kann dieser Tagfalter jedoch Boden gut machen und ist zumindest in Unterfranken wieder zahlreich zu beobachten. Bei dieser Aufnahme hat sich der Falter immer wieder den gleichen Baum als Ansitz für ein Sonnenbad ausgesucht. Etwas Geduld war dennoch notwendig, um akzeptable Bilder zu fotografieren.
Just a few years ago, the large tortoiseshell was something very special. Lately this butterfly can make good ground and is at least in Lower Franconia again numerous to observe. In this photo the butterfly has always chosen the same tree as a hiding place for sunbathing. Nevertheless, some patience was necessary to take acceptable pictures.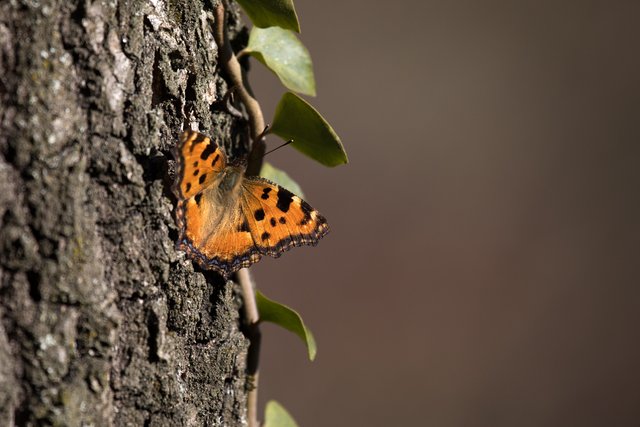 ▲ Click on the image for full resolution ▲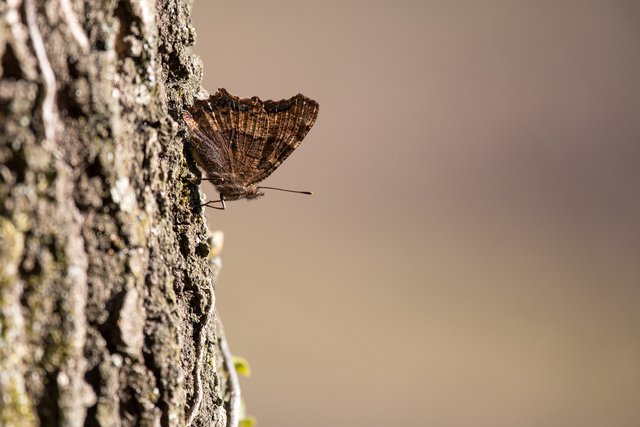 ▲ Click on the image for full resolution ▲
Zitronenfalter ■ Common brimstone
Gonepteryx rhamni (Linnaeus, 1758)
Der Zitronenfalter lebt am längsten von allen Tagfaltern. Er fliegt in einer Generation und überlebt in der Natur bis zu einem Jahr. Selbst härtester Frost kann ihm nicht schaden. Mit den ersten wärmenden Sonnenstrahlen ist auch er wieder zahlreich unterwegs, auf der Suche nach den ersten Blüten.
The Common brimstone lives the longest of all day butterflies. It flies in one generation and survives in nature for up to a year. Even the hardest frost cannot harm it. With the first warming rays of the sun, he is on his way again, searching for the first flowers.
▲ Click on the image for full resolution ▲
Birken-Jungfernkind ■ Orange underwing
Archiearis parthenias (Linnaeus, 1761)
Als einer der ersten tagaktiven Nachtfalter ist das Birken Jungfernkind auf Waldwegen zu finden. Es sitzt meistens an feuchten Stellen am Boden. Dort saugt es Mineralien und genießt die wärmenden Sonnenstrahlen.
As one of the first moths active during the day, the orange underwing can be found on forest paths. It usually sits in damp places on the ground. There it sucks minerals and enjoys the warming sun rays.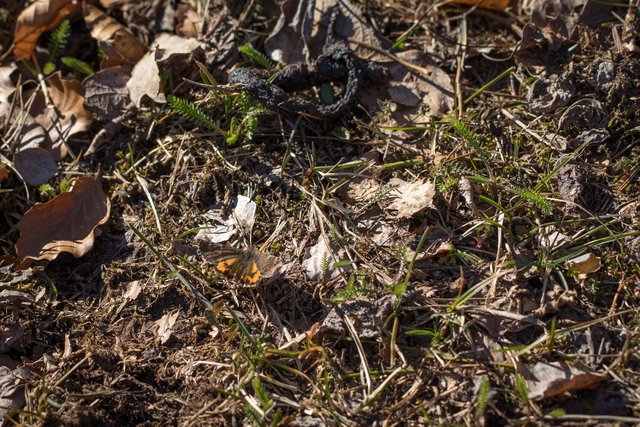 ▲ Click on the image for full resolution ▲
〰️
| | |
| --- | --- |
| Category | Macro |
| Camera | Canon 5D Mark IV |
| Lens | Canon EF 100 mm 1:2.8L Macro IS USM + Canon EF 100-400 mm L IS USM |
| Location | Germany, Bavaria, Lower Franconia, South Spessart |
Wenn dir mein Beitrag gefällt, freue ich mich über deine Nachricht.

Herzlichen Dank und viele Grüße vom @faltermann 🐛
If you like my contribution, I am looking forward to your message.
Many thanks and greetings from Germany 🦋
Frühere Beiträge in der Übersicht │ Previous articles in the overview