Tintenfleck-Weißling ■ Wood white
Leptidea sinapis - juvernica (Linnaeus, 1758)
Gestern Abend habe ich einige Wiesen auf Ameisenbläulinge untersucht. Ich wurde auch fündig und konnte frische Falter entdecken. Kurz bevor die Sonne hinter dem Horizont verschwand, habe ich diesen Tintenfleck-Weißling in der Wiese auf einer Kleeblüte entdeckt. Für mich auf jeden Fall ein Anlass mein Stativ noch einmal aufzubauen. Es waren optimale Bedingungen, denn es war windstill.
Last night, I was examining some meadows for large blue butterflies. I also found them and discovered fresh butterflies. Shortly before the sun disappeared behind the horizon, I spotted this wood white butterfly in the meadow on a clover blossom. In any case an occasion to reassemble my tripod. They were optimal conditions, because there was no wind.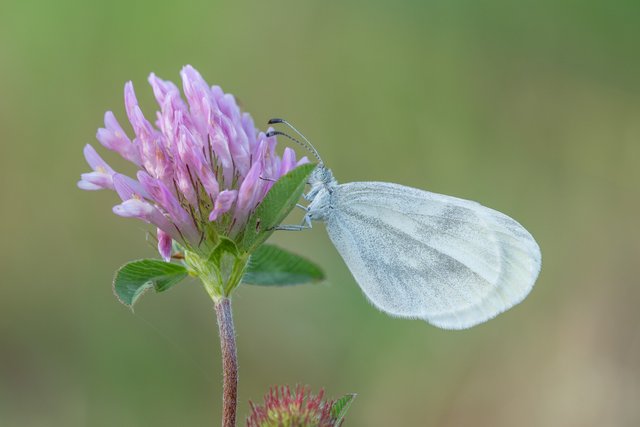 ▲ Click on the image for full resolution ▲
〰️
Kleines Wiesenvögelchen ■ Small heath
Coenonympha pamphilus (Linnaeus, 1758)
Auf meinem kleinen Hocker sitzend, befand sich in unmittelbarer Nähe auch noch ein Wiesenvögelchen. Als Ansitz hatte es sich einen Spitzwegerich ausgesucht. Es ist schon erstaunlich was man alles entdeckt, wenn man mal ruhig sitzt und nicht in Bewegung ist. In der Ruhe liegt die Kraft!
Sitting on my small stool, there was also a small heath butterfly in the immediate vicinity. It had chosen a ribwort plantain as its hiding place. It's amazing what you discover when you sit quietly and don't move. The strength lies in the silence!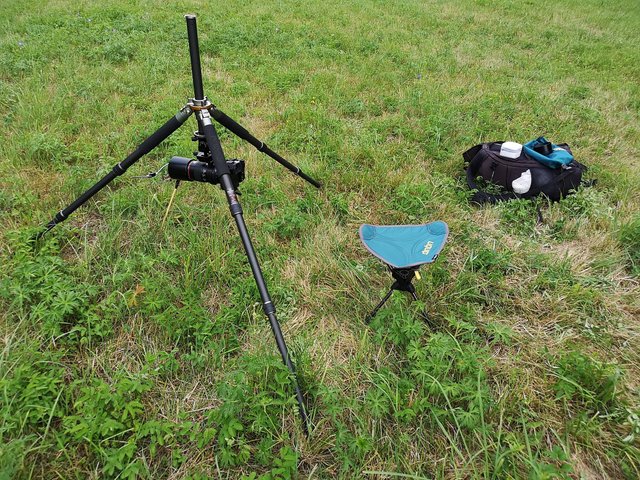 ▲ Click on the image for full resolution ▲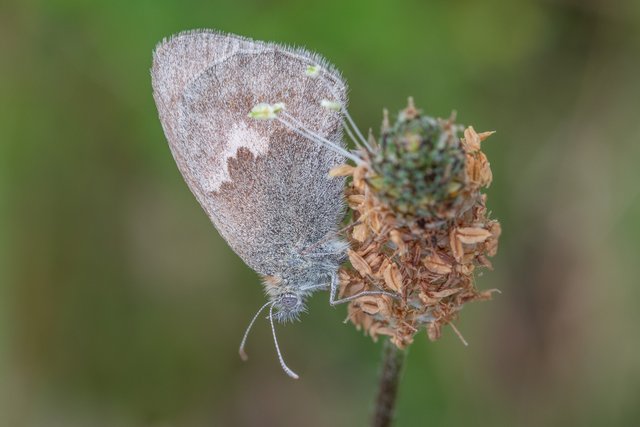 ▲ Click on the image for full resolution ▲
〰️
Category:
Macro
Camera:
Panasonic Lumix DC-G9
Lens:
Canon EF 100 mm 1:2.8L Macro IS USM
Location:
Germany, Bavaria, Lower Franconia, South Spessart
Wenn dir mein Beitrag gefällt, freue ich mich über deine Nachricht.
Herzlichen Dank und viele Grüße vom @faltermann 🐛
If you like my contribution, I am looking forward to your message. Many thanks and greetings from Germany 🦋
🔴 SteeamPeak (Best user interface for the Steem Blockchain)🔴