🌈 Wie ein Kolibri │ Like a hummingbird 🦋
Kiefernschwärmer ■ Pine hawk-moth
Sphinx pinastri (Linnaeus, 1758)
Der Kiefernschwärmer ist ein Nachtfalter aus der Familie der Schwärmer (Sphingidae). Mit einer Flügelspannweite von annähernd 10 cm gehört er zu den größten Nachtfaltern in Mitteleuropa. Er fliegt von Mai bis Juli in einer Generation. Der Kiefernschwärmer fliegt wie ein Kolibri Blüten an und saugt mit seinem langen Saugrüssel Nektar. Als Nahrungspflanzen dienen zahlreiche Blüten wie Seifenkraut und Heckenkirsche. Das Weibchen sitzt nach dem Schlüpfen meistens am Stamm einer Kiefer. Dort findet auch die Paarung (Kopula) statt. Die Raupe frisst an Nadelbäumen und überwintert als Puppe an der Stammbasis von Kiefern im Erdreich. Unter den Schwärmern zählt der Kiefernschwärmer zur häufigsten Art in der Familie. Diesen Falter kann ich noch jedes Jahr regelmäßig nachweisen. Er gilt in seinem Bestand als nicht gefährdet.
The pine hawk moth is a moth from the Sphingidae family. With a wingspan of almost 10 cm it is one of the largest moths in Central Europe. It flies from May to July in one generation. The pine moth flies like a hummingbird to flowers and sucks nectar with its long sucking trunk. Numerous flowers such as soapwort and honeysuckle serve as food plants. The female usually sits on the trunk of a pine tree after hatching. This is also where mating (copula) takes place. The caterpillar feeds on conifers and hibernates as a pupa at the stem base of pines in the ground. The pine hawk moth is the most common species in the family. I can still detect this moth regularly every year. It is not considered endangered in its population.
♀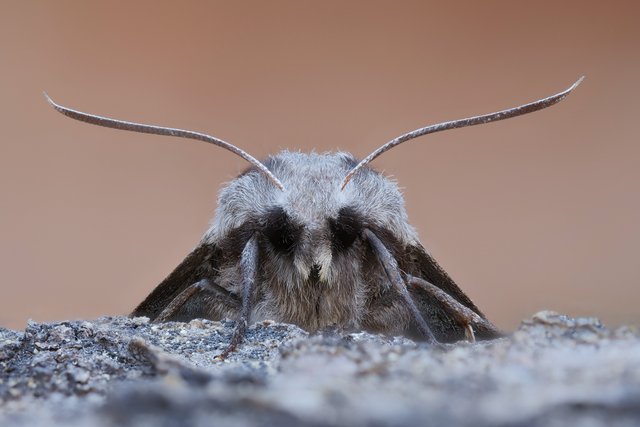 ▲ Click on the image for full resolution ▲
♂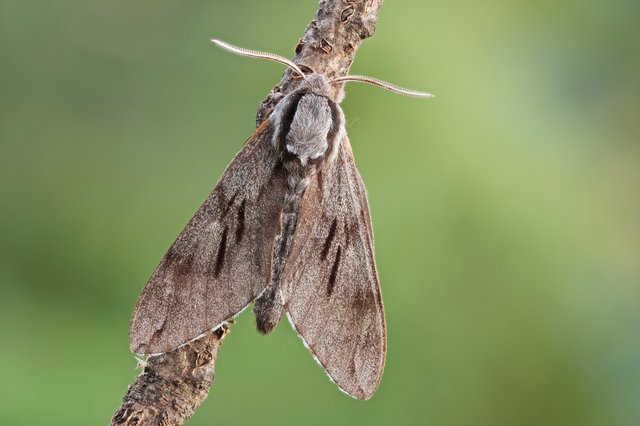 ▲ Click on the image for full resolution ▲
〰️
| | |
| --- | --- |
| Category: | Macro |
| Camera: | Panasonic Lumix DC-G9 |
| Lens: | Olympus M.Zuiko Digital ED 60mm 1: 2.8 Macro |
| Location: | Germany, Bavaria, Lower Franconia, Kreuzwertheim |
Wenn dir mein Beitrag gefällt, freue ich mich über deine Nachricht.
Herzlichen Dank und viele Grüße vom @faltermann 🐛
If you like my contribution, I am looking forward to your message.
Many thanks and greetings from Germany 🦋
🔴 SteeamPeak (Best user interface for the Steem Blockchain)🔴
🔴 SteemWorld 🔴
🔴 eSteem Search 🔴
🔴 eSteem mobile app 🔴