It is her smile that has fascinated people for more than 500 years: The Mona Lisa. Every year millions of people flock to the Louvre in Paris to catch a glimpse of the artwork that made the Italian painter Leonardo da Vinci so famous. Behind thick bulletproof glass, protected from theft and attacks, she smiles gracefully at the amazed people. Mona Lisa: the work of art to which the master himself was hopelessly addicted. The genesis of this painting is entwined in a variety of stories. A commissioned work for the Florentine silk merchant Francesco di Bartolomeo di Zanobi del Giocondo is rumoured by some to be a self-portrait of Leonardo, which possibly suggests latent homoerotic fantasies, others suspect. Who she really was or what da Vinci wanted to express with this picture will probably remain his secret forever.
Leonardo da Vinci was born on 15 April 1452 in the small village of Vinci near Empoli in Tuscany. His parents were the successful Florentine lawyer Piero da Vinci and Katharina, a simple farm girl. Since Leonardo was born illegitimate, he initially stayed with his mother in Vinci. It was not until he was five years old that he came to his father in Florence, who from then on took care of the education of his offspring.
With great probability Leonardo had attended a school, but since there was no compulsory schooling in Italy in the middle of the 15th century, it can be assumed that he only attended lessons irregularly. Because of his striking beauty and his graceful character, little Leonardo was very popular in the alleys of Florence. The people enjoyed the blond curly boy, who always walked through the streets with cheerful happiness. At the age of 15, his father, who had been observing his son's artistic talent with great benevolence for some time, sent him to the workshop of the famous painter and sculptor Andrea del Verrocchio. There Leonardo was trained as an artist in the next five years.
In 1472, at the age of 20, he became a member of the Florentine St. Lucas Guild as a painter. This enabled him to work as a freelance artist on commission. Leonardo was a human being, where he was overly provided with the most valuable things, such as beauty, grace and talent. That day of qualities in such perfect form which only God alone can give and which man could never acquire through his actions. At least that is what the testimonies of the contemporary witnesses da Vinci are like.
Leonardo da Vinci was an extremely beautiful man who showed infinite grace in everything he did. His talent was so immeasurable that he solved every problem that arose without much effort. Great power and skill united in his person. In addition to sculpture and painting, Leonardo had also gained deep insights into the natural sciences during his apprenticeship with the guild. Apart from the master himself, he also learned from conversations between the most important scholars of the city, who where always guests at the guild.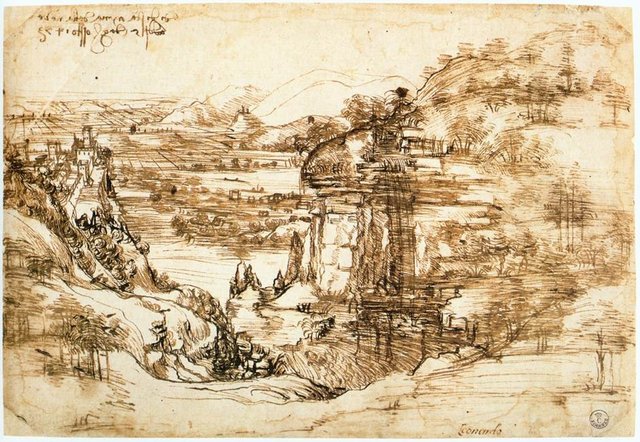 source
This is Leonardo's first known sketch and the first thing found that he dated. August 5th, 1473 -when Leo was 21. It also happens to be credited as the first landscape in western art.
There is a note on the back that says:

"I am pleased with Anto."

Part 2