The One Common Habit of Successful Leaders... and how you could adopt that habit in a way few people even think of!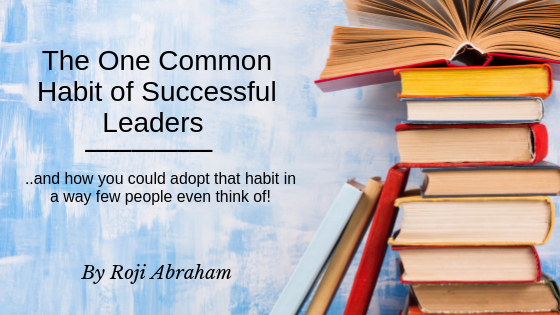 "Reading is essential for those who seek to rise above the ordinary." – Jim Rohn
The importance of book reading can never really be overstated – especially when it comes to the matter of leadership.
Of course, there is the occasional frog-in-the-well who staunchly believes one's own life experiences will be better than what is taught in any book (I've actually met a few who've made remarks akin to this and without surprise, they were among the most unremarkable people I have come across).
What such people unfortunately don't realise is that in our really short lives, we simply do not have the time to experience and learn enough on our own and books teach us perspectives and experiences of others that would otherwise never have found their way to us.
Remember the saying, 'Only a fool learns from his own mistakes; the wise man learns from the mistakes of others'?
Leaders Read.


Great leaders have always been readers. The best of the CEOs and thought leaders today still make time in their busy schedules to read and constantly learn – and in fact, it would be one of those key attributes of theirs that actually made them reach the lofty heights they did in the first place.
Bill Gates has said that he reads an average of 50 books a year. Barrack Obama is an avid reader who once remarked, "Reading is important. If you know how to read then the whole world opens up to you." Jeff Bezos, yet another voracious reader, had revealed in an interview how he often recommended books to his senior executives (I got to know these books were: The Effective Executive by Peter Drucker, The Innovator's Solution by Clayton Christensen and The Goal by Eliyahu Goldratt) and Apple CEO, Tim Cook, is known to regularly gift copies of one of his favourite management books to his colleagues.
Great leaders being readers is not a recent phenomenon.
Napoleon Bonaparte, who lived over 200 years ago, had a personal librarian and was said to have carried his personal library wherever he travelled (now imagine the inconvenience of doing that when you're busy waging wars). He had once said, "Show me a family of readers, and I will show you the people who move the world."
Explaining the joys of reading to a person who doesn't read is probably similar to explaining how vision is to a person who was born blind. It has to be experienced to be understood.
So, if you are somebody trudging up the stairs of leadership, are you sold on the need to read yet?
It changed my Life too…


I picked up reading really young and it was when I turned 11 that an incident (that put me in bed for months) really cemented this habit in me (I wrote about this in a blog post 8 years ago).
27 years since then, I have consumed books in hundreds and while my tastes have changed over the years (I read mostly non-fiction these days), the habit of reading has become a part of my very nature.
Reading, undoubtedly, has helped me in every facet of my life – it helped me improve my my vocabulary and my comprehension ability during my school days, it helped me uncover my creative side (which I leveraged later as a writer), and it was also responsible for helping me build relationships with people (thank you, Dale Carnegie). The knowledge I gained from reading even played an instrumental role in helping me successfully lead my first team 10 years ago (thank you Jack Welch for writing 'Winning' and especially for that chapter on candor).
Take out all the books I read from my life, and I know I would have turned out a much poorer man – figuratively, and in all probability, literally too.
Want to read but just can't find the time?
I have often heard the laments of my colleagues or friends who say they really want to start reading but simply are not able to find the time to do so.
And living in a city like Bangalore, that's perfectly understandable – the average corporate employee (doesn't matter the grade or designation) spends 2 hours in commuting to and from office (amidst the cacophony of the gazillion vehicles blaring their horns to glory), in addition to spending 9 or 10 hours in office itself. At the end of his/her work day, the said person has barely 12 hours to eat, sleep and attend to all his/her personal chores (and family matters) before starting all over.
So where could he/she make time for reading?
A while ago, this was my precise dilemma – after starting a new job, I was off for work every morning at 7.30 am and returned tired around 7.00 pm. And since I catered to customers in different time zones, it was not uncommon to see the odd email or two that I had to reply to even after that.
I was barely finding time to do a brisk run or walk 3-4 times a week, so where was I going to find time to read? Back then, the only time I found at first was about 20 minutes before I went to bed.
But then I discovered something that resulted in me making more time for books and eventually it led to me completing about 24 books in 2018 alone (despite my office schedule).
That something was - audiobooks.
Audiobooks to the rescue!


Listening to audiobooks isn't technically reading, but nevertheless, it is still the equivalent of reading a book – audiobooks are a godsend to people like me.
I started listening to audiobooks only last year and realised how effective (and useful) they were for somebody with a schedule like mine.
Once I latched to the idea of audiobooks, I started downloading and listening to them on my phone while on my way to office and back. Before I knew it, that part of the day I hated the most – the time spent in commuting between office and home – turned out to be my favourite part of the day.
So irrespective of whether I chugged to office slowly on the side of the road on my motorcycle or hitched a ride in somebody's car using 'Quickride' (the ride sharing app), I would be plugged in and busy listening to Neil de Grasse Tyson's Astrophysics for people in hurry, or Simon Sinek's 'Leaders eat Last', or Noah Harari's 'Homo Deus', or some of the popular podcasts I had downloaded earlier (Tony Robbins' Unshakeable is one of the best ones I heard last year).
I stopped complaining about Bangalore's unruly traffic too (and that's an achievement in itself), because, hey, when you are busy enjoying the ride to office and back, who's got time for getting mad at the crazy people on the road?
In Summary... and Recommendations.


Audiobooks have been around for a while but like any great idea, it is taking its own sweet time to catch on (remember the time when eBooks and Kindle were almost unheard of?).
However, companies are realising the potential in audiobooks and Amazon has now come out with their audiobook platform called Audible which they are promoting extensively. So, it might just be a matter of time before it's as common as, say, digital books.
While I used different phone apps for audiobooks at first (even tried audiobooks in mp3 formats which were cumbersome), I finally moved on to Amazon's Audible (thanks to a free trial they had offered).
Now, after having used Audible for over 3 months, I am completely hooked on it because it's user friendly, has a great collection of audiobooks, and is affordable (at least for a basic subscription that gives you 1 credit a month).
PS: If you don't have an Audible account, click here and join now for a free 1 month trial (you also get free credits to download a couple of complimentary audiobooks). Give it a try, and if you're just not using it enough, you can cancel before the subscription kicks in and still keep the free audiobooks to listen to as long as you want.
Since I'm writing this blog post on a professional networking platform, let me give you my picks of two great books every leader-in-waiting must read (both are available as audiobooks in Audible and are part of my library too).
Simon Sinek's Leaders Eat Last -> One of the best books on leadership I've read on leadership - extremely insightful as well as engaging.

Dale Carnegie's How to Win Friends and Influence People -> Strictly not a book on leadership but on relationship building; this is an all-time classic that no leader should miss reading.
So that's it! Reading is that one habit that's common to all successful leaders and if you're one of those people, who've always had regrets about not having time to read, this is your chance to make amends. Using audiobooks you could adopt that habit in a way few people even think of today!
Start listening to audiobooks, make the best of those long frustrating commute to work, and most importantly start experiencing the joy and contentment of learning from a great book, even if have never been a regular reader!
"Today a reader, tomorrow a leader." – Margaret Fuller
Note: This blog post has also been featured as a Linkedin Post by the author.