Witajcie,
Najlepszy Launcher na Androida to Microsoft Launcher zdziwieni?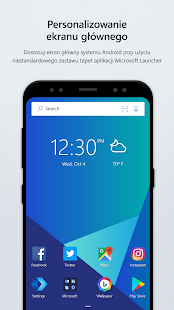 Chyba nie, jeżeli obecnie Microsoft nie ma swoich urządzeń musi zaistnieć na rynku mobilnym i musi to zrobić na systemach konkurencji.
Obecnie Android jest najpopularniejszym systemem na świecie przegonił już Windowsa. Microsoft robi obecnie bardzo dobrej jakości aplikacje na Androida a jedną z nich jest wlaśnie Microsoft Launcher.
Czym wyróżnia się ta "nakładka" na Androida według mnie?
Szybkie działanie
Przemyślana budowa samego Launchera
Bardzo dobre widgety wspomagające produktywność i wygodę użytkownika samego urządzenia.
Zachęcam do testowania warto :)
Link do programu:
https://play.google.com/store/apps/details?id=com.microsoft.launcher&hl=pl
Pozdrawiam
Krawiec512