Finding some of these trails and locations have been through different methods. Many places I visit I find using Google Maps looking for State Parks. But locations like this one in Dahlonega was told to me by someone. Its not really marked or talked about much, I am glad to know about it.
These photos are my posts for #landscapephotography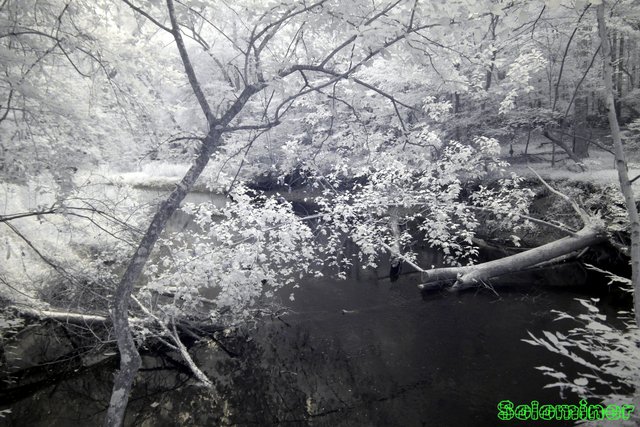 | Camera Model | Lumix GH3, modified by LifePixel for Full Spectrum |
| --- | --- |
| Lens | Olympus M.ZUIKO DIGITAL ED 12mm-50mm |
| Filter | 720nm Infrared Passthrough filter |
| Aperture | f/3.6 |
| Shutter Speed | 1/250 sec |
| Film Speed | 250 |
| Spectrum | Infrared (IR) |
| Wavelength | 720 nanometers |
| Location | Dahlonega Georgia USA. |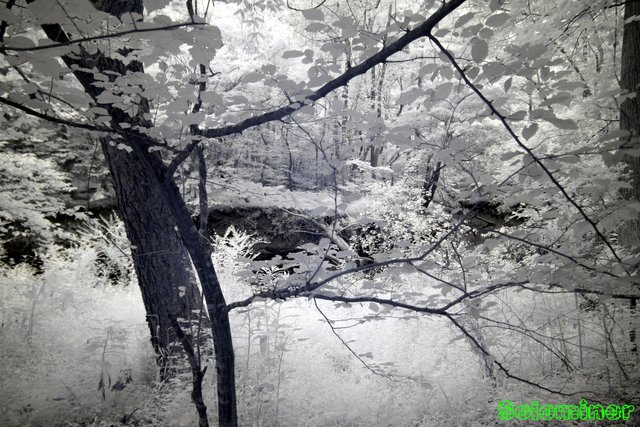 Peeking through the tree line the Yahoola creek can be seen. Its a shallow creek snaking through the woodlands.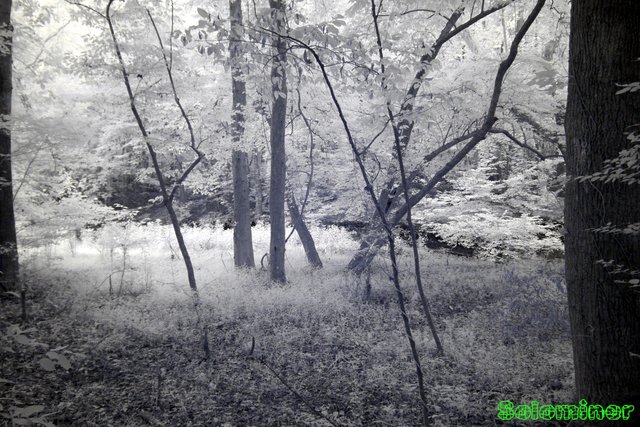 The fores floor had some kind of grass growing all throughout the area. The land seems quite fertile and there was alot of plant life covering the region.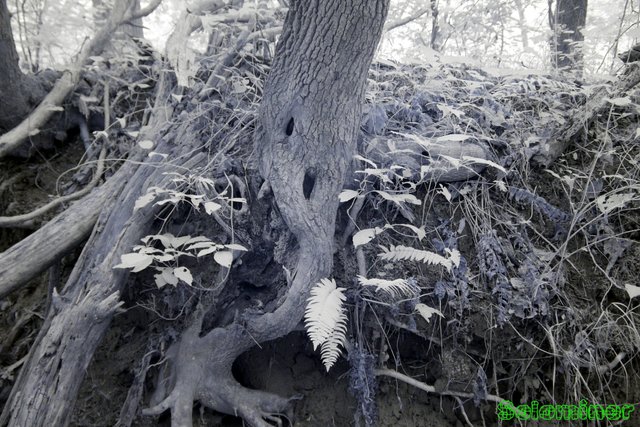 Many old trees were growing along the creek's bank. Over time erosion from floods on the creek during heavy rains have probably washed away all the dirt around the tree roots. Theres a little Sword Fern growing out of the cluster of roots.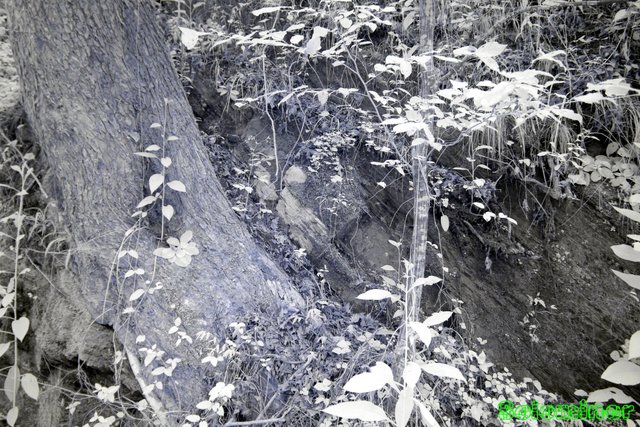 Looks like the tree roots go deep into the soil, we can only see the tip of the iceberg so to say.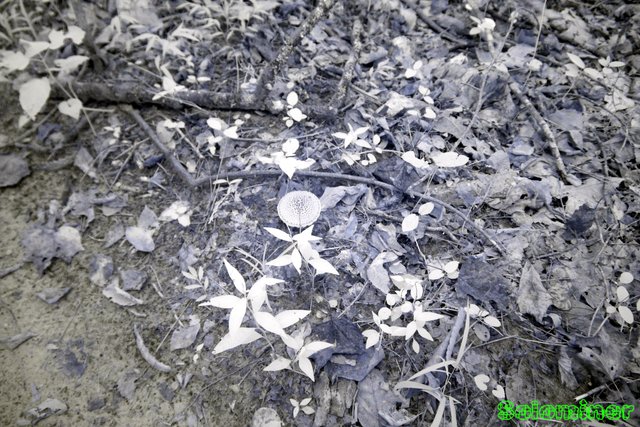 Little mushroom cap growing among the leaf litter.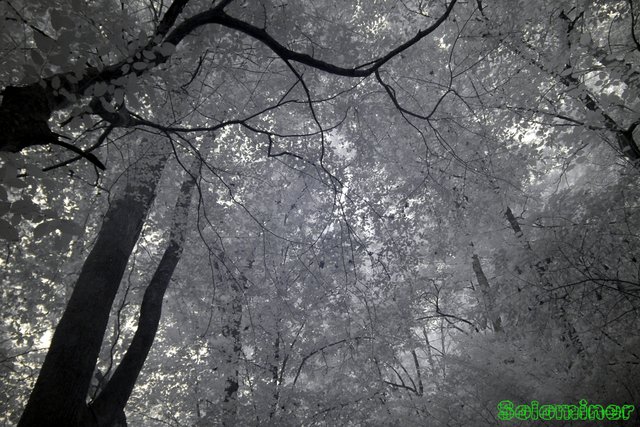 The branches of the tree canopies had an interesting look to them in infrared.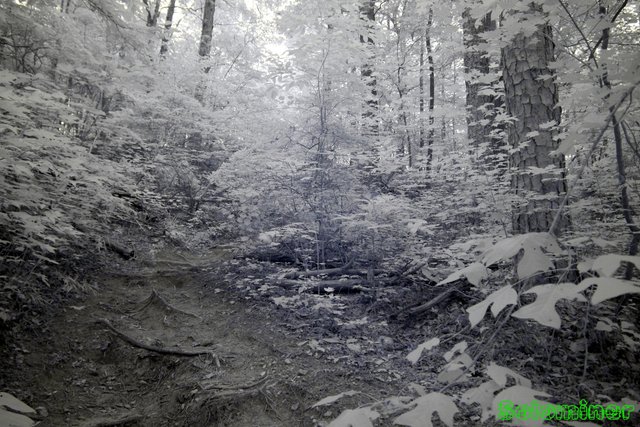 Leaving the creek we must hike up a moderately steep trail. You got to be careful of the tree roots growing across the path as they could trip you up and make you go tumbling down.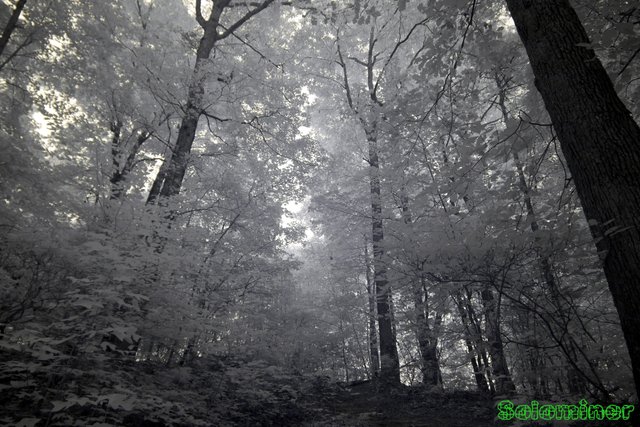 I was amazed how dense the forest grows in these regions. Inside of the treeline its a little cooler and we had protection from the sun the whole time we were walking around.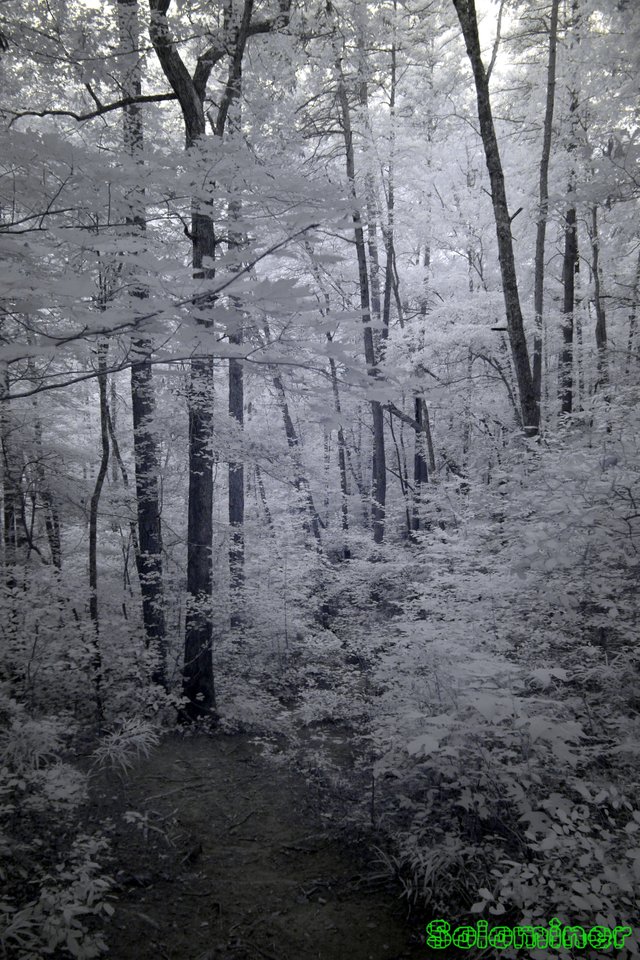 As we climbed the hill I took one more photo looking back at the trail to the creek. Its hard to see more than ten feet into the woods.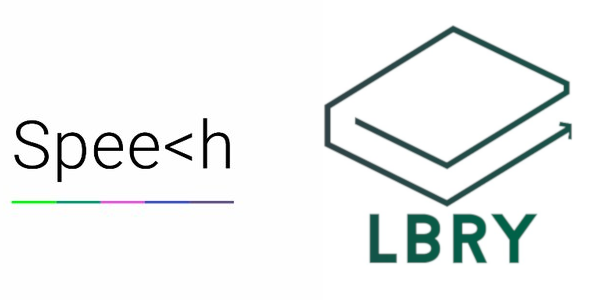 These images are being hosted by Spee.ch
An image hosting service on top of the LBRY protocol.
---
I take pictures with a special camera. Its a Mirrorless DSLR that has been modified by Life Pixel to see light in other wavelengths. This allows my camera to see light in the Infrared [IR] around 1300 NM wavelength, through the visual spectrum and into the Ultraviolet A and B wavelengths roughly into the 300 NM wavelength.
I carry many filters on me to make the photos you see in my blog, these filters screw on my lens and help me isolate certain wavelengths for certain scenes. These filters can be IR / UV pass-through filters to assist me get a natural photo taking out the UV and IR light. Or I may use a Infrared pass-through filter capture just IR light. I can do the same with UV light as well, though I need some better filters which they can cost a few hundred dollars for true Ultraviolet pass through filters. So for right now I have B + W 403 bandpass filters that still allow some IR light in, due to their cheaper material.
There are also exotic glasses made of sapphire and germanium I am open to working with to replace my silica glass hot mirror with a material that allows even longer wavelengths of infrared to enter my cameras sensor. Special sensors, lenses and filters of that material would be needed as well, so it would be a big project but one that may give some even more unique photography results.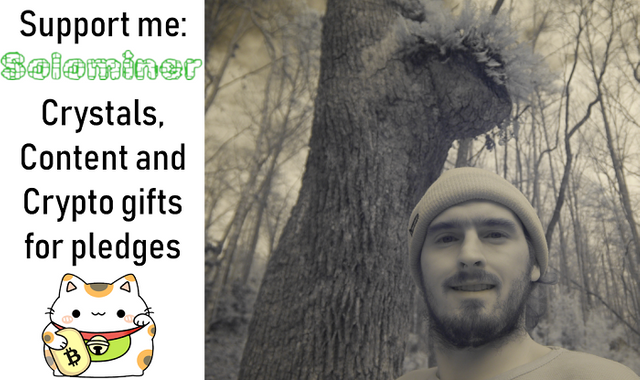 Addresses below to help me buy better camera equipment and support me to travel to locations to do photo and video and overall great blogs in new places. I would be happy to list some of the contributors in my posts for donations that help me along the way.
| Coin | Address |
| --- | --- |
| BTC: | bc1qhfmvd2gywg4fvrgy2kkkkyqta0g86whkt7j8r7 |
| LTC: | ltc1qdyzm5cwgt8e2373prx67yye6y9ewk0l8jf3ys9 |
| DASH: | XkSqR5DxQL3wy4kNbjqDbgbMYNih3a7ZcM |
| ETH: | 0x045f409dAe14338669730078201888636B047DC3 |
| DOGE: | DSoekC21AKSZHAcV9vqR8yYefrh8XcX92Z |
| ZEN: | znW9mh62WDSCeBXxnVLCETMx59Ho446HJgq |
For more information on how I do my photography I have a short video on that: https://steempeak.com/photography/@solominer/vqgcrs3x
---
---