Today I like to talk about some important details by making photographs.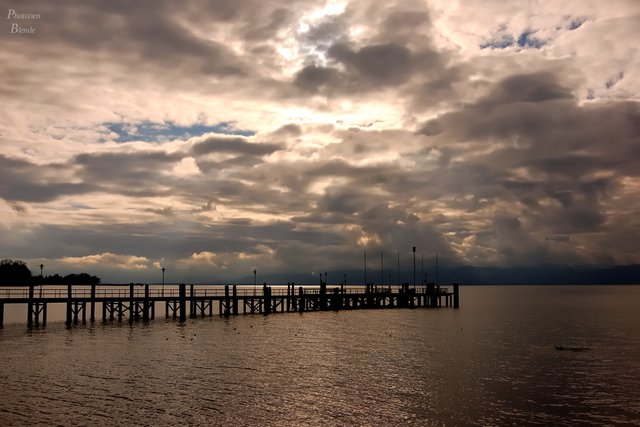 Landing Stage Covered by Clouds - (24 mm / f/8 / ISO 200)
[Nikon D50/ Tamron SP 24-135 mm f/3.5-5.6]
First of all I love this place and you will see a lot of pictures from there. The image shows the landing stage in Kressbronn / Lake Constance / Germany. It is a very old image of mine and I like to discuss some typical failures I made that time and I see by other photographers as well. So what went wrong?
Failure Nr. 1 - The time
I was at the right place by the right weather … but not at the right time! The sun stood to high. That's why the clouds are very bright. It does not matter what you show beside such bright clouds. You will only look at the clouds right? Only the second view goes to the landing stage and this is not good for the image at all. Today I would make a HDR. Never the less an obvious possibility is to go earlier ore later on day. Planing … plan your shots!
Failure Nr. 2 - The horizon
The second thing deals with the horizon. The horizon is at the right place in the lower third. But the landing stage is too close to it. So you can't clearly distinguish the stage from the horizon. The landing stage is going under in the dark water … . That brings me to the last point:
Failure Nr. 3 - "The dark end"
You should (normaly) never show the end of a "viewing line" in the dark - in that case the end of the landing stage. Your eyes want not move into the dark and you want not follow the stage. Meanwhile the position of the landing stage end - in the second third - is a good choice.
As you see, I was not well prepared for this image. Hopefully I could help you a little bit with your photography. If you like the content, please vote it up.
You can follow me on the steem block chain or via:
PhotonenBlende on 500px
PhotonenBlende on flickr
PhotonenBlende on Instagram
Thanks for coming and have always good light!
Cheers,
David