Four-Wheel Steering, 'Ego-Mode' Shine in New Lamborghini Aventador
With greater power and rare cornering technology, the latest incarnation of the supercar is more fun than ever.
This past Wednesday, at Pennsylvania's Pocono Raceway, Lamborghini introduced its next Aventador, the $422,000 Aventador S.
As one in a select group of journalists to get behind the wheel, I can tell you the latest installment of the six-year-old supercar is a direct blood relative of the meanest, roughest, most fire-breathing, track-gobbling monsters on the planet. But with significant differences in technology and design, this Aventador is striving to be another thing entirely: entertainment.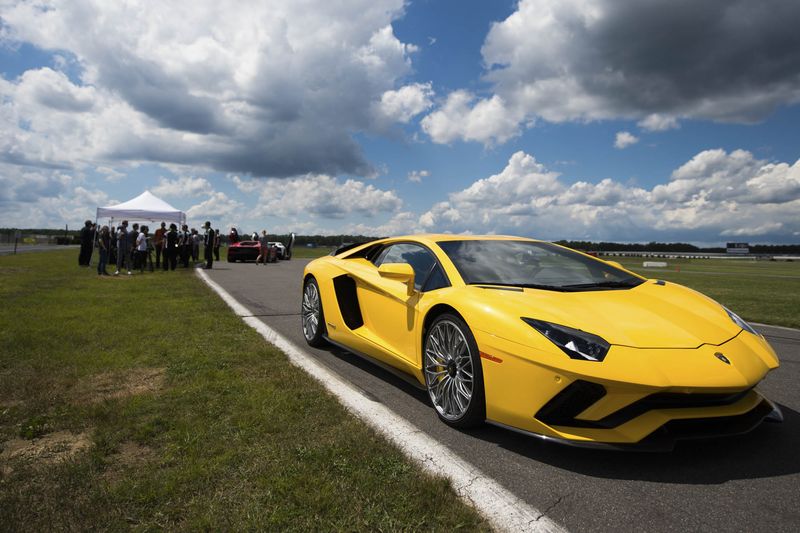 The new Aventador S is more powerful and faster than any standard Aventador on the market. Source: Lamborghini
"It will be a pleasure not only for our customers but also for those who watch our cars," said Alessandro Farmeschi, the chief operating officer of Lamborghini Automobili, as he characterized the Italian brand. (A blaring tagline, 'We are not supercars. We are Lamborghini,' on a welcome video backed his claim.)
He's right. Nowadays, those who consume the latest, most expensive watches and seek out the most exclusive travel experiences are the ones buying Lamborghinis—for many wealthy buyers, the testosterone-driven, mechanics-obsessed, track-weathered mentality barely exists today.
Sure, Lambo's "S" badging has always meant enhanced performance and technology. But it has been wised-up to become a true 21st century supercar for the thinking man (or woman), and Farmeschi's teams have done much to walk the line between cultivating a luxury lifestyle that is inclusive and alluring, welcoming but aspirational. Sales have followed; since 2011, total global sales numbers have more than doubled, thanks largely to Aventador and Huracán, and last year sales of the Aventador alone (3,457 deliveries to customers in 2016) exceeded twice that of Murciélago.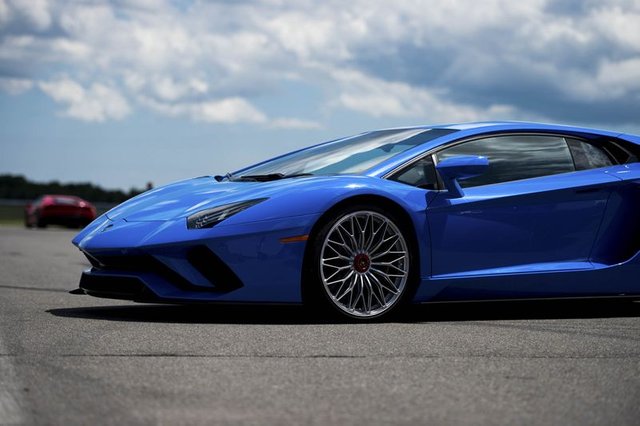 The Avantador S combines the new technology of four-wheel steering. Source: Lamborghini
The Aventador S sits squarely in the middle of this new era at Lamborghini, one that the arrival of the Urus SUV late this year will catapult forward in earnest. And with some laps behind the wheel, I predict the 2018 Aventador S will soundly beat those numbers.
Here are six reasons why.
Four-Wheel Steering
By far the most incredible element of the 2018 Aventador S is the system Lambo developed for the rear wheels to steer and direct the car independently of the front. So, in addition to being a four-wheel-drive car, it also is a four-wheel-steer car.
That means on corners the rear wheels can turn themselves and shorten the distance to the front wheels, which effectively creates a shorter wheelbase. This is a good thing—short wheelbases are more nimble than long wheelbases. Conversely, on a straightaway at high speeds with all four wheels pointed forward, the car is at its longest (188.86 inches), which lends to greater stability for the carbon-fiber monocoque in a straight line. The result is that you get the benefits of having two cars in one—a shorter Aventador S for cornering and a longer one for straight shots.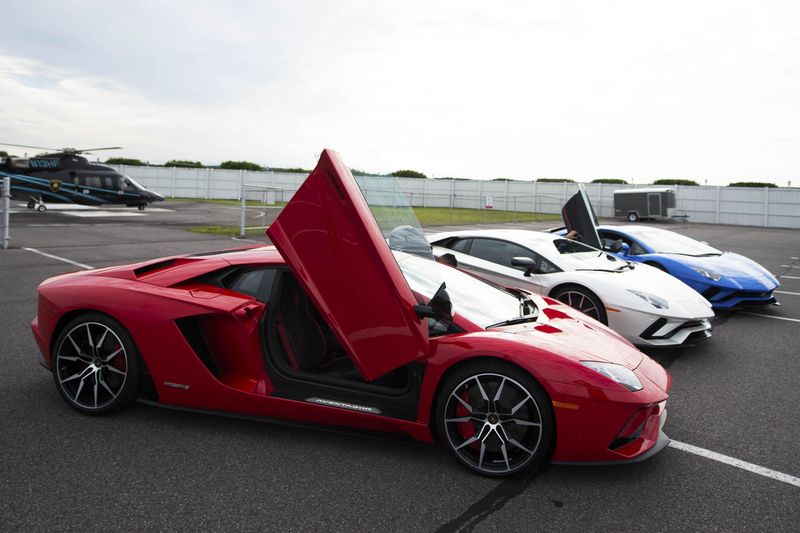 The Aventador S has doors that open up but not out. Source: Lamborghini
It also means that the car will behave as if it's under the hand of a much more experienced driver than (may be) currently driving it. With the all-wheel-steering, you can get away with far more around tight turns and twists than ever before.
This is not a wholly new technology—automakers from Acura to BMW to Ferrari, and even Toyota, have used it in select cars for years—but Lamborghini has refined for the supercar set. Look for this technology in other Lamborghini vehicles in the future, but if you want it now in a Lambo, you'll have to buy the Aventador S. Or, as someone smart pointed out to me yesterday, buy a garbage truck. Or a city bus.
More Power, More Speed
Those handling improvements will come in handy for Lambo's newest customers considering what's now under the hood.
The 2018 Aventador S's V12 engine is a massive upgrade on the same boundary-breaking, naturally aspirated mid-rear V12s that went on to catapult the Muira, Countach, Diablo, and Murciélago to legendary status. It produces 40 more horsepower on top of the 2017 Aventador's already hefty 700. It also produces higher torque (690 newton metres) and higher revs in general than last year's model.
The car goes zero to 62 mph in 2.9 seconds (down a fraction of a second from its predecessor and faster than the 3.2-second Huracán). You'll hit 124 mph faster than you can count to 10 and 186 mph in fewer than 25 seconds. The fastest I had this puppy was on a hot lap with Lambo team driver Kevin Conway, who took it to 150 mph or so on a back stretch—and even that was far more fun than any roller coaster ride I've ever been on. Top speed is 217 mph.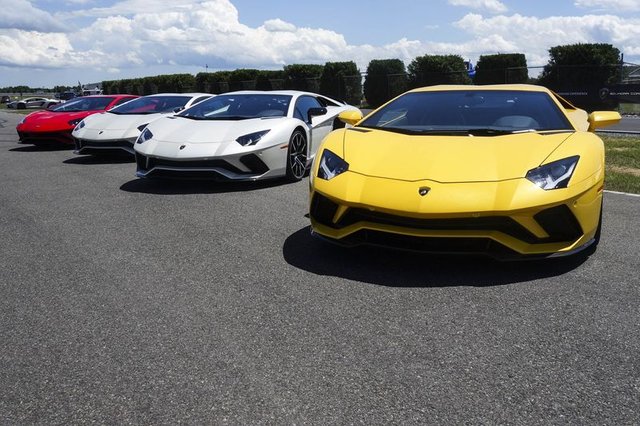 The Aventador S will completely replace the Aventador
In short, when compared with the Aventador, driving the 2018 Aventador S feels like a slap in the face. Everything is louder, more abrupt, and far, far faster. And it sounds like sheet metal hitting the ground as it accelerates.
Magna-Ride
The Aventador S's new damper controls and updated suspension kinematics are known as "Lamborghini Magnetorheological Suspension 2.0 Hi-Fi," per the marque's engineers (or marketers), and use electromagnetic fluid to adapt continually to road conditions. The previous Aventador could not do this.
I have not driven this newest version off-road. I hope to soon. In the meantime, Lamborghini is showing everyone who will watch videos of an Aventador S slinging rocks on desert roads and mountain passes, peeling gravel like shingles. The car looks as comfortable on that terrain as a Subaru.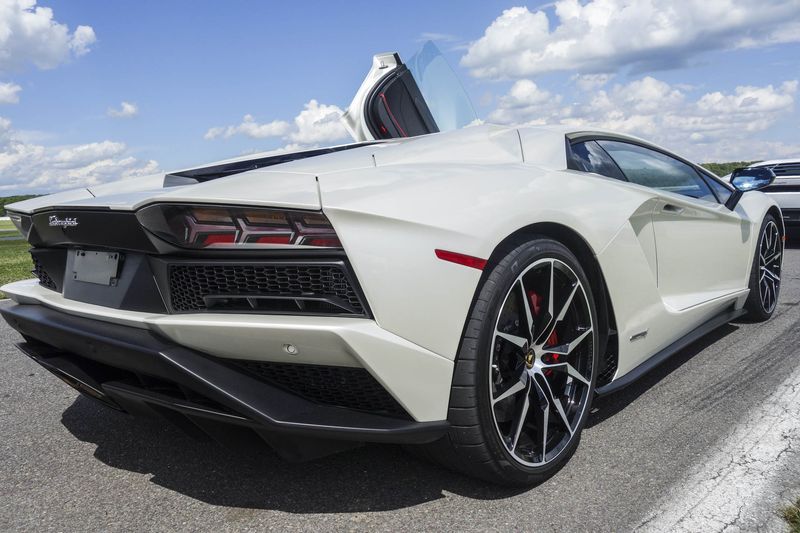 Starting price on the Aventador S begins at just under $418,000.
Ego Mode
A totally new seven-speed gearbox with independent shifting rods allows for quicker, smoother transitions. The result, compared with the Aventador, is a noticeably sportier feel when using the manual paddle shifters because each gear change is more precise. It also feels more comfortable (though less exciting) to drive in automatic because each gear change is ironed out like a sail.
I should note that the "Automatic" gear-change function is not available in the Corsa drive mode—that's the one best reserved for track settings, since it's the rawest of the now four modes available. Sport, Strata, and the new Ego mode—yes, it's really called that—are the other drive settings available, and they work with either manual or automatic shifting. You can switch between the drive settings at will, at whatever speed you want.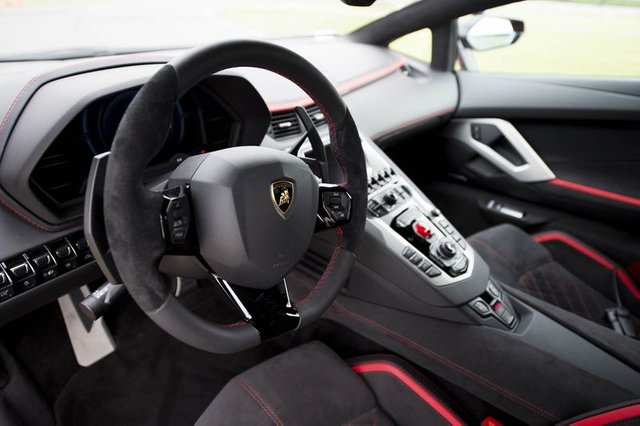 The cockpit in the Aventador S is roomy (except for headroom) and comfortable. Source: Lamborghini
Ego in particular is great because it allows the adjustable four-wheel drive to calibrate into one of 24 different personalized combinations of the other three modes, depending on the driver's style and sensibility and what buttons you push in the car.
All this—the gearbox, the suspension, the all-wheel steering—is monitored by yet another new technology called Lamborghini Dinamica Veicolo Attiva (LDVA), what executives were calling a total body-control "brain." LDVA controls how the vehicle moves laterally, vertically, and longitudinally. It maintains the ideal combination of traction control, thrust, power, and other systems for a given driving surface.
Cars don't think for themselves yet, but LDVA pushes them closer to that goal. The difference between the Aventador and the Avendator S over a slalom-style course is palpable.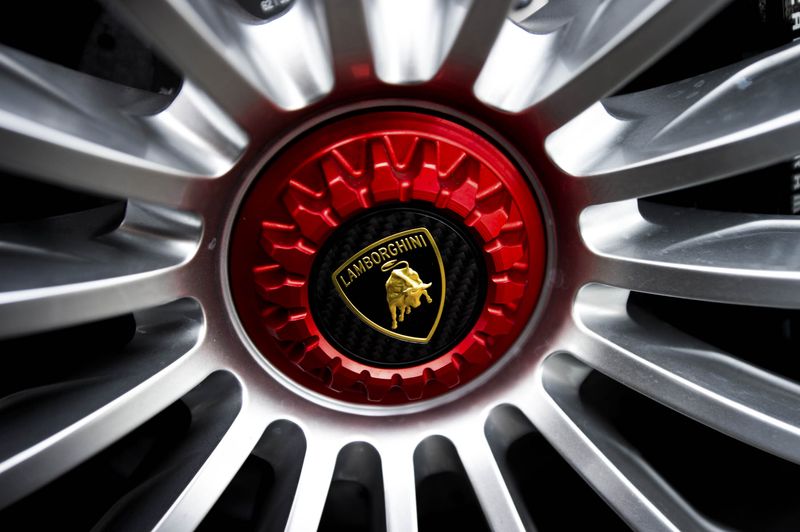 Bespoke rims, leathers, and color are available for discerning customers. Source: Lamborghini
Design Steps, Performance Leaps
There's no mistaking the Aventador S as anything but an Aventador in looks. The tail lights are still a series of small, red, arrow-shaped lights. They, along with the entire rear and sides, draw design inspiration from space rockets and fighter jets. But the Aventador S looks more like a Countach than ever. Jay-Z would be pleased.
New vents in the sides and underneath the car improve air cooling, which is the single most important thing to manage in performance cars—the cooler you can keep the engine bay, the faster and longer you can go (and the less chance you have of blowing up). A rear-end restructured to be squarer and larger overall also allows for better aerodynamics, which translates into faster speeds and better efficiency.
The car also feels faster when it strikes. An increased front splitter and the new aero diffuser with three new active rear-wing positions increase downforce by 130 percent, with 50 percent better efficiency at the highest points of downforce.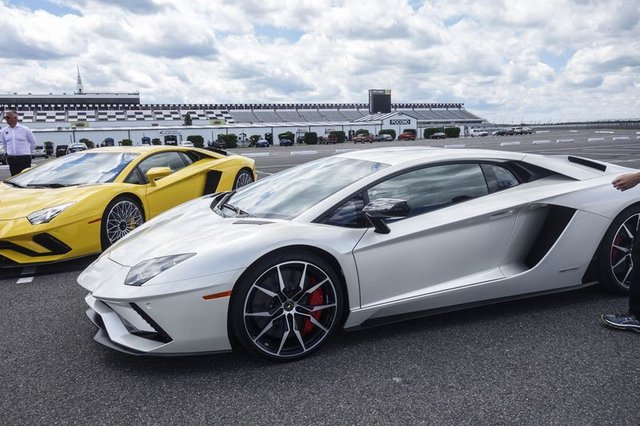 The rear wing of the car has been tweaked to further maximize downforce.
Can you see how all these smaller changes add up to big performance gains?
Lamborghini has not yet released efficiency numbers of city and highway driving, though it's safe to assume they're slightly better than the 11 mpg city/18 mpg highway offered on Aventador primo.
True, those buying an exotic car seem especially unlikely to inquire about how much gas it guzzles (you've got to feed those 12 cylinders something, after all). But here's how it matters: During a day at the track or a day driving upstate, you'll have to stop less often to refuel. Which means more uninterrupted time behind the wheel. And isn't that all anybody wants, anyway?
Polished Cockpit
It's here, in the interior, that the Aventador S solidifies itself as a true luxury supercar compared with, say, the Ford GT, which has exemplary specifications but an interior far rougher around the edges.
Where the GT is primed only for track satisfaction, this Aventador S could almost be construed as a daily driver because of how well the interior is trimmed and fitted. (It's also more fun to drive, of course, even at slow speeds, and with the all-wheel-steering, it's nimble enough to cover a multitude of pothole sins.)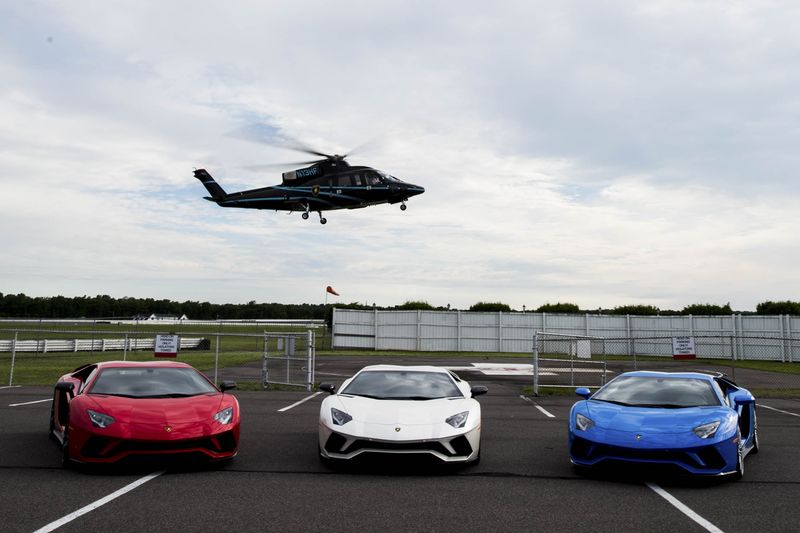 The Aventador S has four drive modes, up one from previous models. Source: Lamborghini
Anyway, the vertically opening doors now have handles located along the floorboard, which sounds odd but is actually the most convenient and clever place for them. The car is low, and you sit low in its supple and ergonomic leather seats. It's nothing at all to reach down and pop open the doors as lightly as if they had been spring loaded. (I wish there was a little more headroom—I'm 5' 10½ inches, and when I wore a helmet for some of the finishing laps yesterday, I was forced into an uncomfortable crouch.)
The other noticeable change inside the Aventador S is the instrument cluster behind the steering wheel. Now, depending on which drive mode you choose, the digital screen scrolls through different configurations displaying speed, RPM, engine status, fuel levels, gears, and other safety and traction systems in the car. The display for Corsa—one full RPM arch—feels extra race-ready.
So, are you entertained?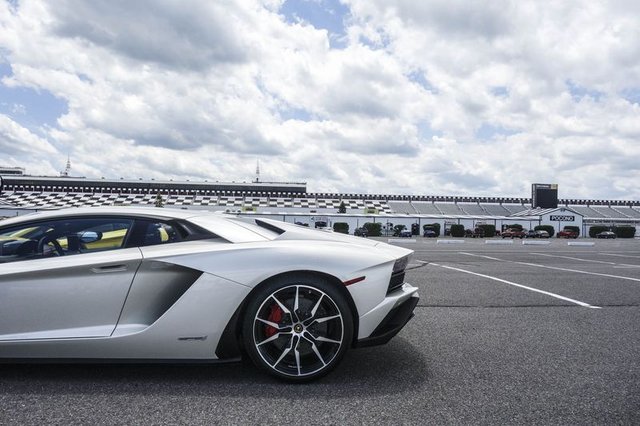 The Aventador S has a top speed of 217 mph.