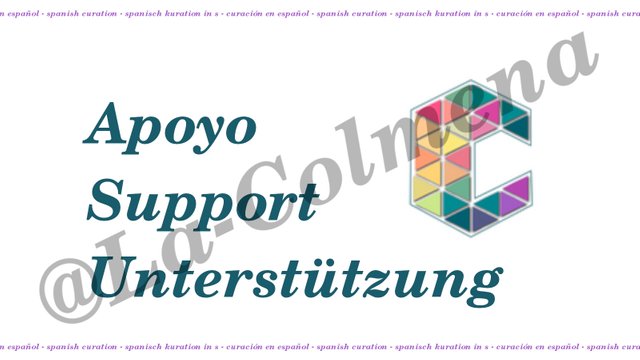 ---
¡Versión en español más abajo!
---
TheyCallMeDan strikes back!
But I must add, that in a good way...
Yes, the user @theycallmedan begins once again a challenge to delegate 20k SP to a community that does good community work and receives as many nominations as possible in a post that he published for that purpose.
The task is simple:
You must enter the post https://steemit.com/dpoll/@theycallmedan/20k-steem-delegation-poll
In the comments section you should write: "I nominate @la-colmena"
You should invite all your friends to do the same
Wait for the results, where 20 communities or individuals will go to a poll to see who wins the delegation. (It is important that you are aware, because in that stage the winner is selected among the 20 that pass to that round)
Why nominate La Colmena?
Because since its foundation in June 2018, it has been doing an extraordinary and community work to reward the active Spanish-speaking talent at Steemit.
Because the curation routine in all these months has been constant and trying to bring rewards to as many users as possible, but always based on quality and originality.
La Colmena is a curation and learning community, because the main task there is for users to learn to value content, to detect plagiarism, to recognize quality work, which is the basis for curating and, at the same time, is the best way to learn how to make first class content.
The delegator
On the other hand it is good to say that @theycallmedan is a user with wide recognition in the community. He has done this type of delegation before, where the beneficiaries were the friends of @votovzla, who received a delegation of 10 thousand SP for a month. So I take this opportunity to invite you to follow this great Steemian.

Español
¡TheyCallMeDan vuelve al ataque!
Pero debo añadir, que de buena manera...
Si, el usuario @theycallmedan vuelve a iniciar un reto para delegar 20 mil SP a una comunidad que haga un buen trabajo comunitario y que reciba la mayor cantidad de nominaciones posibles en una publicación que él publicó para ese fin.
La tarea es sencilla:
Debes ingresar al post https://steemit.com/dpoll/@theycallmedan/20k-steem-delegation-poll
En la sección de comentarios debers escribir: "I nominate @la-colmena"
Debes invitar a todos tus amigos a hacer lo mismo
Esperar los resultados, donde 20 comunidades o individuos pasarán a una encuesta, para ver quien se lleva la delegación. (Es importante que estés pendiente, pues en esa etapa se selecciona el ganador entre los 20 que pasen a esa ronda)
¿Por qué nominar a La Colmena?
Porque desde su fundación en junio de 2018 ha venido haciendo un trabajo extraordinario y en comunidad para recompensar al talento de habla hispana activa en Steemit.
Porque la rutina de curación en todos estos meses ha sido constante y tratando de llevar recompensas a la mayor cantidad de usuarios como sea posible, pero siempre basado en la calidad y originalidad.
La Colmena es una comunidad de curación y de aprendizaje, pues la tarea principal allí es que los usuarios aprendan a valorar el contenido, a detectar plagio, a reconocer el trabajo de calidad, lo cual es la base para la curación y, al mismo tiempo, es la mejor forma de aprender a hacer contenido de primera.
El delegador
Por su parte es bueno decir que @theycallmedan es un usuario con amplio reconocimiento en la comunidad. Este tipo de delegación ya lo había hecho con anterioridad, donde los beneficiarios fueron los amigos de @votovzla, quienes recibieron una delegación de 10 mil SP por un mes. Así que aprovecho para invitarlos a seguir a este gran Steemiano.

Other way to support La Colmena / Otras formas de apoyar a La Colmena
@la-colmena - Discord: https://discord.gg/SYwngna
Follow @la-colmena's trail - Sigue el trail de @la-colmena ->-> Steemauto.com
Delegations - Delegaciones: