Requirements to KYC documents
How to pass EVEN KYC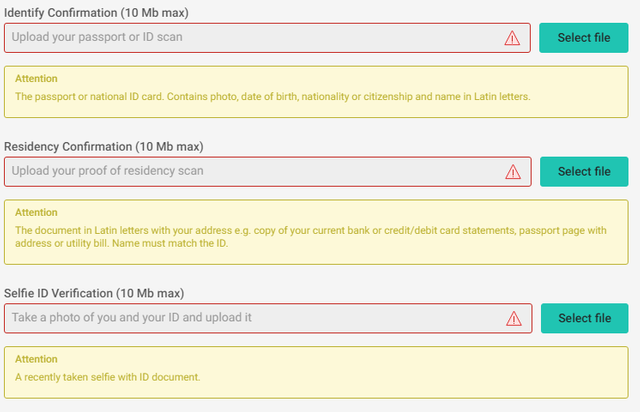 The screenshot of the KYC tab
Go to EVEN website, Log in, and go to the KYC verification tab.
General requirements to KYC docs
High quality photos
Fully visible document
No filters, crops, watermarks
The name on every document have to match with the name in the form
We accept photos of paper documents, not screenshots of e-docs
Latin letters
Unfortunately, we can not approve US and Canadian citizens' KYC, as we are based in Europe
ID
General requirements
The passport or national ID card. Contains photo, date of birth, nationality or citizenship and name in Latin letters.
Document series/number is visible
All pages submitted have to contain the same document series/number
We accept
National ID-card
Passport
International passport
Driver's license (valid, English alphabet, contains birth date, and photo)
Residence confirmation
General requirements
The document in Latin letters with your address e.g. copy of your current bank or credit/debit card statements, passport page with address or utility bill. Name must match the ID.
We accept
Bank account or card statement
Utility bill
Internet or telephone bill
ID documents with address
Driver's license (valid, English alphabet, contains the address, birth date, and photo)
Country specific
CIS countries (Belarus, Kazakhstan, Russia, Tajikistan, Ukraine, Uzbekistan and etc.): national passport pages with registration are acceptable for residency confirmation. If you use the national passport for residency confirmation, please make a selfie with this document.
Please, do not upload your national passports as ID verification. The international passport in Latin letters is required.
Indonesia: the same ID-card as for ID-confirmation, the front side
Selfie
A recently taken selfie with ID document. The document should be readable. Driver's license is acceptable.
Please address all specific KYC questions to Telegram chat https://t.me/even_kyc
Why your KYC is not processed yet?
Due to the high number of KYC applications, we changed the processing priority from the application date to the number of completed bounty tasks. The active bounty hunters are on the top of the KYC queue, so they don't have to worry about wasting their time. If your KYC was not verified for a long time, you can complete a few tasks and your chances become higher.