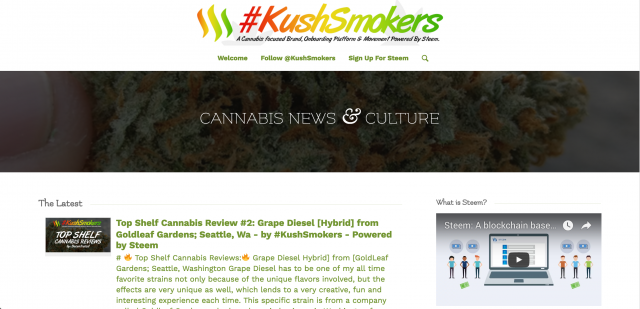 I gotta say, after paying $25 for a similar plugin from Envato, I am in awe with how flawless this free plugin works and I would highly suggest anyone who wants to 'customize' their Steem blog look into using it on top of Wordpress for a much more controlled experience. Also, it looks like they have resumed supporting the plugin which is also great, as we can now start adding new features such as new layouts, etc. All in all the plugin is wonderful and I just had to give a shout out to these guys for doing such a good job!
2. Where to go from here? Whats next?
Starting today I plan on focusing much of my efforts on the content discovery side of things, adding individual pages where you can surf content from specific hashtags, and we will start further identifying these new tags and adding them accordingly to new posts; such as Cannabis-culture, Cannabis-medicine, Cannabis-reviews, TopShelfCannabisReviews and so on!
After that I plan on adding more pages to the site to help onboard new users such as:
What is Steem?
What is crypto currency?
Steem101 Guides
Steem Resources/Websites/Tools list
Submit a Post to @KushSmokers for consideration form
Video Library
Affiliates Pages (ChainBB, Zappl, 1-3 Cannabis Companies, etc)
Author/Contributor page
Site Design Round #2 (Redesign/Public Launch after more content is added.)
Possibly even a forum when the time comes..
3. Whats the grand scheme here? Just a Steemit blog? Or is there something I am missing?
I plan on utilizing this platform to further grow the #cannabis community here within Steem by using any funds raises by this account and my own posts to purchase marketing, advertising & custom video content for #KushSmokers. I have many plans which include but are not limited to; Billboards, Sub-Communities, Spotlights from larger cannabis media companies, steem branded custom and exclusive video content, along with many other crazy ideas which may never see the light of day, but have been written down in my notes anyways.
I also plan on doing some heavy giveaways with the money I am earning via these posts, such as free custom branded water at local cannabis events such as HempFest, as well as cannabis themed product giveaways that are exclusive to Steem & KushSmokers supporters, so stay tuned folks! Big things happening here on the #KushSmokers end. I have 4 lunches scheduled this week with people I know from the #Seattle Recreational Industry just to talk about Steem and how we can best utilize it in the cannabis world... if you have ANY suggestions for things we should cover in these lunches to make the most out of Stee, please feel free to suggest them!
🔥 So what are you waiting for? Go checkout www.KushSmokers.com and let me know what you think so far, trying to keep it simply and sexy.
---

Don't forget to Upvote, Follow & Resteem to help support #KushSmokers around the world!
You also might want to follow us on Instagram @KushSmokers_!