정보기기운용기능사 필기 후기/팁/기출문제
정보기기운용기능사 필기 후기/팁/기출문제
정보기기운용기능사 필기 2015년 1월에 시험을 치뤘다.
대부분 문제은행식이였으며, 2000년 ~ 2011년 기출문제만 꾸준히 보면 합격 할 수 있다.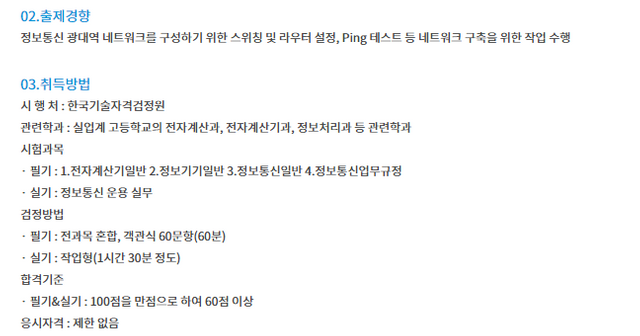 변조 AM,PM,FM, PSK,ASK,FSK 등.. 상당히 복잡하고 정보기기운용기능사 실기 기출과는 관련 없는 문제가 나와서 조금 이상하기도하고 이해가 안되었지만, 기본적인 정보처리 시험인 전자계산기와 정보기기,정보통신 등.. 광대한 IT 분야에 대한 시험을 치루는 느낌이었다.
정보통신에 모든 것을 하면 정말로 많은 부분이 있는데 그것을 어떻게 다 공부하는가?..
정말 필요한 부분이나 명령어 문제 등.. 이런 것으로 실기와 연관이 될 만한 것들이 나왔으면 좋겠다.
F-4 비자를 위해 취득하는 경우도 있다고 들었다. 이것은 외국인의 경우에만 해당하지만 기능사 중에 원래는 가장 따기 쉬운 시험이었지만, 실기가 어려워진 결과 다른 자격증으로 넘어가지 않았을까 라고 추측해본다.
---
YES24
정보기기운용기능사 필기
http://click.linkprice.com/click.php?m=yes24&a=A100472727&l=9999&l_cd1=3&l_cd2=0&tu=http%3A%2F%2Fwww.yes24.com%2F24%2FGoods%2F22865782%3FAcode%3D101
---
Information equipment operation skill writer writing / tip / issue problem
The information device operation specialist handwriting test was carried out in January, 2015.
Most of them were bank loans, and only the problem of issuance from 2000 to 2011 can be passed.
I heard that there are cases where I get it for an F-4 visa in Korea. This is only for foreigners, but it was the easiest test among the skillful people, but I guess that it was difficult for the practical skill to pass to other qualifications.