Play with nail polish!
Hi, I'm back! I bought two nail polishes, artificial nail, nail stone, and nail adhesive tape. In fact, I'm not good at nail art but I really like doing this so I do it often even though almost all of them are spoiled. At first I wanted to buy one nail stone and nail polish but I couldn't choose just one colour so I bought two colours.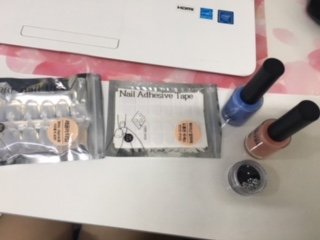 I can do it directly on my nail but I have a habit that biting my nail (it became better these days but the shape is not good) therefore I decided to do it on the artificial nail and glue them. It took about 3 hours to complete it. It looks not very good but drying nail polish takes long time so it took a long time.
I wanted to glue nail stones on them but it looks fancy as itself so I didn't do it.