안녕하세요! 직장인이라면 모두 좋아할 금요일입니다! 사업하시는 분들에게는 주말 대목 또는 밀린 일을 할 수 있는 기간이 어김왔습니다. 일주일은 정말 빨리 가는 것 같습니다. 잠깐 정신 줄을 놓으면 지갑은 비워지고 세월은 흘러가버리는 것 같습니다. 정신 바짝 차리고 하루하루 보내야겠습니다. 큰 일을 마무리하고 나서 긴장이 좀 풀리니 몸에 독소가 뿜어져나오는 것 같습니다. 피부가 좀 안좋아지네요. 관리해야겠습니다.
Hi! If you are an office worker, it's Friday! For those who are doing business, there has been a period of time that can be done on weekends or pushed. I seem to be going really fast for a week. If you leave the line for a while, your wallet will be empty and the years will flow. I need to get up and spend a day. After finishing a big job, I feel a little relaxed and I think that toxins are coming out from my body. Your skin is getting worse. I need to manage it.
오늘도 1승! 달성하였습니다. 오랜만에 물덱이 걸렸고 자신 없는 덱 중에 하나지만 제 주제에 맞게 1승을 달성하였습니다. 스몬 가즈아!
One win today! Achieved. I have a water deck for a long time and I am one of the decks that I do not have. Sumonzawa ah!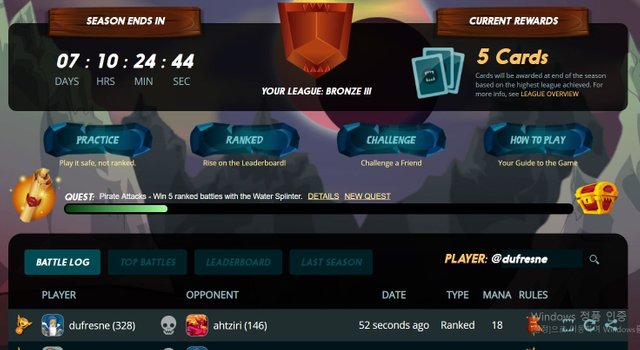 ---
Sponsored ( Powered by dclick )
안녕하세요. DCLICK 입니다. 오늘은 새로 출시된 기능인 HTML 삽입형 광고에 대해서 소...