Callisto Network [CLO] Airdrop
요약
ETC 의 5500000번째 블록(대략 2018년 3월 5일)을 기준으로 스냅샷하여 ETC를 소지한 지갑에 1:1 비율로 CLO(Callisto Network) 코인을 에어드랍으로 지급
EIP20(ERC20) 토큰이 아닌 독립된 블록체인에 코인으로서 존재
sidechain 으로 Scalability 문제를 해결
ETC 에서 Callisto 의 smart contract state 를 사용 할 수 있도록 crosschain 지원
Cold staking 을 하는 Moonlight protocal 을 사용(https://docs.google.com/document/d/1LpRHzW7gGV1JfiXUQOmW-UEVF9TCNNWrYiItDuLgiGA)
투명한 자금조달 메커니즘으로 마이너와 코인소지자간의 균형 유지
요청된 Smart Contract 에 대해 Auditing 을 무료로 진행해주며, 진행해준 Smart contract auditor 는 CLO를 보상으로 받음
공식 ETC-dev 팀이 아닌 핵심개발자 Dexaran 이 구성한 Ethereum Commonwealth 에서 진행
ClassicEtherWallet, ClassicMask의 지갑을 사용하여야하며, MyEtherWallet 지원 유무 및 거래소에서의 지갑 지원유무는 불확실
ETC 배경
2016년 DAO 해킹 이후, 이를 되돌리는 하드포크(Hardfork)를 통해 이더리움은 해커에게 이더리움이 탈취되는 사태를 막을 수 있었습니다.
하지만 탈중앙화된 블록체인에 임의적인 수정을 가하는 하드포크에 반발하는 이들이 존재하였고, 해킹당해 상당수의 이더리움이 탈취된 상태로 존재하는 하드포크 이전의 블록체인 역시 Ethereum Classic 이란 이름으로 계속 마이닝, 블록확장과 이용이 지속되게 되었습니다.
Callisto Network [CLO]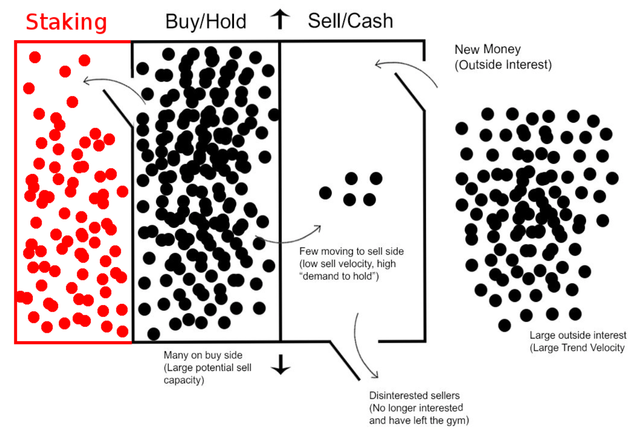 코인 소지자에게 인센티브가 없는 문제 해결
마이너에게 심하게 쏠린 네트워크 영향 해결
Spec
POW Algo: Dagger Hashimoto (Ethash)
Block interval: ~15sec
Block reward: 600 CLO (30% treasury fee)
100% compatible with Ethereum Virtual Machine
The maximum supply: 6,500,000,000 CLO.
RoadMap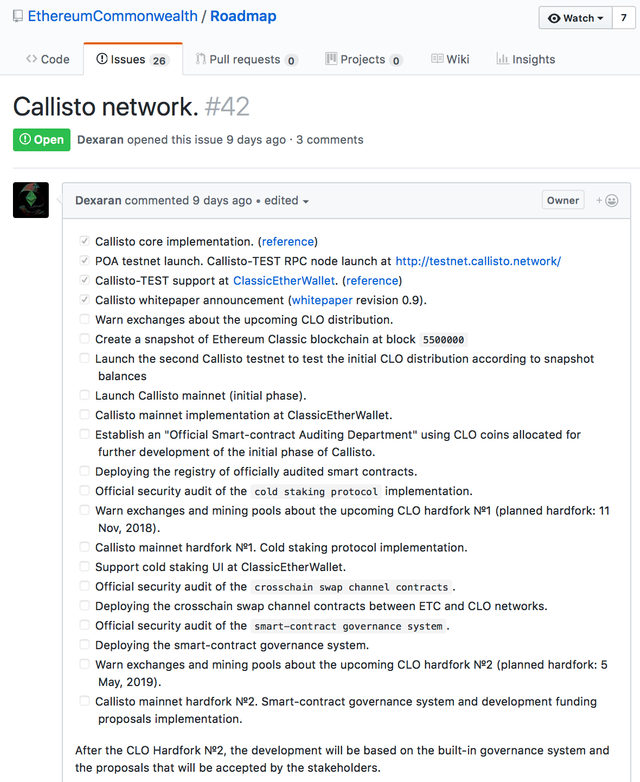 Q1 2018
Launch the test network with the current Golang Ethereum client -Byzantium
compatible- (done).
Create a public infrastructure for developers (done).
Update Classic Ether Wallet with Callisto network support (done).
Q2 2018
Update ClassicMask with Callisto Network
Research the POS and DPOS protocol implementation possibility.
Q3 2018
DexNS support for the Callisto protocol
Testnet 2.0 launch
Marketing team creation
Launch explorer with advanced features as:

Humanly readable transactions including the smart contracts
transactions
Token explorer
Testnet support (Callisto, Ethereum, Ethereum Classic)
Q4 2018
Launch mobile app wallet for Callisto, Ethereum Classic, and Ethereum.
Compatible with custom Ethereum node.
ETC-CLO swap channel implementation
Planned Hardfork No. 1: Cold staking implementation
Q1 2019
eWASM implementation research
New address (c-address) type. Address abstraction implementation.
Experimental SWARM implementation.
사견
최근 ETH의 가격 급등으로 Transaction, Smart contract fee 또한 수천~수만원까지 부담스러울정도로 치솟았습니다. 이로인해 일부 Smart contract 기반의 서비스나 Dapp 들은 수수료부담으로 서비스를 중단하거나 이용자가 떠나는 일들이 발생하는현상이 발생하고있습니다.
이로인해 개인적으로 상대적으로 가격이 낮아 부담이 덜한 ETC 에 관심을 가지고 있는 상황에서, 이같은 다양한 연구와 시도들이 있는것은 긍정적이고 환영할 일이라고 생각됩니다.
정책과 방향은 조금씩 다르겠지만 기존 Geth(go-ethereum)을 fork 해와서 기존 ETH나 ETC의 좋은 패치또한 적용시켜가며 해당프로젝트만의 추가나 변경사항을 적용하며 발전시켜나간다는 점에서 고무적이지만, 주요 개발자가 3~4명에 불과한 것을 보면 한편으로 우려가 되기도 합니다.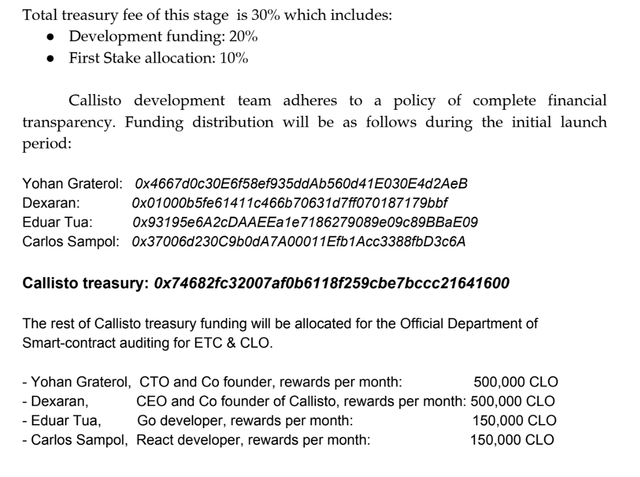 해당 주요개발자들에게 일정량의 CLO가 할당되게 됩니다. 코어 개발자들에게 당연히 보상이 되어야 마땅하지만, 자칫 잘못하면 Bitcoin 의 여러 forking coin 들처럼 forking 으로 인해 기존 token holder 들을 홀려 파생된 코인의 가격을 올리고 수익만을 챙긴채 목표 및 roadmap 대로 개발이 이루어지지 않는 사태가 발생 할 수도 있다는 점을 참고해야 될 것 같습니다.
Ref