INTRODUCING AVALANCHE NETWORK ,THE NEXT GENERATION AND GAME CHANGING BLOCKCHAIN NETWORK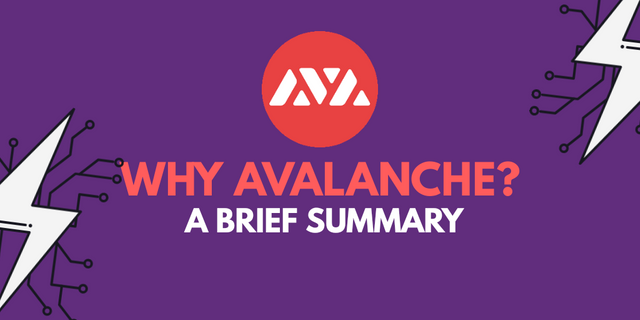 WATCH THIS SHORT VIDEO EXPLAINER
AVALANCHE NETWORK (OVERVIEW)
Avalanche was founded by Cornell Professor Emin Gun Sirer,the project is committed towards building the generation blockchain that will remove the constraints in the existing blockchain networks and opening rooms to the global financial industry to incorporate blockchain technology.Avalanche will enable the global entrepreneurs to take full charge on any crypto related project built on the network.Finance firms, businesses and startups willing to achieve operational efficiency can easily use or migrate into Avalanche network .Avalanche networks is public and highly scalable blockchain network that can be used by Small, medium and large scale businesses all over the world. Developers, general users and Entrepreneurs can use Avalanche network for wide varieties of services . Avalanche is 3 tiers of users control i.e THE NTWORK LAYERS, MIDDLE LAYERS AND APPLICATION LAYER.
Avalanche has a very broad use case and it is going to be widely adopted in the global blockchain and Finance industry .The blockchain network will be open to the public use in soonest time .On Avalanche network , users can build and customize their blockchain ,develop a trading platform and various dAPPS .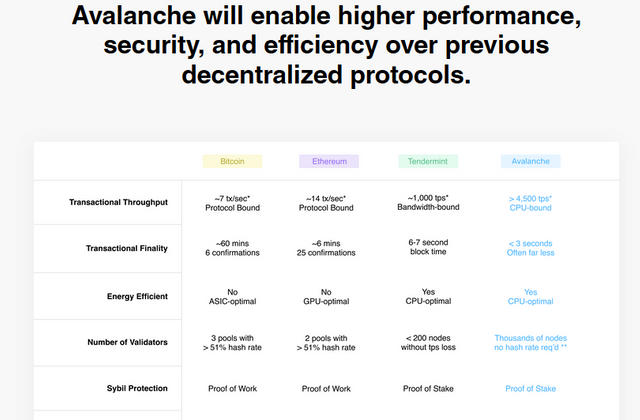 One of the major limitation of some existing blockchain network is the slow networks speed and higher transaction charges.Avalanche is capable of handling up to 6,5000 transaction per second .Bitcoin network is an outdated blockchain network filled with so many flaws. It uses Proof of Work (PoW) for transaction authentication while Avalanche implements Proof of Stakes (PoS) mechanism which solves the problems of speeds.
Avalanche is a blockchain firm that is regulatory compliant and as a result , the network could appeal to different finance firms all over the world . Developer all over the world can build their various projects on Avalanche blockchain . In other to make the blockchain network more perfect and free from any sorts of bugs, the team of Avalanche is conducting a bug bounty campaign that will be opened to the developers all over the world before the final public launch of the network. Developer who are able to find errors and bugs on the network will be handsomely rewarded .Avalanche is highly scalable consensus mechanism .Currently , the team of Avalanche want developers all over the world to experiments the technological potential.Avalanche is quite different from other blockchain project because the development of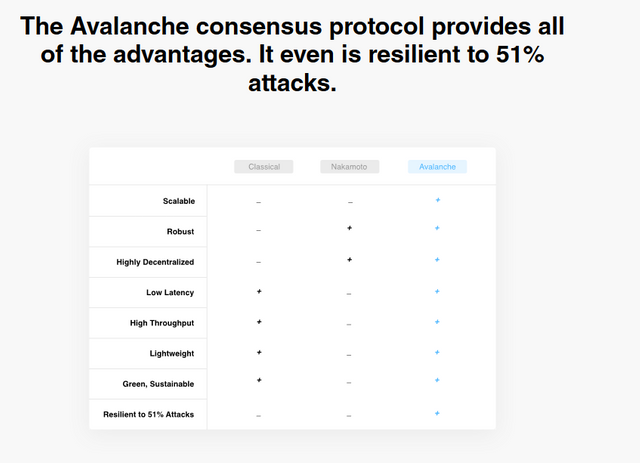 Avalanche has been initially funded by prominent investors with an amount up to $6,000,000 USD.Recently, the public Token Sale of AVAX token was successful sold out within just few hours. This is really amazing . There is no doubt Avalanche network will be among the top rank global blockchain network and will be massively adopted within a short period of time .Soonest Avalanche network will be opened to the public and Developers, Entrepreneurs , businesses and general users can migrate into Avalanche network for the best operational results .
Official Resources of Avalanche Network
Website: https://www.avalabs.org/
Whitepaper : https://www.avalabs.org/whitepapers
Github : https://github.com/ava-labs
Documentation : https://docs.avax.network
Avalanche Career : https://www.avalabs.org/careers
Telegram : https://t.me/avalancheavax
Avalanche hub : https://community.avax.network/
Facebook : https://www.facebook.com/avalancheavax
Reddit : https://www.reddit.com/r/avax/
Linkedin:https://www.linkedin.com/company/avalancheavax/