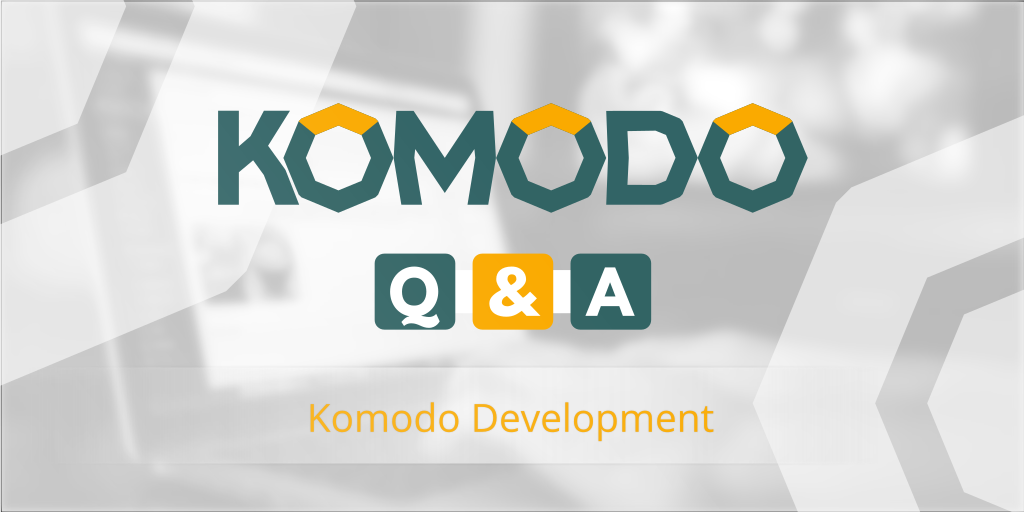 Who are the developers for Komodo?
So far the technology behind Komodo is coded almost entirely by jl777. With the ICO funds we are looking to hire more developers. Ideally we would recruit half a dozen high caliber C developers for continued enhancement of the technology.
There is also a GUI team that is working for other SuperNET related projects and who will likely also work for Komodo.
You can see a full list of our team from the Komodo homepage.
Who is the lead developer jl777?
Jl777 is the anonymous mind behind the Supernet project, an extremely gifted C developer with financial experience and a clear vision for the future of crypto. His advises are often sought after from other crypto projects and he also follows closely the developments of the whole crypto space. He helps the promising projects by providing feedback and looks for ways to use the technology in his own projects.
He's also on Steemit.
What are the previous and current projects jl777 is involved in?
The first big project and ICO before Komodo was the SuperNET itself. That ICO began on Saturday 6th of September 2014 and all the other projects are related to it.
The first completed project for SuperNET was a multiwallet build on top of Nxt platform. This enabled anyone to deposit any supported coin through a service called 'MultiGateway', and then the coins will appear in the wallet as a Nxt token. Those tokens are backed by the real coin which are secured by a distributed solution.
A number of other projects are being developed on top of the SuperNET technology. Those projects are often started by a third parties, but jl777 is himself involved in two of those: InstantDEX and Pangea. Their development will speed up once the low level technology of SuperNET is ready.
Last year SuperNET roadmap had some changes and a major component was announced: Iguana. It can be thought as SuperNET's low level technology which many other projects (including Komodo) will use.
James has recently given detailed information about the status of his projects, see this, this, and this.
What is SuperNET's track record in finishing its projects?
The previously mentioned Multiwallet and MultiGateway has been finished and fully working for two years. InstantDEX was working on the command line level, but because of external factors it has gone through some heavy changes since then.
Iguana has been working for some time now, and today there are only bug fixes left. A Iguana GUI is being developed and a release is expected to arrive before the Komodo ICO begins. 
Komodo is build on top of Iguana and thus many of the hard problems are already solved. For privacy technology Komodo will use the Zcash's open source technology. For these reasons the mainnet is ready to launch as early as December (a few weeks after the ICO). The new funds from the ICO will also be used to hire more C developers to help jl777 and accelerate development in the course of 2017.
Why there is no real photos of the dev team on your website? The use of real pictures would boost your project's credibility further.
We are aware of that. However because part of our team is anonymous - including our lead developer - we all decided to not use full names & photos.
Knowing the identity of the developers doesn't guarantee success. What we believe to be important is the track record behind a name (real or pseudonym). In our case jl777 has over the years demonstrated his capability and determination to carry on with his projects and plans. The roadmap might have changed, but the overall long term goal has been the same. He has not abandoned his projects and has stayed responsible to his past investors. 
Like previously explained, SuperNET has successfully developed a multiwallet and MultiGateway on top of the NXT platform. The NXT and SuperNET communities have used those service for 1-2 year and trust in its authenticity. Projects and cases like this should convince people about jl777's credibility more than an official passport picture ever could.
On top of these the SuperNET has a lot of open source code behind it, that anyone can inspect. jl777 has already began the Komodo development process, and we encourage everyone to follow it and ask any questions that comes to mind! 
Open Source code in GitHub:
Iguana - github.com/jl777/SuperNET
Komodo - github.com/jl777/komodo