KnownOrigin vs Shutterstock: The Blockchain Solution at zero cost
Pablo Picasso once said that the artist is a receptacle for emotions that comes from all over the place: from the sky, from the earth, from a scrap of paper, from a passing shape, from a spider's web. For art to be appreciated, it needs a platform where these emotions can be reflected and grace the society with its brilliance. KnownOrigin is a decentralized market place for artists and art curators built on Ethereum Network and employs the cutting edge technology behind similar marketplace dapps like District0x and Ethlance found on Stateofthedapps.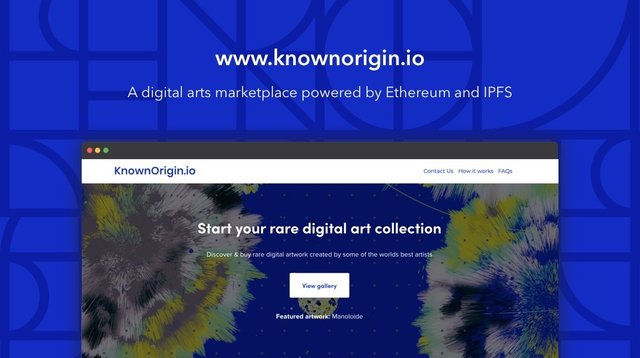 KnownOrigin origin was released around April of 2017 by cofounders David Moore, Andy Gray and James Morgan. The motivation behind this unique platform was to give artists an easy-access location to promote and sell their artwork. In the 20 months of existence, the platform has hosted 174 artists and raised over 200 Eth and counting for artists.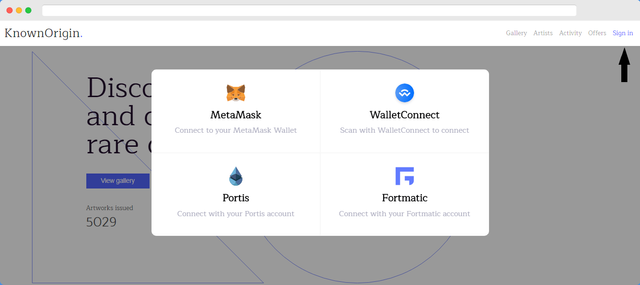 source
Being built on the Ethereum network gives the platform the underlying ease of access that most Dapps built on the platform have. All you need to access and participate in that platform is either one of those wallets. I recommend Metamask because it's more popular and trusted.
The simplicity and seeming blandness is actually a masterstroke. The homepage really gives you that art gallery effect, with plain white background and few basic shape designs that don't distract visitors and ensures the primary focus is on the artwork.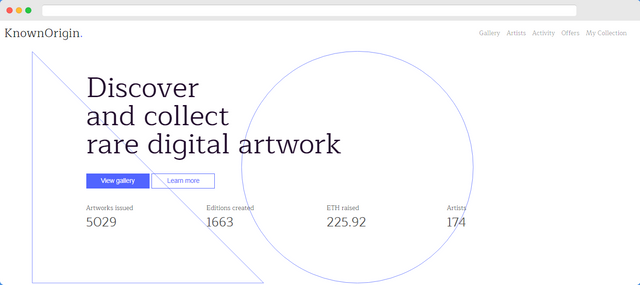 The navigation tabs at the top right are links to different parts of the platform;
Clicking on the Gallery tab opens a portal where visitors can search for paintings based on specific filters such as price, name of artist and rarity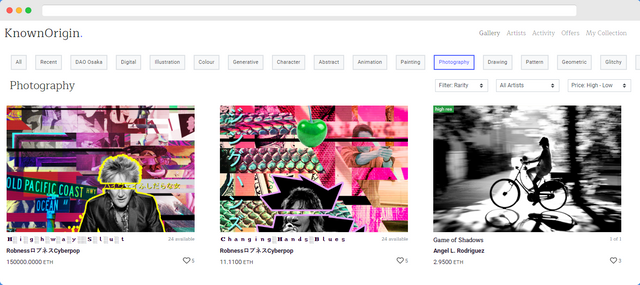 Knowing a thing or two about the artists creates a certain kind of connection between you and the artist, clicking on Artists takes you to their profiles, while Activity takes you to a portal where you can see sales, new creations, and offers.
I like the idea of backing artwork with blockchain technology and the simplicity that comes with the platform. Compared to the centralised Shutterstock that charges up to $49 a month and limits you to just 10 photos a month, I think it is really impressive that this platform allows users to upload as many original and rare digital artworks as they like for free.
It's proven to be a chore for me to make any sort of purchase from Shutterstock because of government sanctions in Nigeria and some absurd bank charges but KnownOrigin cuts out the need for all that. KnownOrigin has the advantage of blockchain technology as a payment solution, compared to Shutterstock that transacts exclusively in fiat. Ethereum is the token of exchange and other than the minor gas fee, you can easily purchase rare art from anywhere in the world.
Moving away from the steep price, uploading artwork on Shutterstock has proven to be difficult and not easily accessible to everyone because of restrictions within some countries that prevent you from getting past the monthly charge. With KnownOrigin, all you need to do is fill a google form where you indicate your affiliation with the work(whether artist or curator), some information about the artist, artwork and a few other things.

There's really not much difference in the quality between artworks on Shutterstock and KnownOrigin, I'd say the only difference is that Shutterstock gets more traffic because they're currently a bigger brand. Despite being relatively unpopular when compared to Shutterstock that pays users about 39cents for each time their image gets downloaded, KnownOrigin has been able to raise over $30,000(at the current exchange rate of ETH) for various artists across the world.
I've always been a proponent of simplicity and modesty, and everything about this platform sits well with my ideals. Its a relatively new platform with only 172 artists and somewhat underwhelming traffic so people over there really need to start talking about it. With that said, KnownOrigin is a place I highly recommend you promote and sell your artwork.