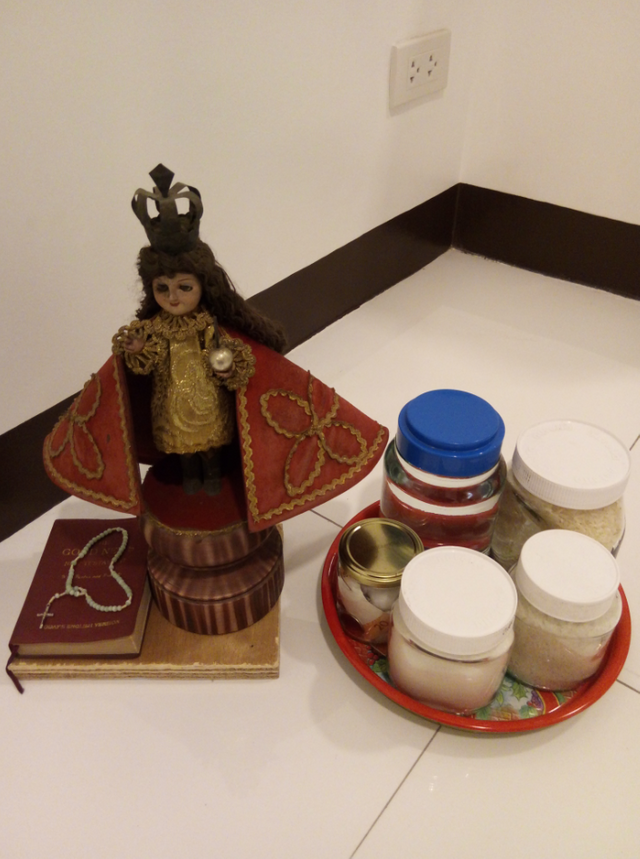 New House, New Life, New Beginnings....
We've just moved-in and I thank God the Father almighty for such a blessing of this kind.
It has been said and known as a tradition for us Catholics that first things to bring-in inside a new house before anything else are the following: (as showned in the picture above....)
1.) religious image or any Patron Saint;
(in our case, we brought-in the Sto. Nino)
2.) Holy Scripture or Holy Bible;
3.) Holy Rosary;
4.) Water filled in a jar;
5.) Rice grains;
6.) Rock Salt;
7.) White Sugar; and
8.) A jar full of coins/money with strips of cotton on it.
We do these things to bring-in good luck, good health, and a prosperous and blessed lifestyle for all the people moving-in on their new home.
Anybody might wish for a good and better life with their new found home but I may say that prayer is still the powerful weapon in achieving these things.... Above all, we must do our part in achieving one's goal - a good life....
GO for the goal....
A good life may be achieved with the help of GOD's son Jesus Christ....
Hey Steemit friends, this is just a little bit of info. when transferring into a new house as your new found home from yours truly. You may want to add something or anything closely related with MY Blog....
Thank you and GOD bless us all!