Kitchen cabinets is not just about storage. It is an essential element for improving your kitchen's style when you consider a kitchen remodeling. Today, streamlined look and feel of kitchens is important. Homeowners should focus on simplicity and minimalism while buying kitchen cabinets in 2019. While searching over the internet, you may come across many wild and bold options for cabinetry. Some homeowners prefer unique customized styles that are designed exactly as per their choice and preference. We've summed up top tips that will help you choose the best kitchen cabinetry design in 2019.
Kitchen cabinets are the crown jewel that can add beauty and elegance to your kitchen. Cabinet designs have been evolving since the last few years along with other elements such as countertops and flooring.
Online shopping tips for buying kitchen cabinetry online
Type and Style
Once you've made up your mind to buy kitchen cabinets, look for the standard shapes, sizes, finishes, and configurations of the cabinets. You can opt for framed or frameless styles for your kitchen. Customized ones allow you more flexibility when renovating your kitchen. Such cabinets are handcrafted exactly as per your requirements to match your existing lifestyle and storage requirements. Make your kitchen look awesome and fabulous with traditional and contemporary designs of cabinets.
Material
The material of kitchen cabinets plays an important role too. You can consider different types of metals, wood, laminate, or thermo foil for the cabinet doors. After selecting the material, you can choose a finish according to your existing décor and color preference. Custom as well as semi-custom kitchen cabinets can be painted, stained, or glazed as per your choice.
Quality Considerations
No matter what your budget may be, look for kitchen cabinets that last longer and offer great convenience. Well-constructed kitchen cabinets with solid-wood frames and doors can be a good option. Look for cabinets that have built-in organizers, adjustable shelves, trays or pullout racks to make your kitchen more efficient. Your life would be easier when you invest in the right type of products for your kitchen.
Budget
There are various types of cabinets: Stock, custom, semi-custom, and RTA cabinets. Stock cabinets are pre-assembled units that just require installation. They are available in different styles and colors. Semi-custom cabinets are the ones that offer a wide range of style options and configurations. Custom cabinets are an expensive affair, but you can get the cabinet exactly as per your requirements. Ready to Assemble (RTA) cabinets are DIY units that are cost-effective and budget-friendly option. One should choose the products matching the exact budget.
Features
You would need a cabinet that includes a pullout rack and multiple storage options. Determine your storage needs and look for kitchen cabinets that have sufficient space. Select cabinets that have drawers and racks that offer an easy access to all the items you store in the cabinets. If you aren't sure of what features you may require, discuss your requirements with an expert professional to get advice.
Construction
Well-built cabinets have a solid wooden surface with extension drawers. You may choose solid wood over particleboard as they are a sturdier option. Choose wooden or plywood frames and panels instead of medium density fiberboard (MDF) ones if you are looking for kitchen cabinets that last longer.
Shipping
Check out the shipping and delivery options while buying kitchen cabinets. The actual price of products would be the product cost plus shipping charges. You need to be aware of the shipping costs as sometimes they can be higher than the cost of cabinet itself. Do not be fooled by online stores or dealers that advertise low prices and add up the shipping costs at the time of payment. Some stores offer free shipping over a certain amount of orders. You should always know the shipping cost of cabinets while purchasing them online.
Discounts / Promotional Offer
It can be a good idea to search the internet for discounts and special promotions online to save some money while buying kitchen accessories online. Many stores offer huge discounts and promotional offers from time to time. You should keep an eye on such discounts to be able to get the best products delivered at your doorstep at cost effective prices.
Support and assistance
You may need support and assistance for assembly of the cabinets after they are delivered to you. Some homeowners may need to contact the professionals for assisting them pick the best products and furniture for their kitchen.
Samples
There are some online stores that offer samples for materials of kitchen cabinets. Some websites charge a small amount of fee for samples while some others offer for free. You can check the terms and conditions and order samples before ordering so that you can get an idea about the material or color of the cabinets.
Online Shopping Tips - What Online Kitchen Cabinet Stores have for you
Online stores offer a wide range of options to choose from. It is advisable to have a look at all the options and make the right decisions. Depending on your needs and preference, you can choose pre-assembled Cabinets or RTA cabinets.
RTA Cabinets: Things You Should Know
Homeowners and contractors who want to save time and money on their kitchen remodeling project can opt for RTA cabinets that are shipped flat-packed. They are easy to assemble and install it yourself. They are considered to be a cost-effective option when considering kitchen renovation. RTA kitchen cabinets are the perfect solution for someone who needs a mid-range kitchen cabinet solution. These low-cost cabinets are the right pick for people looking for cheap kitchen cabinets.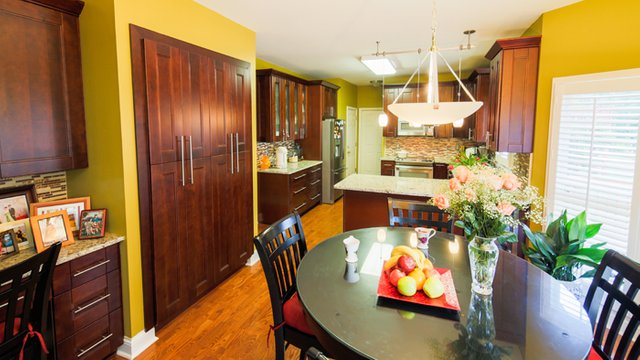 )