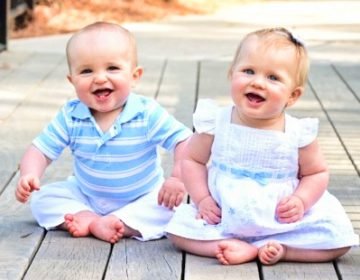 My girlfriend has long since parted with the father of her child - five years ago. The relationship between the former husband and wife was quite calm and friendly. The father of the child is very fond of his only daughter. It so happened that he had two families in the past, each according to a child, and now a new wife and a young son who has not even a year.
So one day her ex-husband's friend came to her house to see her daughter Diana and accidentally saw that my friend was examining Diana's photos in the computer when she was only half a year old-just a baby. Such a sweet and funny!
Suddenly he suddenly asked:
And where did you get photos of my Max ?!
"It's not Max, it's Diane."
"How's Diane?" It's Max. I can see!
Well no. This is Diane. I'm telling you.

How can this be? Do they have completely identical faces?

Well, they're brother and sister. That's similar to each other.

Yes they are not alike, but just one person !!!
And he was still surprised for a long time and looked at his daughter's photos and repeated: "Wow, how similar."
A little brother and sister, even if they are from different mothers - it does not matter, they are very friendly with each other and they have very tender relations. Diana, coming to visit Max, takes care of him, plays and even feeds milk from a bottle. And somewhere about a year and a half ago she predicted the appearance of a brother, drawing him, himself, mother and father in his album, amicably holding hands. My friend asked then: "And who is this from you?" - "And this is my brother." - "But you do not have a brother ..." - "It will be soon." And for sure. After a while it became known that soon the pope in the new family would have a baby, who later became a little homeland for the girl.