It's amazing treats like this that helps to keep me on my Keto journey! I'm down over 50 lbs and LOVING this way of life! I am always trying to take popular recipes my family loves and ketofy them to fit my sugar-free, low carb lifestyle. It's working because they love it! I love it because it keeps us all on track. That's a total win-win!
I hope you enjoy this recipe as much as we do.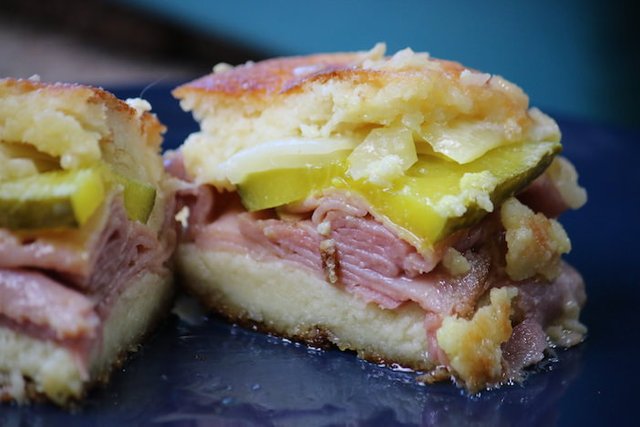 Keto Cuban Slider Recipe
Keto Cuban Slider Sandwich Recipe
Prep time: 10 mins Cook time: 10 mins Total time: 20 mins
Serves: 10
Keto Cuban Slider Recipe Ingredients:
10 Keto Hawaiian Sweet Rolls (You can find this recipe on here: https://www.isavea2z.com/keto-hawaiian-sweet-rolls-bread-recipe/
Deli Ham Slices
1 Package of Swiss Cheese
Sliced Dill Pickles
Sauce Topping:
2 Tbs Mined Onion
4 Tbs Butter
2 Tbs Dijon Mustard
Keto Cuban Slider Recipe Instructions
First, start by making the Keto Hawaiian Sweet Rolls Recipe.
Slice each Sweet roll in half and layer the bottom halves in a baking pan.
Add a layer of ham.
Add a pickle to each sandwich.
Add a layer of Swiss Cheese.
Top the sandwich with the top layer of bread.
In a separate microwaveable bowl, melt the butter.
Add the Mined onion and the Dijon mustard to the melted butter and stir until all the ingredients are combined.
Spread the butter mixture over the top of each sandwich.
Bake at 375 degrees for about 10 to 15 minutes until the cheese is melted in the middle of the sandwiches.
Enjoy!