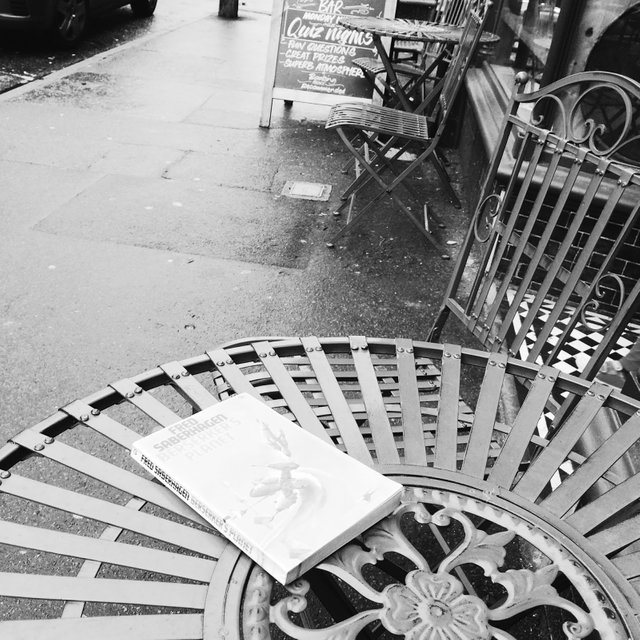 A short story by Guy T. Martland
It was one of those days in early autumn, when the world is still clinging onto the vestiges of summer. A few moments ago, it wouldn't have been possible to sit outside, the rain falling hard. But now the sky has turned blue, the low sun bouncing over the cobbled streets. And he is outside, looking across the old market square, soaking himself in its history. He isn't from around here and finds the place interesting.
Stubbing out a cigarette, he consults his phone again. The three words shine up at him: 'She liked it.' Without context, of course, this means nothing. He notices someone at the next table, looking at him. Perhaps this neighbour saw the text and is wondering what it means. Or maybe he is just pissed off because he is too close to the non-smoking zone outside.
As he lights another, he imagines his neighbour's thoughts about the pattern of light on the digital display: 'She liked it.' Could the text refer to a date he'd had last night, his partner wanting to meet again. Perhaps he was an author and had sent a recent novel to his female editor. The possibilities were endless… Perhaps it was from his sister, referring to the present he'd bought his estranged mother. Or maybe it was from his wife, referring to the fact that their cat enjoyed the new flavour of spinach and white fish cat food.
He picks up the phone, writes the following words: 'That's nice to hear.' And then leaves the phone on the table, so his neighbour can read it if he wants to. It strikes him as incredibly unlikely that he would fathom to what exactly the words refer.
But perhaps this is not the case. He turns to study his neighbour, a moody looking chap with an unkempt beard. He is clutching a tatty copy of a book with an orange spacecraft on the cover. This strikes him as interesting. Perhaps there is more to this chap than meets the eye. Perhaps he is capable of making a leap of imagination and somehow working out what the words meant. Perhaps he has underestimated him.
'She liked it,' was the answer to a question he'd posed. About what someone had thought about their time on Earth. Like him, not someone from here - someone in human form, but truly alien. He has yet to make his mind up about the place. But if she liked it, he has to know why.
He turns to his neighbour: 'Book any good?'
Visibly shaken, the man is silent for a while, then blurts out: 'I need to go home now,' before standing up and leaving.
He notices the man has left the book on the table, some residual raindrops curling its cover. After looking around to see if the man is coming back, he picks it up. He turns to the title page. There, scrawled in pen in a spidery handwriting are three words: 'She liked it.'
Is this just coincidence, he wonders? Did his neighbour write those words? He doesn't remember him doing so. Maybe somehow the answers are within these pages. The reasons why his predecessor, the former envoy to Earth, enjoyed her time here. He shrugs, puts the book back on the table, and thinks about this while he has another cigarette. Then, he picks it up and begins to read.
END
Guy T Martland is the author of a few science fiction novels, one of which (The Scion) was briefly published. His short fiction has appeared in a number of places, including Perihelion SF, Albedo One, Bards & Sages Quarterly and Shoreline of Infinity. He lives in Dorset, England, close to where R L Stevenson wrote 'The Strange Case of Dr Jekyll and Mr Hyde'. When he isn't writing, he works as a pathologist and plays a nineteenth century violin (but not at the same time). At six foot eight inches in height (2.03m), he considers himself the tallest SF writer in the world.