Karaoke-marathon continues here and now! Karaoke marathon is one day random!
How many songs you sang on May 24th and May 27th? Did you hit 100songs? You don't have to worry, because we will have another round on Sunday, June 3rd.

Track your songs, add them in, on Sunday special edition Karaoke-marathon. Hit 100 songs this time! No but and fuzz!
---
First time in history! Brace yourself! All are welcome to join - amateur and pro! Sunday, June 3rd at #Steem Schools DISCORD LINK- CLICK HERE TO JOIN
---
How dedicated is your heart to sing? Come on! Let's have fun while earning!
---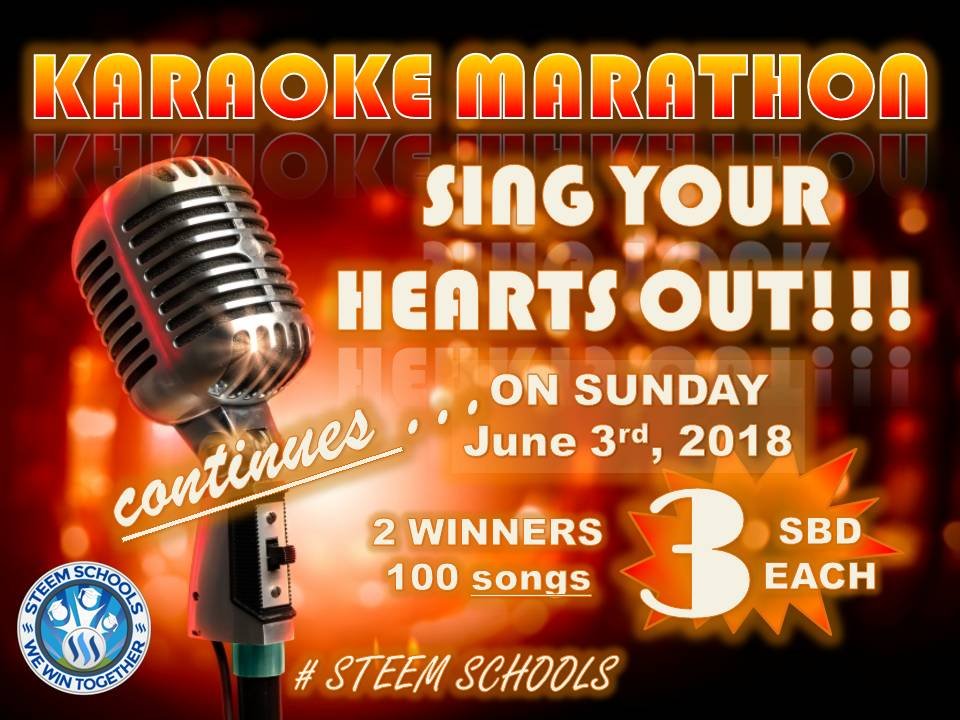 Credit to sir @flysky for this another amazing #karaoke-marathon challenge in history. Thank you
---
Rules
Sing 100 songs from May 24th, May 27th and now extended to June 3rd, Sunday at #SteemSchools #Karaoke discord channel HERE
You can repeat the same songs
Invite all your friends
Join discord link CLICK HERE
You must be my follower
Upvote this post
Resteem this post so more steemians can join
Be present at #SteemSchools - #Karaoke-marathon will start after the Business class
Winners should create post of their experience in the #Karaoke-marathon 100 songs challenge
Important Notes
Karaoke Marathon 100 songs are counted towards final on Karaoke-mania 1000 songs challenge
Karaoke Mania continues
Watch out every day for more surprises, only for you
---
PRIZE: 2 WINNERS 3SBD EACH
We will pick 2 WINNERS of the day, each will get 3sbd
---
What are you waiting for? Prepare your song lists and join us!
---
CLICK HERE - WIN 5SBD - Karaoke Mania Challenge 1000 songs only - 45 days challenge- Day 15
---