Qurator, this is steemit.com/@insertusername. We first got in touch with each other a few months ago and now I keep an eye out for them, they do the same for me. I was trying to remember who introduced me to them but it's been a month now, I forgot who it was. It might've been @ablaze that mentioned them to me first or possibly @themarkymark. I've seen @steemkitchen over there, too, it could've been them and recently @abh12345 was white papering his delegations, he might have been the one who told me. @thereikiforest, was it you? @djlethalskillz or @sagescrub, was it one of you guys who told me? I can't remember now. Oh! That reminds me, @puravidaville, thanks for letting me piggy back your ::justbecause:: Wednesday tag for this one.
I received a nomination two months ago but it took me three weeks and two failed attempts before I was accepted. I was unaware of image sourcing laws. Fool me once - Shame on me! I didn't even know they existed. Qurator doesn't mess around - They won't sponsor you unless you know how to properly source your images. Anti-plagiarism, community involvement, food competitions, they prioritize all of that good stuff. If you're already hip to the laws you're a shoe in! If you're naive to the in's and out's like I was, no worries, they'll get you hooked up on discord with @brumest and the rest is a piece o' cake!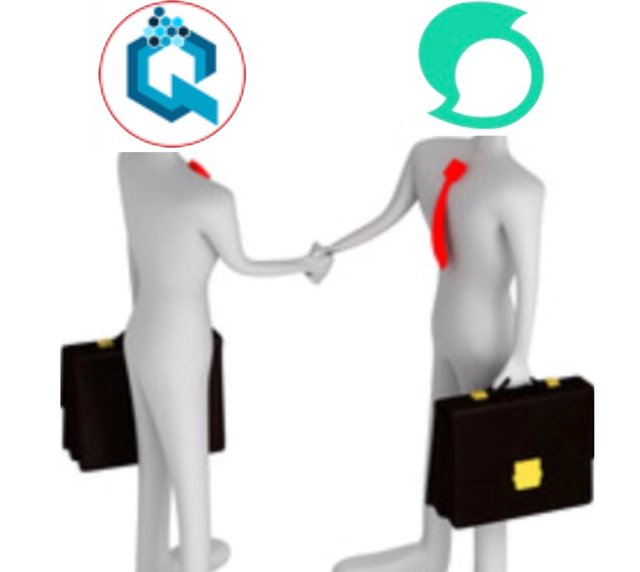 Pexels + Photoshop
I'll try to explain the monetary value in my own words, or, if you'd rather read it straight from @qurator, you'll find the answers to your questions here.
Qurator is a community, not a bid bot. I think they may have a program that works like a bot, maybe, or have access to one or something like that, I don't know, I don't pay attention to bid bots. I like to practice paying attention to investments. You're investing in yourself or the person you're sponsoring. A good example of an investment share these days, one that most of us are familiar with is, #steembasicincome. I'd be lying if I told you I know exactly how it works but you're initially bought a share of @sbi by a fellow Steemian. Or, you purchased the share yourself, however you acquired the asset, once it's yours, it's yours forever. The same applies with #qurator.
Your initial investment To: @qurator — Amount: 4.0 Steem — is a one time initiation fee and you're in. From there you'll be offered several different routes to either maintain, decrease or advance your tier placement. That's it, you're done! You never have to do anything else. "Have a great day, see you on #fff Friday!" Nah... that's just the beginning.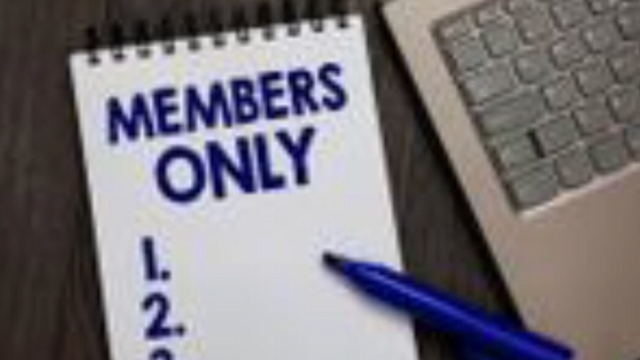 Pixabay
It was approximately this time, last month, when I was accepted in the community. I don't know the specifics but somehow I was accepted under special circumstances and everyone who was accepted on or around the same time as me received a bonus for our first month. The offer was made to all of us noobs: We would be locked in at tier 4 during our first month of membership and if we Upvote 'x amount' on daily curated posts, which @goldendawne makes super easy, (I'll tell you about her in a minute) we got locked in at tier 5 for the first month. That's probably not exactly, step by step, how the process works but I'm real close. Feel free to correct me. I don't want to confuse you with tiers right now, though, and besides that, I'm still learning how they work anyway. I'll drop a tier or tiers any day now. All I can tell you is how I've been treated my first month.
As I noob, I was placed in tier five. I realize that may sound < insert language > to you right now but we all understand Upvotes and percentages - That's next. Here's what it looks like when you're placed in tier 5: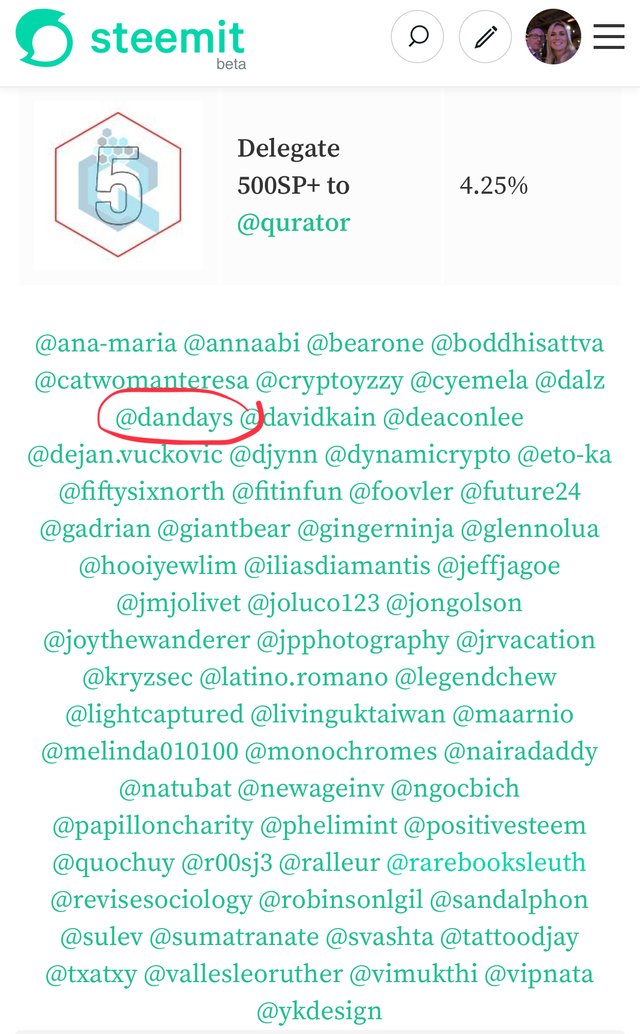 We all understand 4.25% right? That's the daily Upvote value you'll receive while placed in that tier, every day, one Upvote per day. 4n1/4% is 'about' mid-20 cents:


Update: Monday 09.29.2018:


Update: Wednesday 09.31.2018:


The figures:
One-time Initiation Fee = 4.0 Steem.
1 Upvote per day = 25 cents. (Average)
1 Upvote per day, 5 days per week = $1.25.
First month of Upvotes = $5.00.
(7 days per week = $1.75 / $7.00 first month)
Exchange rate:
4.0 Steem @ ".90/each" = $3.60.
Tier 5 rewards in your first month = $5.00.
The math:
The sum of 💲5.00 ➖ 💲3.60 is Positi✅e 💲1.40 ➕ 1️⃣ daily Upvote ➕ Curation = 🆗✔️
And it lasts forever. Once you're in, you're in. It's similar to the other investment opportunities you've seen and will continue to see around here. There's a lot more to #qurator than what I've just explained but that's what I understand so far. We all understand cents and Upvotes. I'm still #new, I'm learning, so far so great. That's just the investment part of it - I haven't told you about @goldendawne yet.
@goldendawne is a homesteader, blogger, chef, a do it yourself'er, writer, add something else here, you name it, she does it including #curate (s) for #qurator. She makes finding quality content a cinch! What I'm trying to say is: Their foundation is pretty solid and they're building a reputable team over there: (in case you haven't noticed all of the name dropping I've done) devs, curators, writers, artists, musicians, etc. 'Calling all talents!' They got a positive vibe over there, doing positive things for the community and I'm down to help them grow - It would be cool if you joined me.
I didn't know about this until I pasted the details at the beginning of this post. If you click on that link again and scroll down a little bit, you'll see how I will receive 1.0 SBD from @qurator on my most recent post if you mention my name in your memo when you sign up. If this article has been helpful, of course, if it has, just mention my name when you sign up and I receive 1.0 SBD - I didn't know that! Just type "referred by" @dandays in your memo and they'll handle the rest. Now it's your turn - Meet me over there and put something like this together for the next person and the Pay It Forward train won't miss a beat. 🚂