My 26th Newbieresteemday post - Half a Versary - 6 month journey
Half a Versary
          Here is
the link
to my first
#newbieresteemday
post. It contains the links to
@mudcat36
and
@davemccoy
's Newbie Resteem Initiative.
This is week 26, sixth month, half a year.
First weekly post was made on Jan. 14, 2018. The reach that
#newbieresteemday
tag has had is phenomenal.
We are reached 6 months
of being in operation
initial launch post from @mudcat36 on 1/14/2018
---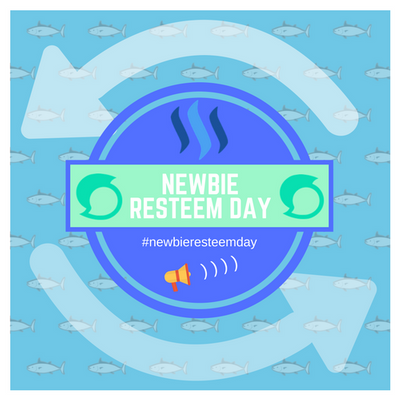 Image created and provided by: @amariespeaks
          So, if you are new to steemit and meet the criteria below I will try to help at least one individual that responds:

• a steemit newbie, that has a rank of not more than 45
• has a good and quality blog
• has less than 90 days on steemit
• I will only resteem One post, and that is not a guarantee
          If you would like your blog to be resteemed, read, commented on, and voted on, leave a link to one of your blog post in the comments below and I will try to help. If you have a question I will try to answer it, or direct you to someone or a post that may be of help. Steemit can be overwhelming at times, but there are people that do try to take the time and help others.


Where you can Find us
@newbieresteemday
- This is our primary account, and the one that does the majority of the resteems, although most members will resteem a few post. On our home blog page you will find on the banner the link to our discord chat room.
@newbiegames
- This is our page that we utilize to highlight and support games and challenges, and where we occasionally run our own games and challenges for the not just the new users, but for all users of steemit. We try to feature games and challenge that do not have overly complicated entry rules, and mos of the games do not charge even a vote to play, it is if you have the Vote Power available always appreciated to vote on a game you are playing in, as most of the smaller games rely on the post pay out for the awards pool.
Discord Chat Room - Here is where you can go to find all kinds of help, or to just find someone to chat with. We have a lot of information and assistants rooms on the left hand room links, and a post promotion dropbox that people use to find new content from members to look over.

Very useful helpful links
Steemworld.org Keeping track of what is happening with your account has never been easier that https://steemworld.org/@yourname just replace @yourname with your @ name and you will be there. It is free easy and simple to use. Here is a post I did showing how to use the manual voter on steemworld to vote comments. If you have questions about using any of steemworld.org program, just leave a comment, and I will try to help or someone else will try to help, @steemchiller is also always willing to help people out using his program, he is pretty busy and always working to tweak his program, so visit his page and take a look at his work. You will not be sorry, and as a new user you will be very happy with being able to see who mentioned you and voted for you. It is a great front end.

@dustsweeper As a new user it is difficult to make headway with votes. Most likely as a new user the people coming to vote and follow your are likely new users also.So making your votes count is a very important decision you will make, and getting the votes you receive to count is very important. This is where dustsweeper can help out. They will lift your non-payout level recieved votes to a payout level. So if you have 3 people that vote on a post of yours and it does not reach $0.019 then those votes will go away, and you receive nothing and the vote giver receives nothing. So very important to invest in yourself and your fellow steemians. You can start with as little as $0.250 to set up an account. If you see a contest giving away free gift accounts you should jump on it right away. I myself have gifted a few new users. So visit @dustsweeper learn about @dustsweeper, this will also teach you a little bit about the steemit vote system.
@IFC Okay now for a little more fun and games. @newbiegames is great for quicky game fix, and help build your account games, they also feature longer games but mostly focus on quick rewards as that is what people want. @IFC is different. Season one is just finishing up. Yes season, as in a six month long contest or longer. Now wow would I mention @IFC in a section called

" Very useful helpful links"

, simple steemit is more than about making money, it is also about engaging each other and about having fun. There are a lot of different people on steemit, and people from all over the world and from every economic boundary line you want to draw. @IFC is a globe wrapping game/challenge. I have met some of the nicest, strangest, and well just cool people in the games. A follow is strongly recommended, and keep your eyes out for when Season Two starts, I think it will be as fun and exciting as Season One was. The game is from the mind of @apolymask, he has done a remarkable job with it, and made it very fun and challenging indeed.
---
Conclusion
          I do hope you visit, read and follow the three highlighted post above, I think in the long run you will be very happy that you did.
And now for a word from our Sponsor
          CONTINUATION: Minnow/Newbie Palooza Is Live NOW (Over $100 SBDs in Free Prizes, Giveaways, and Upvotes) I do not know how long they are going to run the games, or if another post will need to be done, but that is @newbieresteemday team in action. The response to it has been nothing short of amazing. Here is the original post 1216 comments. Simply amazing the amount of responses.