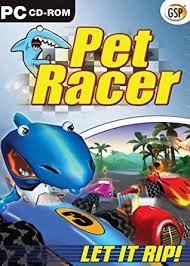 It is a very fun game With the name of Pet Racer, we find a fascinating car racing game, driven by a group of animals, who are passionate about speed. After downloading and installing Pet Racer on your computer, you will have the possibility to choose from a large group of pets and take it to the top of the podium.
The most characteristic of the game with the naked eye is that it presents a great color in terms of its graphics, its game system is similar to other great classics, such as Mario Kart Racing or Wacky Wheels, and abundant fun.
Pet Racer is made up of a total of thirty circuits, in which pets will compete for the planet Earth (forests, jungle, arctic and desert) and for the surface of the Moon. Throughout the race you will find various objects, as well as enhancers that will help you gain advantages over other competitors. And best of all, Pet Racer is a game suitable for all ages, so children and adults will have a great time enjoying the craziest races between animals.