Pitching at Web Summit
We received free open-source developer tickets for web summit and will use this opportunity to introduce the project to VC's at the event. In preparation for this we have updated our pitch deck and are working on clarifying our pitch.
https://jsecoin.com/pitchdeck.pdf
———————– Elevator Pitch ———————–
JSEcoin is a UK startup developing applications to enable website owners to generate revenues using blockchain tech
———————– 1 Min Pitch ———————–
The problem we solve is that website owners need to monetize their content. Our unique selling point is the browser mined blockchain which is powered by surplus resources providing energy and cost savings.
We started as a cryptocurrency browser mining company in 2017. In 2018 the JSE cryptocurrency token was launched. Since then we have been working on expanding the toolkit to include advertising, payment processing and a developer API. Our focus is on the opportunities in bridging web and blockchain technologies.
The live JSE platform includes:
An ad exchange which acts as a transparent marketplace for banner ads
Cryptocurrency payment buttons for e-commerce merchants.
Enterprise solutions for bot detection and immutable data verification
The community has grown organically since 2017 and the technology has been integrated into over 20,000 websites.
The company was funded with $60,000 USD from the initial sale of JSE tokens in 2018. We are now seeking venture capital to accelerate growth and development.
———————– 3 Min Pitch ———————–
The team is comprised of myself who comes from a background in ad-tech and has started two previous successful companies. John Sim who worked as a UX designer on Oracle enterprise products. Tracey Howard an accountant with previous tech company experience. Matthew Vallis, formerly an executive business partner at RBS. In 2019 we were accepted by Google startups programme to work from their London campus.
Transparency is important to the project and our team. Our code base is open sourced and published on Github. We provide monthly management accounts and 3rd party audited annual accounts and treasury information on our website.
Our vision is for cryptocurrency to eventually be used more than government currencies for online trade and website monetization. If this does happen then there will be large opportunities in this new and developing sector. Digital advertising is generally bought and sold by a tech-savvy demographic and we believe this will be one of the first industries to be disrupted.
The JSE token is used as the method of exchange for micro-payments on the ad-exchange and enterprise API's. It is also one of the payment methods available alongside Bitcoin and Ethereum on the merchant tools. The utility and value of the token is critical to the success of the project. Our goal is to become a top 100 cryptocurrency by market cap which will be important in the future as we believe index funds for cryptocurrencies will exist.
The business model is based on the introduction of payment processing fees, markup on advertising. We are adequately funded and there are no fees during this growth and development stage.
There is a reliance and bottleneck with organic growth which could be accelerated via additional funding. Funding would be used for client acquisition marketing and personnel costs to build developer and sales teams.
———————– 10 Min Pitch ———————–
Would you like me to demo the platform? https://platform.jsecoin.com
———————— Notes ————————
Problem, usp, started, bridging, adx, payment buttons, enterprise, grown organically, funded. Team, transparency, vision, token, biz model, funding. Demo
———————— Feedback ————————
This is still very much a work in progress. If you have any feedback for improvements please let us know in the Telegram channel: https://t.me/jsetelegram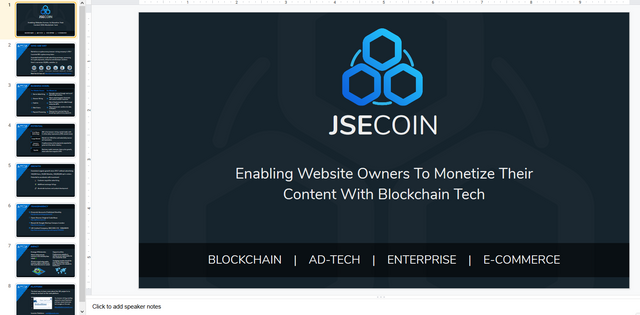 Original article: https://jsecoin.com/pitching-at-web-summit/