MATCH REVIEW: Nigeria 1 - 0 Egypt - AFCON 2022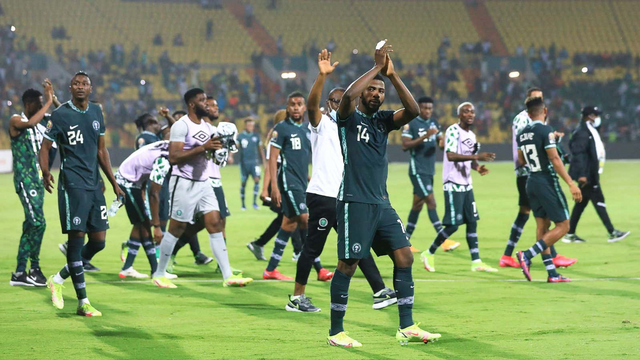 cr
Super Eagles Break Pharaohs' Unbeaten Record in Dominant win
By @jehoshua-shey



Jan 12, 2022
Kelechi Iheanacho struck on the half hour mark to give the Super Eagles a winning start to their 2022 AFCON campaign.
The anticipation had always been pronounced once the draw was made, as many fans of african football looked forward to the clash of two footballing giants from different cardinal points of Africa.
At the end of hostilities, it was the West African power house who would claim all three points, thanks to a first half strike made in Britain.
The Egyptians failed to deal with an inside cross from their right flank, an error Joe Aribo, the in form Rangers hitman would pounce on to set up Leicester City's Kelechi Iheanacho who would bury a half volley deep into the Egyptians net just at the bottom of the hour.
The Pharaohs suffered an early setback just 10 mins into the game when they lost left-back Akram Tawfik a misfortune they might hold accountable for their first group stage loss in the AFCON since 2004.
Austin Eguavoen's selection of Taiwo Awoniyi and Kelechi Iheanacho upfront flanked by Samuel Chukwueze and Moses Simon ensured that the Egyptians were far from idle all evening. Even with recurrent stoppages in the first half due to ball deflation, the Pharaohs could hardly catch a break.
Mohammed Salah was kept in isolation as he had the luxury of two or three nigerian players waiting to attend to him whenever he had the ball. His best chance came in the second half when he was threaded through only to be denied by the nigeria shot stopper who came so close, leaaving no room to add power to his weak shot.
Under intense attacking pressure, the Egyptians could hardly deal with a Moses Simon's cross with a weak header which barely sent the ball as far as Joe Aribo who laid a quick pass for Kelechi Iheanacho to bury into the top corner from the edge of the 18-yard box.
Awoniyi would come close with a header which was tipped to the cross bar and Kelechi would miss his opportunity to get a brace on the night when he made poor first contact with a neatly weighted pass after some impressive interchange of play from the Super Eagles.
At the end, it was the West African giants who would inflict a first ever defeat in the group stage of the AFCON on the North Africans.
Next up for the winners is Sudan on Saturday while the Pharaohs will seek to r cover with a win over Guinea-Bissau. Nigeria will be through to the next stage with a win in their next match with a game to spare as the other opening fixture ended in a stalemate.
Thanks for reading.