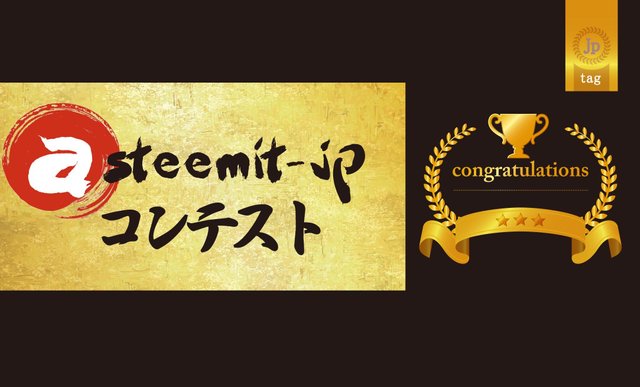 (画像お借りしました)
こんにちは!
連日の雨に流石に嫌気が差してきました・・・
水も滴らない中年男・ゴロタです!!
さて今回も@steemit-jpさんのコンテスト#3に参加させていただきたいと思います!
今回のテーマは@tonpaさんご提案の「夏祭り・花火大会」です!
知っている方は知っていると思いますが、私ゴロタは生粋の九州男児!
私が紹介したい花火大会は地元ではもちろん、九州最大級のこちらの大会になります!!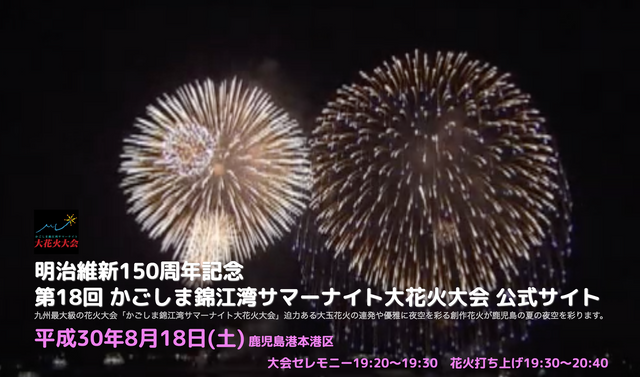 錦江湾サマーナイト大花火大会です!!
今年で18回目を迎える同大会。
今年は明治維新150周年を記念して九州初となる1尺玉150連発など例年以上にこだわった演出で夏の夜空を彩ります。
打ち上げられる花火数は約15,000発!!
当日はネットでライブ配信&地元ラジオで生中継も行われる鹿児島でトップ3に入るぐらいの鹿児島市をあげて行われる大きなイベントです。
過去の花火大会の画像が公式サイトに載っていたのでいくつかご紹介します!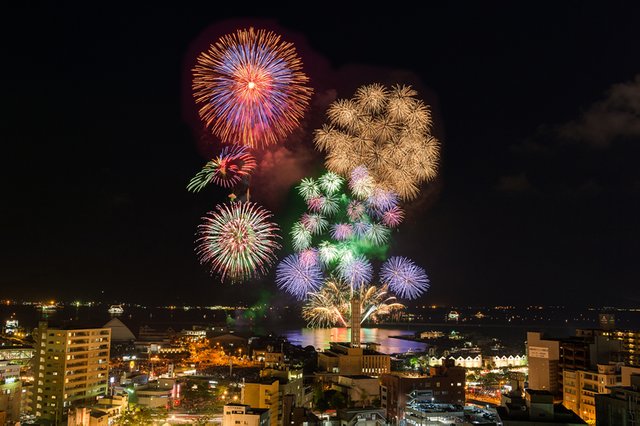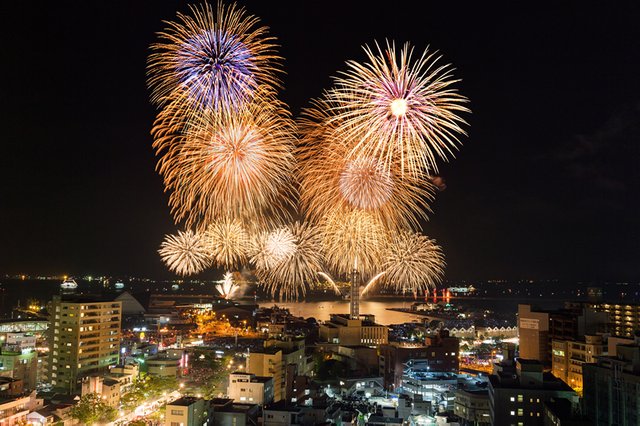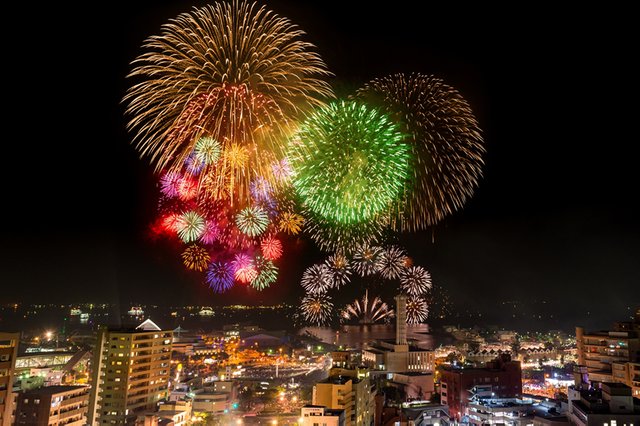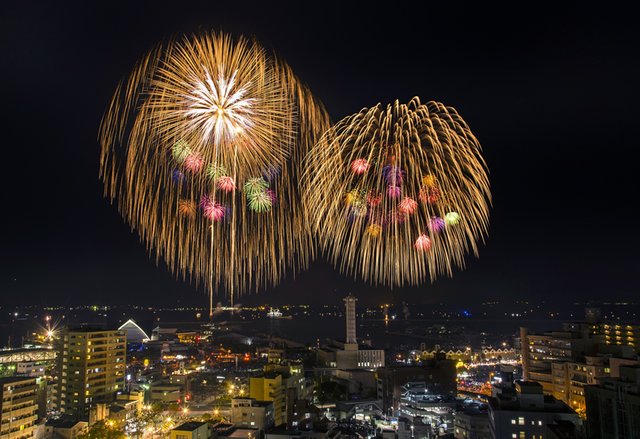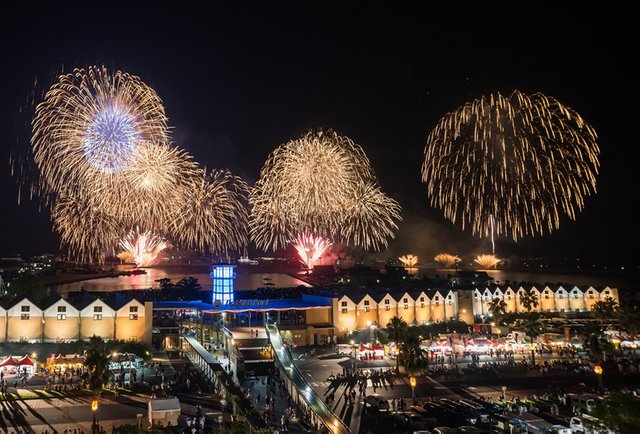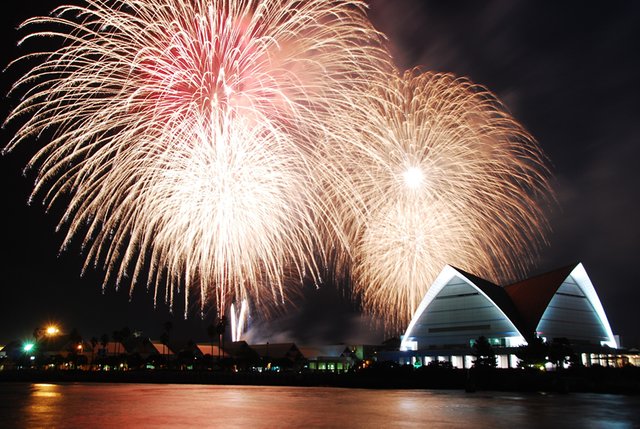 美しいですね〜!!!
会場は以下のようになっており、有料観覧席では大迫力の花火を見ることができるそうですよ!(←行ったことがない)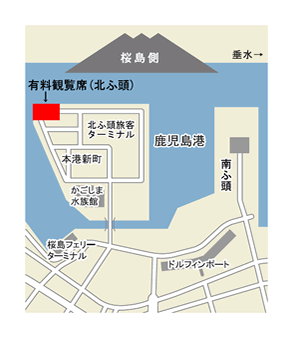 有料観覧席のチケットは現在絶賛発売中ですので気になる方はホームページをご覧ください!


ここで私の思い出を1つ。
今でも忘れない記念すべき第1回大会。
当時私は高校1年生で男女4人で見に行ったのですが、まず最初に驚いたのが人が多すぎたことですw
鹿児島は田舎です!
どっからこんなにたくさん人が出てきたの?ってぐらい人がいましたw
会場も今と比べると半分ぐらいの広さしか無く、都会でいう満員電車状態でした(笑)
今にして思えば、当時鹿児島市もこんなに人がくることは予想できなかったのだと思います。
そんな人が多すぎてまともに花火も見れない花火大会が終わった後も会場周辺が大渋滞で大変な状態でした。
普段ならバスで30分もかからず家に帰れるのにその日はひどすぎる渋滞でまず時間通りにバスが来ませんw
さらにようやく30分以上遅れて来たと思ったらバスがこれまた満員電車状態(笑)
バス会社も急遽臨時バスを出しなんとか対応しようとしていましたが時すでに遅し。
21時に花火大会自体は終わったのですが家に帰り着いたのは夜中の1時を回っていましたwww
まあ個人的にはいろんなお話もできたしいい思い出になったので後悔なんて全くしていませんけどね〜
現在はしっかり鹿児島市も混雑に対応しているため、相変わらず人は多いですが大変なことになることはないのでご心配なく!!
九州最南端なのでなかなか来る機会はないと思いますが、夏休み中にご旅行の予定などありましたらプランの選択肢に入れて見るのもありかもしれません!
というわけで私の紹介を終わります!

あ、1つ大事なことを言い忘れていました・・・





私も今年見に行きますよ!!!!(全く大事じゃない)
Hello!
I was disgusted with the drifting of rain every day ...
It is middle-aged man · gorota which does not drip water! !
Well I guess you'll join @ steemit-jp's contest # 3 this time too!
This theme is "summer festival · fireworks festival" suggested by @ tonpa san!
I think I know that, Gorota is a genuine Kyushu boy!
The fireworks display that I would like to introduce will be local as well as Kyushu's largest tournament! !
It is the Kanie Bay summer night big fireworks festival! !
This competition celebrates 18th this year.
This year, adorned the night sky of summer in the production sticks to more than previous years, such as 1 feet ball 150 barrage to be the Kyushu's first to commemorate the Meiji Restoration 150 anniversary.
About 15,000 fireworks can be launched! !
On the day is a big event that takes place by way of Kagoshima about the top three in Kagoshima, which is also performed live on Live & local radio in the net.
Since the images of the past fireworks display were on the official website, I will introduce some of them!
beautiful~! ! !
The venue is as follows and it seems that you can see the powerful fireworks at the paid attendance! (← I have never been)
The paid attendance tickets are currently being acclaimed now, so please visit the website if you are interested!
Here is one of my memories.
The first memorable event that I will not forget even now.
At that time, I went to see it at the high school first grader with 4 males and 4 females, but the first thing that surprised me was that there were too many people w
Kagoshima is a countryside!
How many people came out from this? There was a person w
There was only about half the space of the venue compared with now, it was a crowded train state in the city (laugh)
I think now, I think that Kagoshima-shi could not have expected such a person at such time at that time.
There were too many such people and fireworks could not be seen properly even after the fireworks festival was over, the vicinity was in a serious condition due to a heavy traffic jam.
It usually takes less than 30 minutes to get to the house by bus, but that day is too bad the bus first comes on time w
Finally when I thought that it came late for more than 30 minutes it was busy again in a crowded train condition (lol)
The bus company suddenly issued a temporary bus and was trying to cope with it but it was already late.
Fireworks convention itself ended at 21 o'clock but we came back home was around 1 o'clock in the morning www
Well I personally could talk about various things and it made me a good memory so I have not regretted it at all ~
Currently Kagoshima City is also dealing with congestion, so there are still many people, but do not worry as it will not be serious! !
Quite come opportunity because the Kyushu southernmost I do not think, but may also have be to see put to the choice of the plan If you have any plans for your trip during the summer vacation!
That's why I will end my introduction!
Oh, I forgot to mention one important thing ...
I will also go see this year! ! ! ! (It is not important at all)
読んでいただきありがとうございました!
感想や質問などはお気軽にコメント下さい!
Twitterもやってます!
お気軽にフォローお願いします!
@gorota
Twitter

Thank you for reading!
Please do not hesitate to comment and questions etc!
Twitter is doing it!
Feel free to follow me!
@gorota
Twitter