I saw a pic about this and when I read more, it really touched me.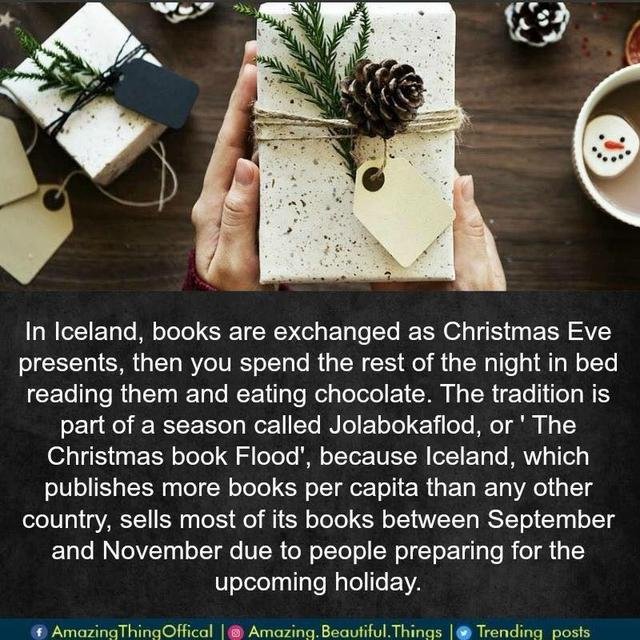 "Every year since 1944, the Icelandic book trade has published a catalogue – called Bókatíðindi ('Book Bulletin', in English) – that is sent to every household in the country in mid-November during the Reykjavik Book Fair. People use the catalogue to order books to give friends and family for Christmas.
During the festive season, gifts are opened on 24 December and, by tradition, everyone reads the books they have been given straight away, often while drinking hot chocolate or alcohol-free Christmas ale called jólabland."
Link- https://jolabokaflod.org/about/founding-story/
I plan to grab an old Terry Pratchett favourite, Reaper Man with some hot chocolate myself.
"....Death is missing – presumed ... er ... gone. Which leads to the kind of chaos to always expect when an important public service is withdrawn.
Ghosts and poltergeists fill up the Discworld. Dead Rights activist Reg Shoe – "You Don't Have to Take This Lying Down" – suddenly has more work than he had ever dreamed of. And newly deceased wizard Windle Poons wakes up in his coffin to find that he has come back as a corpse. But it's up to Windle and the members of Ankh-Morpork's rather unfrightening group of undead* to save the world for the living.
Meanwhile, on a little farm far, far away, a tall, dark stranger, by the name of Bill Door, is turning out to be really good with a scythe. There's a harvest to be got in. And a different battle to be fought.
In passing we learn of many things. The lifecycles of Mayflies and Counting pines; of the Klatchian Foreign Legion, where men go to forget; of the true colour of infinity; and of chocolate, flowers, and gemstones as items which ease the path to a lady's heart.
Arthur Winkings, for example, became a vampire after being bitten by a lawyer. Schleppel the bogeyman would be better at his job if he wasn't agoraphobic and frightened of coming out of the closet. And Mr Ixolite is a banshee with a speech impediment, so instead of standing on the roof and screaming when there's a death in the house he writes "OooEeeOooEeeOoo" on a piece of paper and pushes it under the door. " ....