Jibbit- Merging Cannabis and Blockchain, Part 2: Why?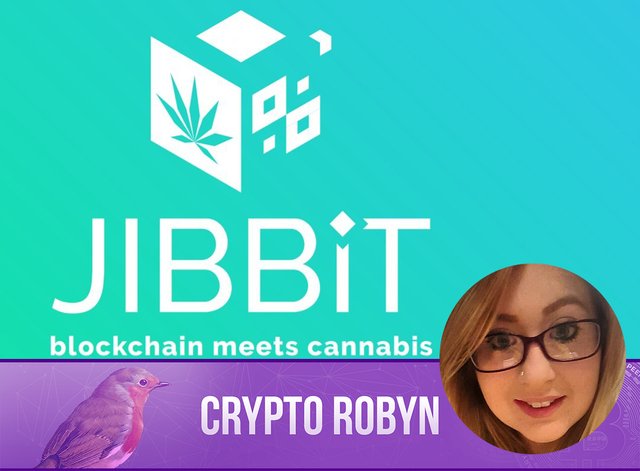 Hey guys,
This is my second article on Jibbit, which has the novel vision of creating an innovative, multi-faceted decentralised platform to satisfy various growing demands of the global cannabis industry. This is a mammoth task, of course, so will need to be backed by strong fundamentals if the project has a chance of achieving its goals- which we are about to analyse.
In my previous article we explored the 'who' and 'what' of Jibbit- Namely, who are Jibbit? And what are they trying to accomplish?
In this article I will provide insight into the Jibbit project in order to answers the question: 'why'? Why is Jibbit necessary? And why blockchain?
Quick disclaimer: this project, like all I review, is new to the scene and is still under development so please always do your own research. Also remember this is my opinion and not financial advice; my content is for educational and entertainment purposes only.
Let's jump in.
EMERGING CANNABIS INDUSTRY TRENDS
Growth in Popularity and Demand
The global cannabis market is huge and, fuelled by the wave of legalisation as governments concede to the benefits of a regulated cannabis industry, is seeing a staggering growth in public popularity and demand in all sectors.
Seeking the many benefits of a liberal, and rational, cannabis-related regulatory environment, we are seeing an increasing number of jurisdictions legalise the use of cannabis, at least in one form or another. This growth is expected to continue and, if anything, accelerate- so much so that by 2024 the global cannabis market is expected to reach $63.4 billion.
This rapid growth in popularity is creating an unprecedented increase in the demand for products and services relating to cannabis. At the moment, the fragmented industry is still plagued by teething problems such as inefficient payment mechanisms and inferior, or even potentially dangerous, cannabis production.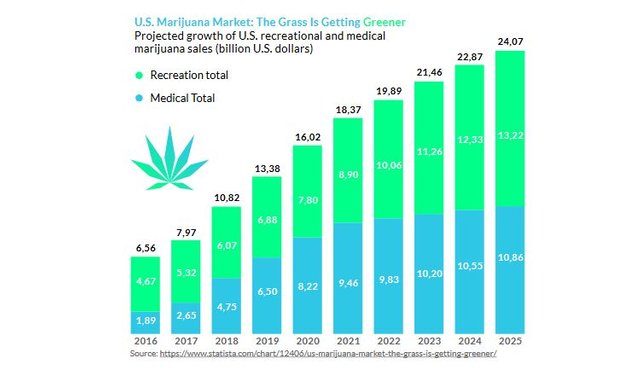 Increasing Medical Sector Complexities
One of the most beneficial qualities of cannabis is undoubtedly its plethora of medicinal qualities. As governments are becoming aware of these overwhelmingly obvious and varied applications, cannabis use for such medical purposes, especially, is becoming legalized at a rapid rate. Medical cannabis can be used to treat a wide range of conditions and illnesses, from general pain and asthma, to epilepsy and Crohn's disease.
However, as with any fledgling industry the medical cannabis sector is not without its hurdles. The sector is currently facing a particular issue with forged prescriptions, as unscrupulous actors look to bypass or profit from the flawed medical prescription system. With no mechanism to truly ensure the validity of prescriptions, prescription fraud results in damages of many millions of euros per year.

WHY IS BLOCKCHAIN THE SOLUTION?
Transparent, Efficient and Secure
The core features of blockchain technology which make it valuable are primarily its inherent transparency, efficiency and security- all features which Jibbit is looking to utilise in order to solve the complex teething problems of the fledgling cannabis industry.
By utilising blockchain technology as a core framework, Jibbit will be able to offer network solutions which house verifiable secure, transparent and efficient transactions. Such transactions will also be notably cheaper than traditional payment mechanisms and no complicating third party in the form of a bank is required to carry out activities.
Inherently Tamper and Forgery-Proof
Not only is blockchain transparent, efficient and secure but, due to its decentralised nature, it is also innately virtually tamper-proof. These features make blockchain an excellent tool for creating a verifiable record of medical cannabis prescriptions. This way, there can be no question as to the legitimacy of a particular prescription- quite simply, if it cannot be found on the blockchain it is a certainly forgery.
This is one of the biggest teething problems of the medical cannabis industry right now, and Jibbit is remarkably impressive for their innovative blockchain-based solution to this issue in particular.
CONCLUSION
The global cannabis industry, though still in its infancy, is ripe for disruption- and by incorporating blockchain Jibbit want to make sure the space has a flying start.
Jibbit is clearly looking to utilise the increased possibilities and opportunities presented by blockchain, in order to provide a hugely innovative and cutting-edge solution for a complex and increasingly demanding market. Jibbit's use of blockchain not only allows for efficient and secure transactions for general market participants, but also offers impressive niche-related solutions, such as Jibbit's anti prescription forgery applications.
In my next article on Jibbit we will be exploring the 'how' of the project- how is Jibbit actively carrying out their vision? How does their decentralised platform provide a solution to this currently chaotic situation?
As we will discover, the key lies with Jibbit's complimentary combination of their three ecosystem elements- Jibbit Marketplace, Jibbit Runner, and Jibbit Doc.
I will see you guys again very soon for another in depth project review!
LINKS
Website: https://jibbit.io/
White paper: https://jibbit.io/wp-content/uploads/2018/08/Whitepaper-Version-1.13.pdf
Telegram: https://t.me/jibbitico
My Bitcointalk account - datniccy97 -https://bitcointalk.org/index.php?action=profile;u=2099905