O Lord Jesus Christ, Son of God, have mercy on me, a sinner.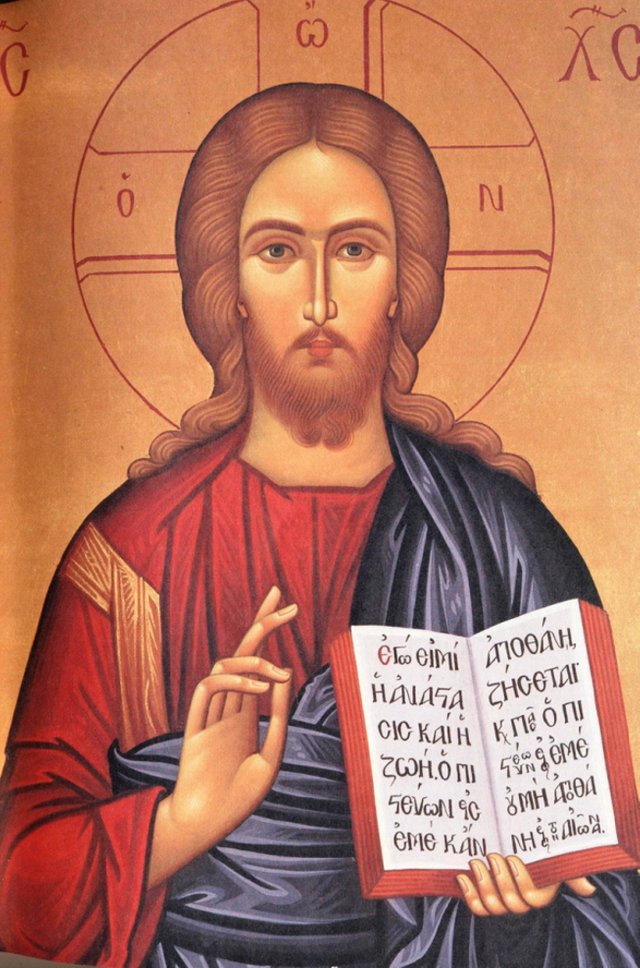 ---
Saint Paisios saw Jesus Christ when he lived on earth and described Jesus like he appears on that icon. Actually he gave instructions how exactly to paint him.
"…One afternoon something extraordinary happened to him. While praying, he saw Christ in front of him right there in the forest."
"Was it a mystical vision of the Christ?" I asked.
"No. Elder Paisios insisted that it was Christ Himself who literally appeared in front of him. He had a material body and was seen by the elder with his ordinary vision. It was a living experience, just like the experiences he later had with dead saints. In this manifestation Christ held an opened Gospel and what He said to him was spoken verbatim in the way it was written in the Gospel. Addressing him by his first name Christ told him:
"«Ἐγώ εἰµι ἡ ἀνάστασις καί ἡ ζωή. Ὁ πιστεύων εἰς ἐµέ, κἄν ἀποθάνῃ, ζήσεται».
"I am the resurrection and the life: he who believes in me, even if he dies, will live."
"This direct experience of the Christ," Father Maximos continued, "was as far as I know the first entrance of young Paisios into the realm of supernatural revelations and was a turning point on his path toward monasticism."
from 'The Mountain of Silence,' p.90
---