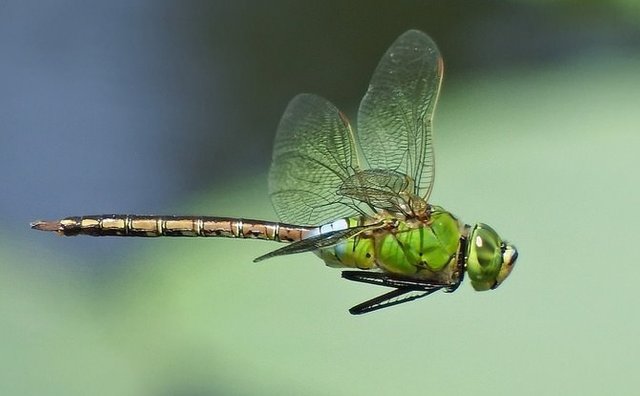 (image source: https://pixabay.com/en/japan-natural-insect-dragonfly-3029432/)
I don't think I can write just one piece for this contest! So I've sorted my supernatural experiences into categories, and for this piece I've chosen to write about interesting experiences with nature/animals. Hopefully I'll be able to get to my other topics: psychic experiences, visions, miraculous healing, etcetera at a later date ;)
Dragonflies and Other Magical Creatures
Once, when we lived in Florida, my ex wife and our small child called me out to the deck of the house where we lived. There was a wounded dragonfly, flying very loudly round and round in wide panicky circles because one of its wings wasn't working properly.
I caught it and held it, and spoke to it, in what I hoped was a reassuring voice, until it had calmed down, and once it did, it didn't try to fly again. It clung to my clothes or to my body, wherever I put it, and just stayed there. Later, once it had got used to us, also to my ex and our child.
It was really large, maybe 4 or 5 inches long, a bright neon green with gigantic iridescent eyes and wings. There was a wound in its side, just where the wings met the body.
When we went to sleep we left it in a large jar with some vegetation and some water. We may have also put some dead flies or mosquitoes in there in case it got hungry, I don't remember.
In the morning, it was there, still alive, ready to be picked up and admired, and to ride around on our bodies.
Some time later in the day, when I paused to take a look at it, I noticed that it seemed to be looking back at me rather intently. It was perched on one of my fingers. I raised my finger to my face so that I could meet its gaze, and after a long moment it grabbed my nose with its front legs. It pulled itself, and my hand, right up to my face with its legs, less than half a centimeter, but with a strength I wasn't expecting. I remember the sensation of it - its feet were sharp and dug into my skin, stinging just slightly. It brought its face right up to my face, and we stayed like that for a moment. Then it let go.
And when I moved my hand away from my face, it took off and flew!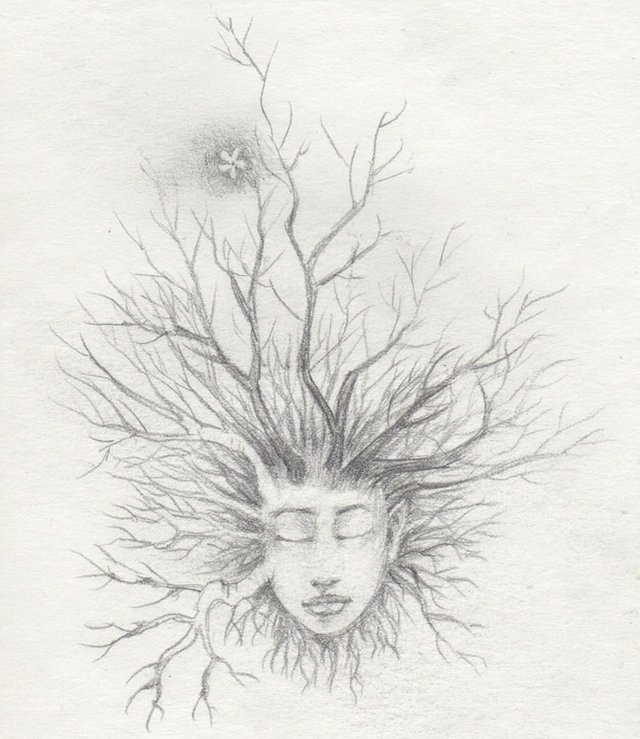 (image source: https://steemit.com/art/@bennettitalia/the-daily-doodle-10-scribbles-and-jottings-by-bennettitalia)
This was not the first time I had received communication from a dragonfly. Several years before we moved to Florida, we were living in a little town north of Sacramento, California. This is close to the Feather River, which we loved to hike along. There are many beautiful spots to see and also to swim in. There are places where the river spreads out into pools, dotted with rock outcroppings. In some of these, algae turn the water a luminous bluish green, and one of these pools features a cliff wall of serpentine (a jade green, flaky mineral found in the area) on one side.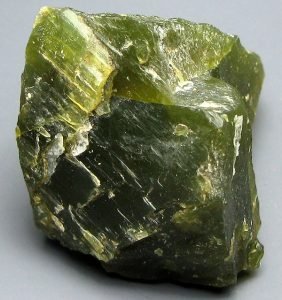 (image source: https://moonrisecrystals.com/tumbled-stones/serpentine-dark/)
There is also a flume that runs along the river, sometimes near the tops of the trees, sometimes closer to the level of the water. A flume is an aqueduct that runs alongside a river. here is a picture of it: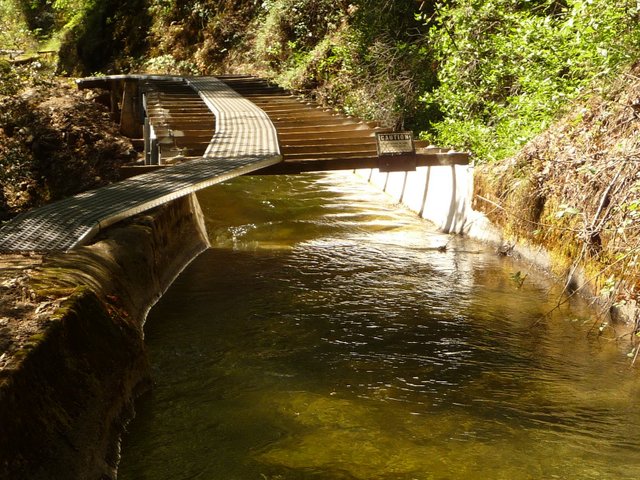 (image source: http://sunnyarizona-walksandhikes.blogspot.com/2011/05/feather-river-flume-continued.html)
One crisp Autumn afternoon, we went to the river for a hike. The flume had been "shut off", meaning, presumably, that the water that normally flowed through it had been redirected back into the river. As we walked, we passed a place where fish were trying to jump out of the flume. This was not one or two fish... there were at least 30 or 40 of them, repeatedly jumping and falling back into the drained flume. When we walked over to look, we found that there was a small puddle of water left in one spot. Small, but deep enough to be crammed with small and medium sized trout who were trying desperately to escape, now that drainage and evaporation had left them next to nothing. We were horrified and felt that we had to find a way to help them... but how? Then my ex thought of the gold panner's camp.
There were quite a few people who came to the river to pan for gold. One was an older man for whom panning was obviously a serious hobby. He had a permanent camp set up in summertime, and he came to pan whenever he liked. Maybe his camp was still set up, and we could find some buckets there!
I thought that this was a brilliant idea, and we proceeded to walk to the area where the panner's camp was, and then hike down the hill (no small distance) through pines and poison oak and manzanita to the camp, where we found several 5 gallon PVC buckets! Then it was back up the hill, carrying buckets full of river water, and back to the spot where we had seen the fish.
There they were, still jumping with all their might. We used the buckets to scoop them up, and the ones we couldn't get that way we easily caught with our hands, the puddle was so small. When every last survivor was safely in a bucket, we turned to hike back down to the river.
By this time we were drenched in sweat, sore, and tired. But it was downhill for this last part, and we felt happy to have found a way to help. The fish seemed to be content, swimming round and round in circles in the fresh, cold water, within the round white walls of their buckets.
When we got to the river's edge, we put the buckets down and took a breath. Then we picked them up, brought them to the water, and carefully placed them in the river. Some of the fish swam right out on the current of water leaving the buckets. Others hung back, as though reluctant to leave their newfound sanctuary.
Once they were in the river, many of them - in fact most of the bigger ones - circled back, two or three or four times, swimming upstream to just above where we were sitting on the bank, then back downstream with the current, then back up again, before finally letting the current take them away downstream. We were surprised and delighted to see this. It was such a strange and pretty display, multiple fish looping in wide arcs through the clear river water, revisiting the spot where we crouched on the shore, as if saying goodbye and thanks.
When the last of the trout were in the river, we sat on the bank and rested in the cool of the late afternoon, watching the last few fish looping around in the water. Several large, opalescent dragonflies flew around us, and one came and landed right on the center of my chest. This was strange enough, but the stranger part is: it stayed there, wings thrumming softly, its spiky little feet digging ever-so-slightly into my skin through the shirt. It stayed there on my chest, right over my heart, for such a long time that we were both surprised and amazed by this. We talked to each other about it as we watched it there, this incredibly beautiful purple and indigo-blue and gold creature, like a living jewel, pinned to my chest, vibrating in the cool air. And then it flew away. And that was that.
Twilight would be gathering by the time we reached our car, but we still had time to return the buckets to the panner's camp and hike back before dark. So we did, tired and sore but exultant. It had been a very memorable hike.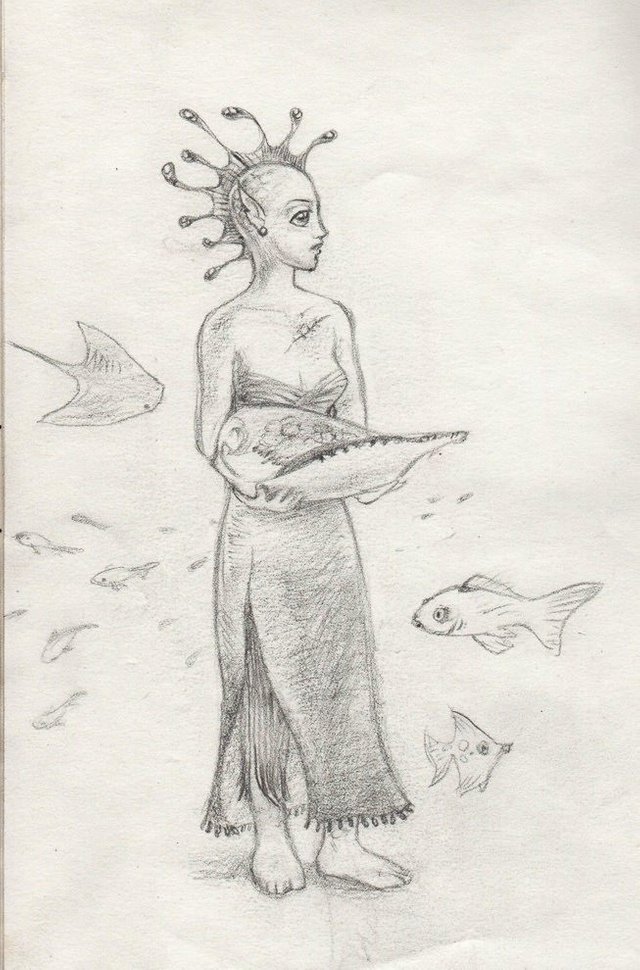 (image source: https://steemit.com/killerpoetry/@bennettitalia/killer-poetry-contest-round-18-welcome-a-poem-by-bennettitalia)
There are other stories I could tell about experiences with animals and plants...
How hummingbirds would get stuck in our sunroom and I would capture them, when they were too fast to be caught by stealth and dexterity, by speaking to them gently until they came to my outstretched hands and alighted steadily enough on my fingers for me to close my hands around them and ferry them safely outdoors. How my favorite cats have responded moderately well to spoken instructions, but have followed unspoken psychic communications with pinpoint accuracy, as if to say "yes, now you are speaking my language". I could tell you the story of raising the winds on the abandoned pier in Manhattan, or of calling the rains in the desert. I could explain the significance of willow trees, and that of crows, and foxes. But whether you'd believe any of that would be up to you, and your belief would be necessary in order for these stories to be of any interest.
These two stories of dragonflies however...
It doesn't matter whether or not you believe that they were saying "goodbye" and "thanks". It doesn't matter what you believe. What matters is that these are stories of closeness between two worlds that are seldom perceived as close.
I could also tell you
how the aspen trees in Colorado began talking to me one day when my life was falling apart and I was desperate for help, and have spoken to me often since, when I hike among them and am quiet enough to listen.
One of the things they told me was this: that human beings are the only ones who can do the work of changing the world. That aspen trees' work is to do what aspen trees do: to bridge Earth and Heaven, to carry the whispers of the spirit world in their quivering leaves, to bring inorganic elements from the Earth, as all plants do, and transform them into life, and to speak as one organism (which they often are, as they grow like grass, connected at the roots, and all of the aspen trees in an aspen wood often spring up from one). That aspens have always done this work, and will always do it, as long as they are needed. It's their nature. That a dragonflies' work is to do what a dragonfly does, a deer's work is to do what a deer does, that even the brilliant dolphins have their constant work which so absorbs them that they have no time to think about changing the world. That these species, ALL species, with the exception of people, know what their work is, and know how to do it, and will always know. They are too busy upholding the world to change it. Only humans have that freedom, that choice, which is both burden and privilege.
Because of this, we must always remember our work, and ignore it at both our peril and the peril of every other creature on this planet. And what is our work, the work of the Dangerous Creatures, the ones who are capable of manifesting either the ultimate healing or the ultimate destruction?
To make the changes necessary within ourselves.
©2018 Bennett Italia