Timing of Drinking Coffee/珈琲を飲むタイミング - Learning English & Japanese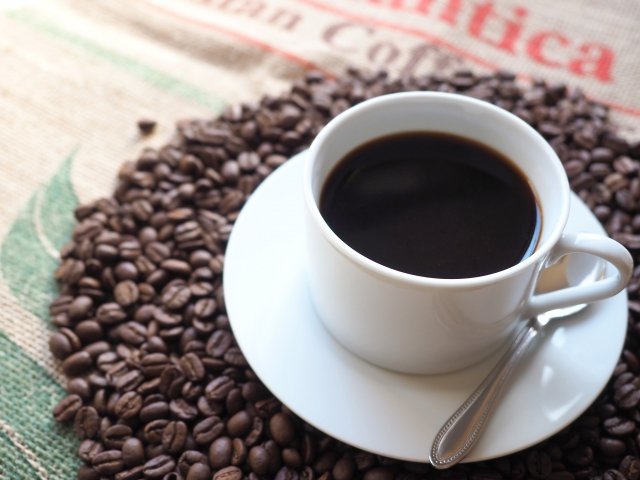 Today's topic of learning English and Japanese is coffee. 今日のトピックは、珈琲です。
どんな時にコーヒーを飲みますか?
朝起きた時に、スッキリするためにコーヒーを飲む
朝食のトーストと一緒にコーヒーを飲む
仕事中、眠気をとばすためコーヒーを飲む
夕食後に、まったりしながらコーヒーを飲む
私の場合は、頭が痛い時にコーヒーを飲みます笑。コーヒーには、カフェインがたくさん含まれており、集中力を上げるなどの効果もあります。また、カフェインは、血管の収縮作用もあります。私の頭痛は、前頭葉周辺の血管が膨張して神経を圧迫するものだと思うので(自己診断です笑)、カフェインの摂取で頭痛が治まります。皆さんは、いつコーヒーを飲みますか?
When do you often drink coffee?
drink coffee after wake up to be comfortable
drink coffee in the breakfast with a toast
drink coffee during works to reduce sleepiness
drink coffee after dinner while relaxing
In my case, drink coffee when I have a headache lol.
Coffee contains a lot of caffeine, which has effects such as increase your concentration and so on.
Effect of caffeine is also known that contracts blood vessels. I guess that the reason of my headache is blood vessels around frontal cortex expand and compress nerve. *It's self-diagnosis haha. That's why, my headache gets better if I take a cup of coffee. When do you drink?
語彙(goi) / Vocabulary
眠気(nemuke):sleepiness
まったりしながら(mattari si nagara):while relaxing
私の場合は(watasi no baai ha):In my case,
血管(kekkan):blood vessel (BV)
前頭葉(zentouyou):frontal cortex
神経(sinkei):nerve



ひらがな(hiragana)
どんな とき に こーひー を の み ます か ?
あさ お き た とき に 、 すっきり する ため に こーひー を の む
ちょうしょく の とーすと と いっしょ に こーひー を の む
しごと ちゅう 、 ねむけ を とばす ため こーひー を の む
ゆうしょく ご に 、 まったり し ながら こーひー を の む
わたし の ばあい は 、 あたま が いた い とき に こーひー を の み ます わらい 。 こーひー に は 、 かふぇいん が たくさん ふく ま れ て おり 、 しゅうちゅうりょく を あ げる など の こうか も あり ます 。 また 、 かふぇいん は 、 けっかん の しゅうしゅく さよう も あり ます 。 わたし の ずつう は 、 ぜんとうよう しゅうへん の けっかん が ぼうちょう し て しんけい を あっぱく する もの だ と おも う ので ( じこ しんだん です わらい ) 、 かふぇいん の せっしゅ で ずつう が おさ まり ます 。 みな さん は 、 いつ こーひー を の み ます か ?




ローマ字(romaji) / Roman character


donna toki ni ko-hi- wo no mi masu ka ?
asa o ki ta toki ni 、 sukkiri suru tame ni ko-hi- wo no mu
tyousyoku no to-suto to issyo ni ko-hi- wo no mu
sigoto tyuu 、 nemuke wo tobasu tame ko-hi- wo no mu
yuusyoku go ni 、 mattari si nagara ko-hi- wo no mu
watasi no baai ha 、 atama ga ita i toki ni ko-hi- wo no mi masu warai 。 ko-hi- ni ha 、 kafein ga takusan huku ma re te ori 、 syuutyuuryoku wo a geru nado no kouka mo ari masu 。 mata 、 kafein ha 、 kekkan no syuusyuku sayou mo ari masu 。 watasi no zutuu ha 、 zentouyou syuuhen no kekkan ga boutyou si te sinkei wo appaku suru mono da to omo u node ( ziko sindan desu warai ) 、 kafein no sessyu de zutuu ga osa mari masu 。 mina san ha 、 itu ko-hi- wo no mi masu ka ?


日本語、英語で、文章がおかしいところはビシバシと指摘してくださいね。一緒に、楽しく英語や日本語を学んでいきましょう。
Please let me know, if you find any mistakes in my sentences in Japanese or English. Let's study English and Japanese with lots of fun together.