こんにちは!
先日、ネットを見ていた嫁さんが面白い広告を見せてきました。
問題
AくんとBくんは兄弟です。
同じお父さんとお母さんがいて
同じ年の同じ日に生まれました。
しかし、双子でないと言います。
なぜなのか理由を答えてください。
答えはこちら!!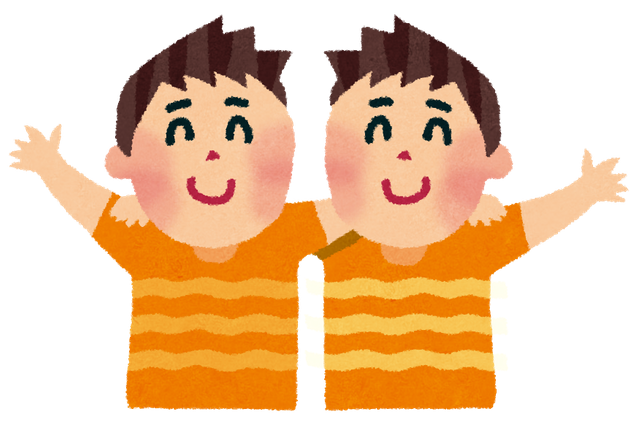 ちなみにこの問題超難関小学校の入試問題で出題された問題だとか。
嫁さんは一生懸命考えたけど答えがわからず私に見せてきたとのことでした!
私は・・・答えわかりましたよ!!!
みなさんは答えわかりましたか??
答えは・・・




















3つ子(以上)だからです!!
ちなみに"同じお父さん"と"お母さん"という風にも読めるので、「異母兄弟だったから」これも正解ですw
でも小学校の入試問題なので3つ子(以上)だからの方が回答としては◎かと思います(笑)
これ頭が柔らかくないとできない問題ですよね〜
頭が硬くなってしまった大人には逆に難しい問題になってしまうのかもしれません。
年を重ねても柔軟な思考が大事だなと思ったゴロタでした!
Hello!
The other day the wife who was watching the net showed interesting advertisement.
problem
A and B are brothers.
I have the same father and mother
I was born on the same day of the same year.
But I say not twins.
Please answer why why.
The answer is here! !
By the way it is a problem that was quizzed for the entrance examination problem of the super difficulty elementary school.
My wife thoughtfully thought that he did not understand the answer and showed it to me!
I ... I understand the answer! ! !
Did you understand the answer? What?
The answer is···
That's why it's three-tiered (over)! !
By the way, because it can be read as "same dad" and "mom", "Because it was a heteronous brother" This is also correct w
But since it is an entrance examination problem at elementary school, I think that it is ◎ as a reply because there are three children (over)
It is a problem that can not be done unless this head is soft ~
It may be a difficult problem for adults whose heads have become hard.
It was Golota who thought flexible thinking was important even after years.
読んでいただきありがとうございました!
感想や質問などはお気軽にコメント下さい!
Twitterもやってます!
お気軽にフォローお願いします!
@gorota
Twitter

Thank you for reading!
Please do not hesitate to comment and questions etc!
Twitter is doing it!
Feel free to follow me!
@gorota
Twitter