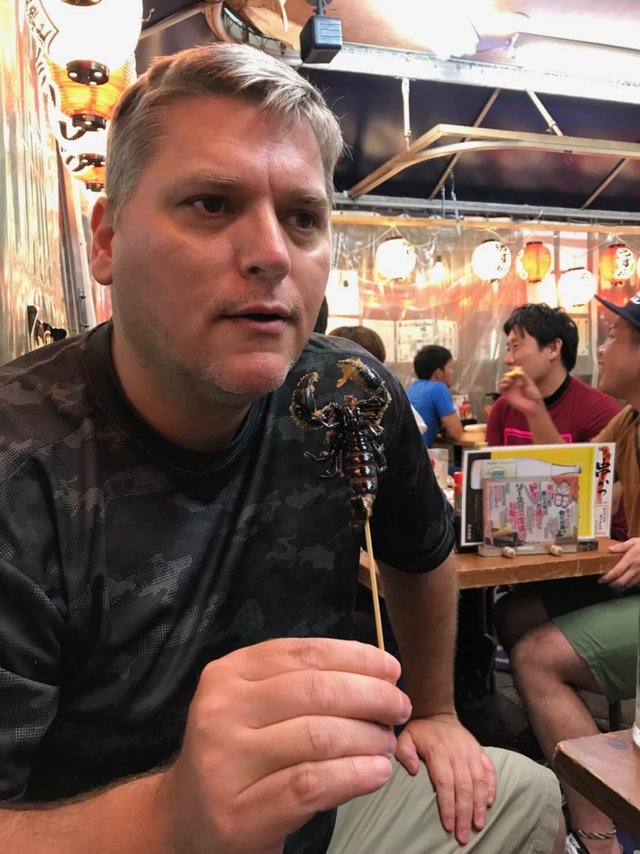 I don't usually do food reviews, but after last night I decided to start. Or at least I'll try to do them when I come across something particularly tasty... or disgusting.
Last night I went to Janjan, a kushikatsu place in Shinsekai, Osaka. If you don't know what kushikatsu is, well, you'll just have to come to Japan and find out. Various deep friend breaded meats, vegetables, cheese, and other stuff, on a wood skewer. It usually comes with a dipping sauce. It's good stuff.
Anyway, I was there with @noopu, @neeeeeeeeeef, and @ko-may and his wife (sorry, don't know her Steem name. She told me but I forgot.) Kind of an informal Steemit meetup.
I usually like kushikatsu, and this place was no exception. Actually, it was probably the best I've ever had. Probably because I usually go to the same place, Kushiharu, which is within walking distance, so I haven't really been to many different kushikatsu places. So the kushikatsu at this place was great. Up until I decided to try something I'd never had before.
You see, this other bunch of people came in and sat down at the table next to us. And one guy decided to order something that I hadn't seen on the menu. Yep, he was having a stick of scorpion kushikatsu. But I guess if you read the title you'd already guessed that.
I asked if I could take a picture of him holding the scorpion, and he was like, "Hell yeah!" in Japanese. He seemed to have a lot of positive energy about him. We had a little conversation, and he said they also had crickets and alligator kushikatsu on the menu.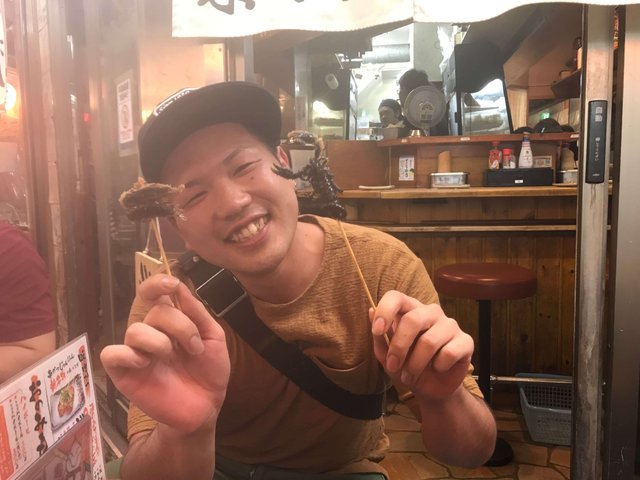 Well, I wasn't going to pass up the chance to try something new. I've had bugs before. I tried fried crickets in Thailand. And I ate ants when I was in survival school in the Air Force. But scorpion? I didn't know that was available in Japan.
Are you really gonna eat that?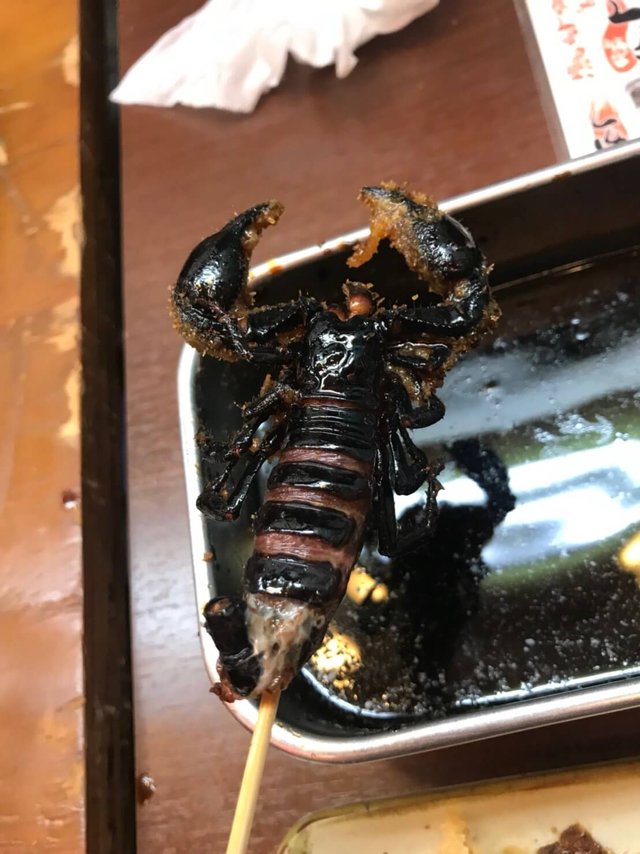 So how was it? Not that great. It's kind of like eating crab with the shell still on it. I couldn't finish it, as the shell was just too hard. I did eat the legs, which were soft enough to chew up without too much effort. And I sucked out some of the "meat" from inside the main shell. That part wasn't too bad, actually. And it actually did taste kind of like crab, to me, anyway.
Yep.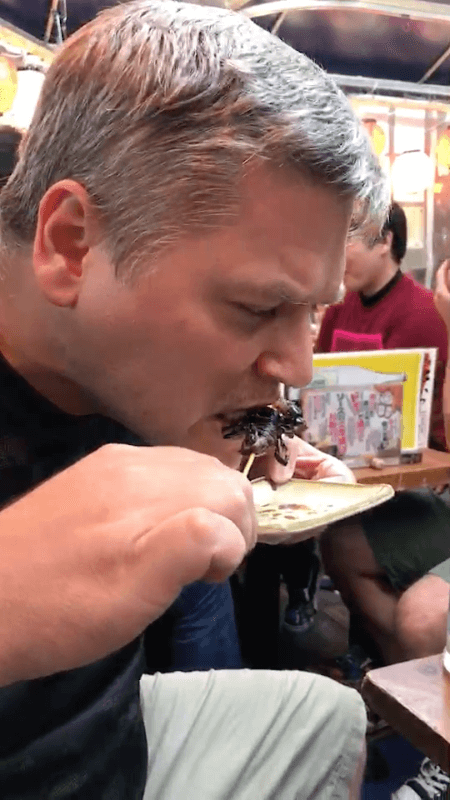 I also did order some alligator, which I have had before and actually like. But I'd never had it in kushikatsu form. It was good. Much better than the scorpion.
Anyway, if you're in Osaka, and in the mood to challeng yourself to try something different, or just want some damn good kushikatsu, do yourself a favor and check out Janjan.

---
Posted from my blog with SteemPress : http://www.kakkoiieigo.com/things-i-dont-recommend-eating-scorpion-in-osaka/
---