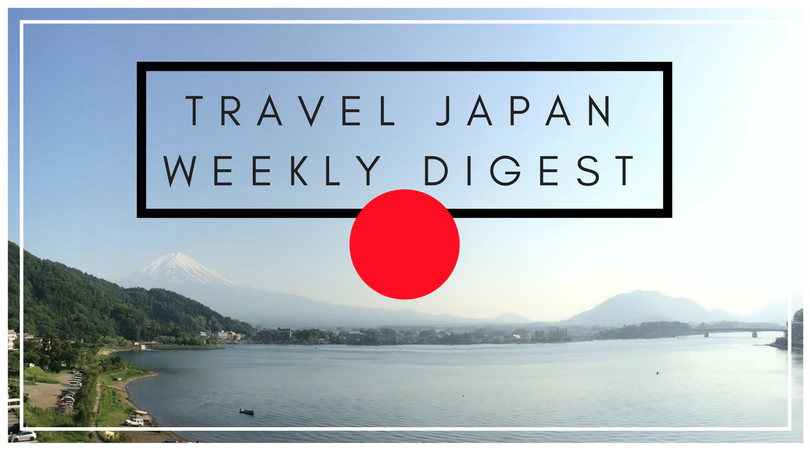 Hello Steemians!
Welcome back to the third edition of Travel Japan Weekly Digest. This weekly digest focus on showcasing the beautiful side of Japan including attractions, destinations, food, unique experience, festivals, cultures, etc.
Travellers to Japan will agree that Food is one of the best experience they can get in Japan. This week, we selected posts that introduce really yummy Japanese food, some from native Japanese! You can't go wrong by following the locals.
Read on, enjoy their posts, and show your support!
@yoshiko
I ate Japanese delicious baked meat.新橋でオススメ焼肉!

First on the list, @yoshiko さん introduces to us Yakiniku, Japanese style grilled meat, in Shimbashi, Tokyo. This is a popular restaurant so make sure you make advance reservation!
@catwomanteresa
Travel with Catwoman Teresa #10 Japan Hirasaki Park-Sakura carpet 跟著貓女趴趴走 #10 弘前公園(二)櫻花絨毯攝影月旦評

@catwomanteresa went to Hirosaki Park in Aomori for the Sakura viewing. Check out her gorgeous shots of the beautiful sakura. This is one of the best places to view the flowers in Japan.
@mathowl
The Japanese bridge to heaven

Amanohashidate (天橋立), one of the top 3 views in Japan. This is a land bridge covered with pine trees. When viewed upside down, it resembles a bridge to heaven. @mathowl, have you been to the other 2 views?
@vcelier
Tsukiji, the largest fish market in the world, by @japon (translated from French)

Another great post by @vcelier. This time he introduces us to the world renowned fish market, the Tsukiji Fish Market in Tokyo.
@devtag
Shitennoji Temple, Osaka

A very nice buddhist temple in Osaka, Shitennji Temple was the first temple @devtag visited in Japan back in 2015. Check out his awesome shots.
@nadeshiko
I ate Matsuya Cheese dak galbi set meal.松屋チーズタッカルビ定食を食べました(。・ω・。)ノ♡

Matsuya (松屋) is one of our favourite fast food chain in Japan too! But Sukiya still is the Number One for us. @nadeshiko had a cheese dakgalbi set meal, this looks delicious, hope it is still avaible when we visit Japan again.
@goodboyphilip
(ENG/中文) Japan Kanagawa Gourmet Travel Guide #092 爆食日本第92回神奈川県横浜市西横浜篇<おきらく食堂 >: 漢堡系列: 漢堡扒: 配角比主角100%國產牛漢堡更出色!(好孩子Goodboy Philip 食レポグルメガイド)

You can't talk about food without @goodboyphilip. This week, we selected his burger steak in Kanagawa.
@tingyo
[Week 5/52 - 2018 Nara, Hiroshima & Universal Studios] (https://steemit.com/travel/@tingyo/week-5-52-2018-nara-hiroshima-and-universal-studios)

@tingyo had been sharing her Japan travel experience regularly. This week, she brings us to Nara, Hiroshima and USJ. Be sure to follow her for more!
@tokyowomanslife
Sarabeth's NYC in TOKYO! 映画「羊の木」&サラベスでパンケーキ

We are also lovers of cafes, especially Pancakes! So glad that @tokyowomanslife is sharing this nice cafe to us. Will be sure to check it out soon.
@takoyakiking
A cycle ride through the mountains of Fukushima

@takoyakiking went for a bike trip in Fukushima. Such an adventure! Check out his posts as he wander through the mountains and rural areas.
@childcare
Takoyaki and highball at a standing bar.立ち飲み屋でたこ焼きとハイボール

Tsukiji Gindako! Travellers to Japan will definitely be familiar with this Takoyaki chain. We even found them in Okinawa! You haven't been to Japan if you didn't try authentic Takoyakis.
@mikesthoughts
Memories from abroad - Mt. Kurama ABLAZE!

We had heard of this festival and was glad to see @mikesthoughts posting his own experience. It is an unique experience for tourists to participate in such cultural festivals
---

That's all!
We hope you'd enjoyed this Travel Japan Weekly Digest.
Do check out the authors' posts and show your support with upvotes or comments.
And follow us for more to come! @jrvacation
*Each author will receive a small reward from last week's author payout.

---
Travel Japan Weekly Digest focuses on showcasing the beautiful side of Japan including attractions, destinations, food, unique experience, festivals, cultures, etc.
Every week, we will select up to a maximum of 20 posts to showcase. There will be no requirements but priority will be given to:
posts using both the Travel and Japan tag. This will help us seek out the relevant post.
minnows and low rep authors
unique authors (one post per author per week)
posts appearing on @steemitworldmap Daily Digest. If your post appear there, you will guarantee a mention here
posts with good written content. No single steepshot or Dmania post
English, Japanese and Chinese language (Sorry, that's the only language we can read)
---
Previous editions