My first week on ReggaeSteem
Hey Reggaesteem, I have been here a week now.
Just thought it would be a good to do an update on everything so far.
Buying JAHM.
I have been in the market pretty active buying a bunch of JAHM tokens. Over the week, I have been able to fill my wallet now with over 14,000 so far. Not sure of the exact amount, but I have probably put in close to 300 STEEM to get these. Some of this came from a buy in of STEEM I did this week, and the rest from selling some other tokens I had accumulated to build a stake here. I think I have majority of the volume for the week. Here is the price chart for the week, with thanks to @gerber for his work in the SteemLeo discord: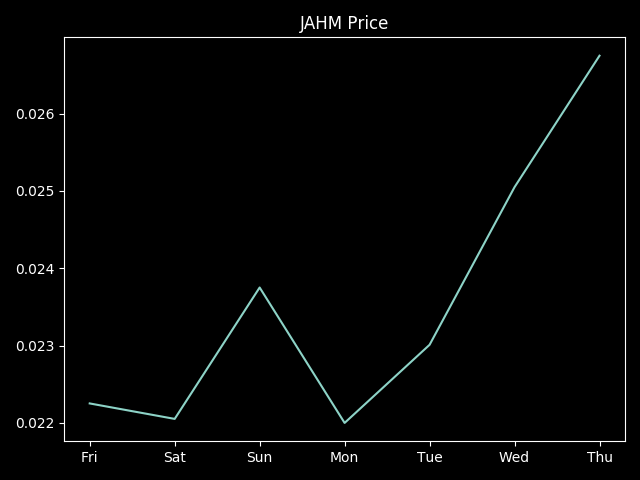 I would guess that the price will settle back a little from here, but if other motivated buyers enter, who knows. My personal goal is 100,000 JAHM by the end of the year.
My starting Whitelist.
I've set up some auto-votes today, based on recent activity and who's work I have enjoyed and who I think is supporting and building the tribe up. If you are on this list, your Reggaesteem posts should get an upvote from this account. If you are not on this list, I've just started it and hope to add more great quality accounts to it over time. I will monitor it and make changes as necessary.
@bahagia-arbi, @botefarm, @chireerocks, @citimillz, @crypticat, @dmilliz, @doitvoluntarily, @donald.porter, @jongolson, @joseacabrerav, @mariluna, @missaj, @reggaesteem, @shanibeer, @slobberchops, @super-irie, @whatsthatcryptom.
While I know auto-votes are not ideal, this is one way I feel I can support those most active and producing good quality content. As I said I will monitor regularly for any changes I may have to make.
My Posts so far:
My favourite posts so far:
---
Alright, that's about it for this update, have a great day everyone. I hope to see plenty of comment's and lots of interesting posts to read over the next week.
Cheers,
John
---
Posted via ReggaeSteem | Reggae Culture Rewarded