Accompong || JAHM Poetry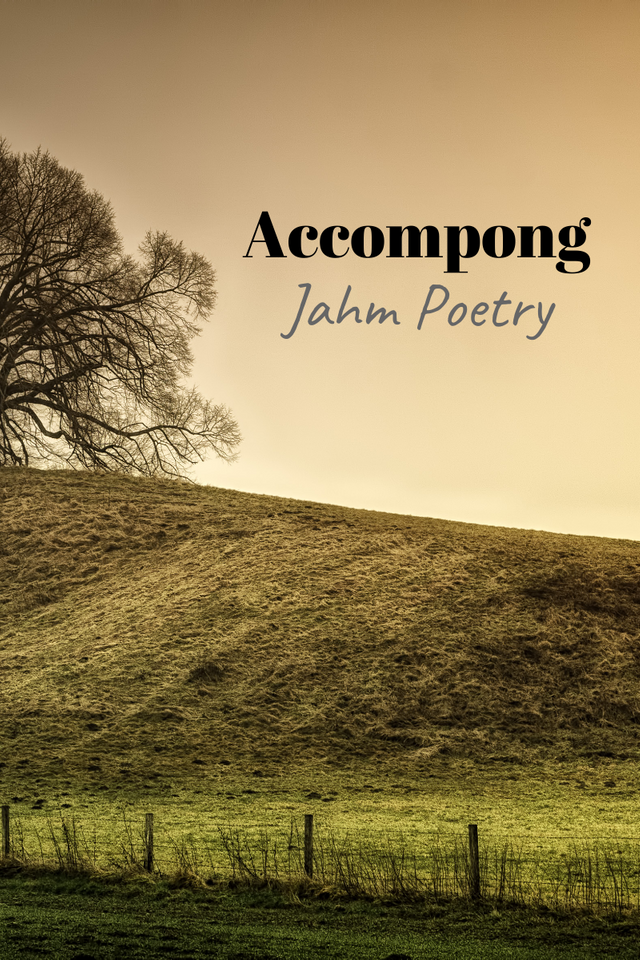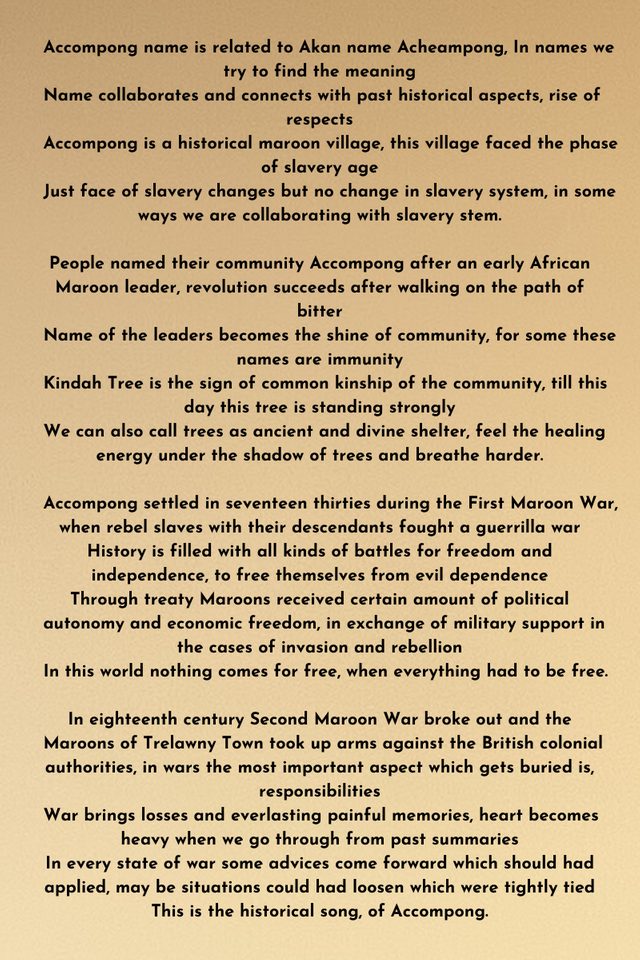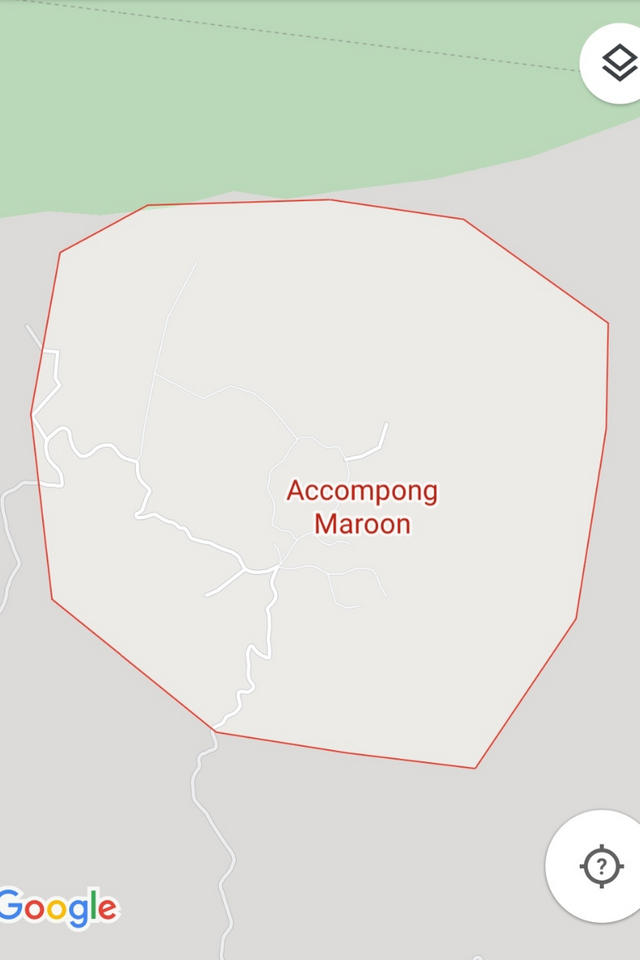 [Google Maps](Accompong Maroon
Jamaica)
https://maps.app.goo.gl/rdhRBFDKDEveMgeHA)
Accompong name is related to Akan name Acheampong, In names we try to find the meaning
Name collaborates and connects with past historical aspects, rise of respects
Accompong is a historical maroon village, this village faced the phase of slavery age
Just face of slavery changes but no change in slavery system, in some ways we are collaborating with slavery stem.
People named their community Accompong after an early African Maroon leader, revolution succeeds after walking on the path of bitter
Name of the leaders becomes the shine of community, for some these names are immunity
Kindah Tree is the sign of common kinship of the community, till this day this tree is standing strongly
We can also call trees as ancient and divine shelter, feel the healing energy under the shadow of trees and breathe harder.
Accompong settled in seventeen thirties during the First Maroon War, when rebel slaves with their descendants fought a guerrilla war
History is filled with all kinds of battles for freedom and independence, to free themselves from evil dependence
Through treaty Maroons received certain amount of political autonomy and economic freedom, in exchange of military support in the cases of invasion and rebellion
In this world nothing comes for free, when everything had to be free.
In eighteenth century Second Maroon War broke out and the Maroons of Trelawny Town took up arms against the British colonial authorities, in wars the most important aspect which gets buried is, responsibilities
War brings losses and everlasting painful memories, heart becomes heavy when we go through from past summaries
In every state of war some advices come forward which should had applied, may be situations could had loosen which were tightly tied
This is the historical song, of Accompong.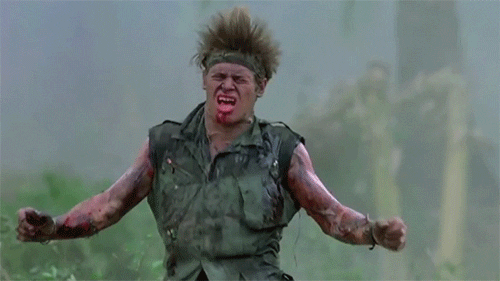 SOURCE
Steem On.

You can support my work through below mediums too.
BTC:
3GJCQPyxQMc5zQasc3EoW7vnV2fKpp9aY9
ETH:
0x514d948ead79d7f8db680173c266a39cd2677c98
LTC:
3DxFQhqaxetpGUciAT5axAdztVVr9QowEb
BAT:
0x193ce1410d4acefd0ee24577d575f087f164ed48
DASH:
7aNhxUxH8NbYDL9TciuGHHERwjL143NCUo

Discord Channel Links:
TEARDROPS: https://discord.gg/wC7H4Rt NATURALMEDICINE: https://discord.gg/wQnDNpv
(Pictures are edited with the Canva).
"This is my original work."
Stay Blessed.
Spread love and spread kindness.
Thanks and regards, Chiranjeevi Sarikonda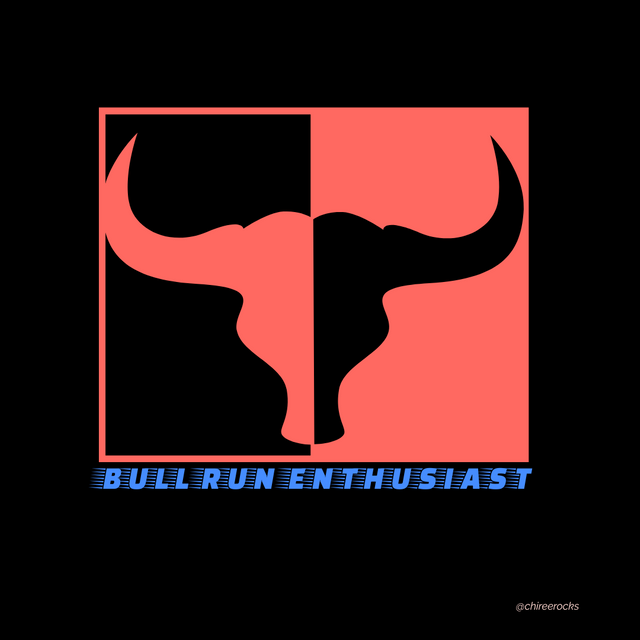 (If you want this logo, let me know in the comment section.)