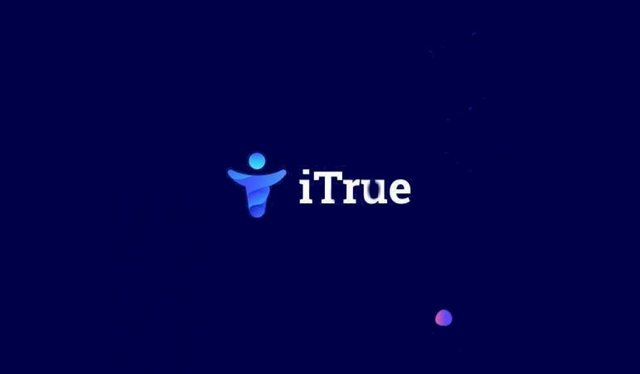 About iTrue 
            iTrue is a new solution of Blockchain-as-a-Service with built-in authentication system. This enables enterprises, as well as developers, to increase their productivity, expand their applications and do them with the maximum security system. iTrue allows companies and developers to create reliable, extensible and scalable applications, which significantly increases both the level of confidentiality of information and its quality. 
           Our innovative data storage (Stone storage) provides high processing speed and a large amount of storage without compromising data privacy.
Problem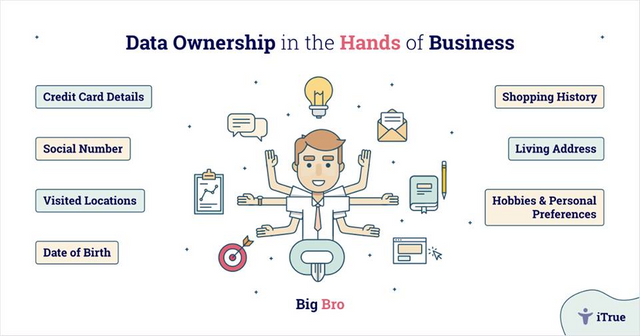 Security violations: theft of passwords, cards and cell phones.
Violation of user privacy: personal data is traded or sold for profit.
The company spends 2/3 of its IT budget to develop a secure authentication system.
More than 35 billion plastic cards are produced in 2017 at a cost of more than 20 billion dollars / year. In addition, plastic cards are not safe for the environment.
Solution
        The combination of blockchain and biometric technology will enable businesses to improve authentication through biometrics and ultimately build and market their own applications on the iTrue platform and ecosystem.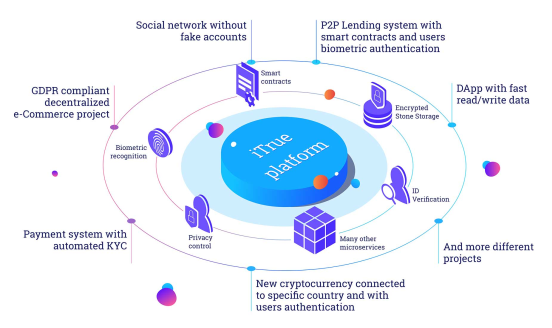 iTrue ensures fast and decentralized storage via blockchain and databases with Stone Storage solutions. Users have complete control and ownership of their data, and this cannot be accessed by or given to third parties without information and approval from their owners.
Token iTrue And Distribution
General Token:
Token: ITU
Platform: Graphene
Standard: ERC20
Qty: 8,000,000,000 
ITUPrice: 1 ITU = 0,01 USD
Payment: ETH, BTC, LTC
Soft cap: 7,500,000 USD
Hard cap: 40,000,000USD
Distribution:
60% Discount
22% iTrue Foundation
10% Team
7% Advisor
1% Bounty
PreICO
Qty: 960,000,000 ITU
Start: 9/3/2018
Completion: 30/09/2018
ICO
Qty: 3,840,000,000 ITU
Beginning: 10/15/2018
Completion: 12/16/2018
Team




Road Map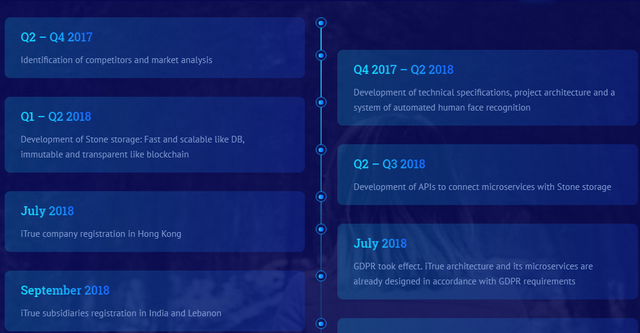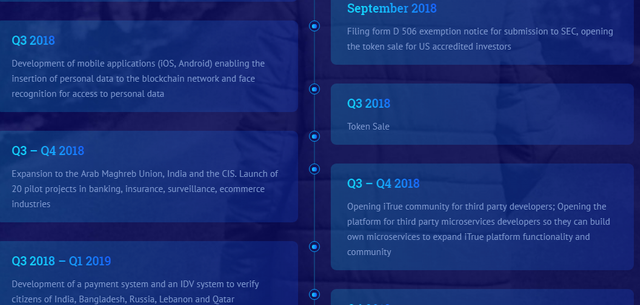 Q2 - Q4 2017: Identification of competitors and market analysis
Q4 2017 - Q2 2018: Development of technical specifications, project architecture and automated face recognition system
Q1 to Q2 2018: The development of the storage storage: fast and expandable, as a database, transparent and unchangeable, as a block
Q2 - Q3 2018: Development of API for connection of microservices with stone storage
July 2018: ITrue company registration in Hong Kong
July 2018: Adoption of the GDPR (European General Data Protection Regulations). ITrue architecture and micro services are already designed to meet the requirements of the GDPR
August 2018: Registration of iTrue subsidiaries in India and LebanonAugust 2018: Provision of Form D 506 for exemption from registration with the SEC (US Securities and Exchange Commission). Opening a token for accredited American investors
Q3 2018: Development of mobile applications for iOS and Android, allowing you to enter personal data into the unit and carry out face recognition to access this data
Q3 2018: Selling tokens
Q3 - Q4 2018: Entering the market of India, the CIS and the Maghreb countries. Launch of 20 pilot projects in banking, insurance, video surveillance and e-commerce
Q3 - Q4 2018: Opening of the iTrue community for third-party developers; Opening a platform for third-party micro service developers so that they can create their own micro services to extend the functionality of the iTrue platform and the community
Q3 2018 - Q1 2019: Development of a payment system and IDV system for the verification of citizens of India, Bangladesh, Russia, Lebanon and Qatar
Q4 2018: Launching a platform for managing confidential data and data-sharing between users and customers. Users will be able to monitor their data and earn money to provide them to customers
Q1 2019: Development of 5 additional microservices for the facilitation and security of privacy and business processes available for integration into projects of third-party developers of the iTrue platform
Q1 2019: Launch the platform for application developers so that they can use iTrue and third-party solutions to create custom and enterprise applications, earning tokens on the sale of such applications to corporations and private users
Q1 to Q2 2019: Entering the Asian market. Launch of 50 pilot projects in banking, insurance, surveillance and e-commerce
Q2 2019: Launch a full-featured platform that allows you to run Web 3.0 projects, and develop DApps
Q2 - Q4 2019: Development of 20 additional microservices for solving everyday business and user problems
Q2 - Q4 2019: Development of the IDV system for checking citizens of China, Thailand and Indonesia
More Information
Website: https://itrue.io/
Whitepaper: https://itrue.io/files/iTrueWhitePaper.pdf
Telegram: https://t.me/itrueio
Username: lequocvuongpro
Link profile: https://bitcointalk.org/index.php?action=profile;u=1370336
ETH Address: 0x0b3a3B81c42C7327Dd4c7FB54a641a50a92e0891